Not long ago, we served up a 15-minute Chickpea Masala Dinner, made easy by using a prepared Indian simmer sauce. Here for your dinnertime pleasure is an all-vegan 20-minute lentil curry dinner that we hope you'll enjoy as much as we do!
At Vegan Food Hacks, we've fallen in love with Maya Kaimal Indian Simmer Sauces (our review here, where you can see which varieties are dairy-free). Because much as we love authentic Indian flavors, we're way too lazy to roast and grind and measure and mix the proper way.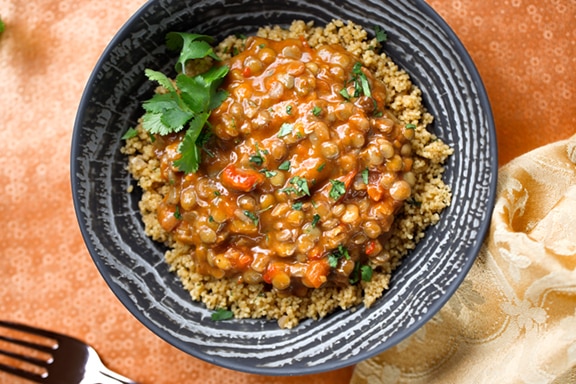 You'll be amazed to see how quickly a delicious curry dinner comes together by using these luscious sauces. So skip the Indian take-out, and try this tasty curry at home.
We found Maya Kaimal sauces at our local natural foods stores. If yours doesn't carry this brand, ask them to do so or to special-order it for you. Trader Joe's has similar types of Indian sauces, and you may find others in your supermarket's international foods aisle.
Serves: 3 to 4
Time to table: 15 to 20 minutes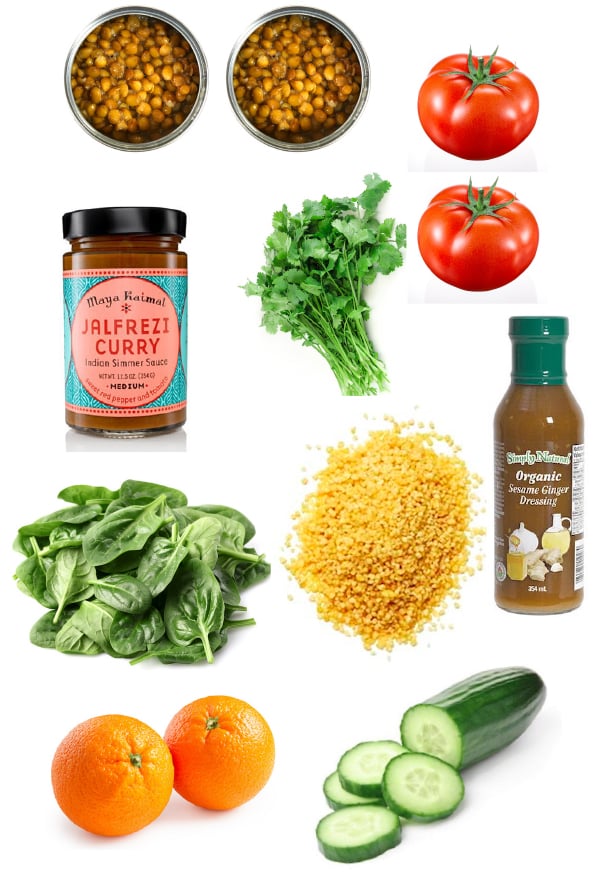 What you need
Couscous (whole grain, about a cup raw; or see More Time / Less Lazy below)

2 cans brown lentils

2 medium tomatoes

Maya Kaimal or other Indian simmer sauce (we used the medium-spicy Jalfrezi Curry for this)

Cilantro - 1 bunch

Baby spinach (1 package, about 5 ounces)

Seedless oranges - 2

Kirby or other small cucumber

Sesame-ginger dressing - 1 bottle (see More Time / Less Lazy below)
What to do
1  Pour 2 cups boiling water over the couscous meantime and let it sit for a few minutes.
2  Combine the lentils, tomatoes, and simmer sauce in a saucepan and cook until the tomatoes have softened a bit and the mixture is nice and hot. Pour in the sauce, add as much chopped cilantro as you'd like, and continue to cook just until heated through.
3 Meanwhile, combine the spinach (you probably won't need all of it), peeled and sectioned oranges, and cucumber (thinly sliced) in a salad bowl and dress as desired with the sesame-ginger dressing, or just pass it around.
4  Serve the lentil curry on a bed of couscous, with the salad on the side.
More time/less lazy
Make your own Sesame-Ginger Dressing if you have the ingredients on hand.

Use quinoa or rice in place of the couscous, though they take longer to cook. They're also gluten-free, whereas couscous is made from wheat.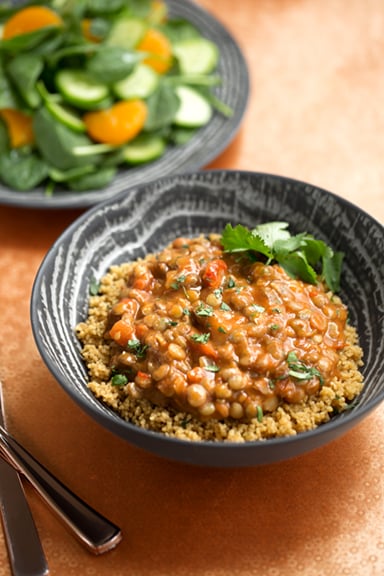 Photos by Hannah Kaminsky