At VegKitchen, we're all for good-quality shortcuts like prepared marina sauce, salsa, Asian condiments, and the like, to ease the way to quick meals. But sometimes it's fun to make your own, not to mention more economical and a lot lower in sodium! Here's a selection of useful sauces and condiments you can make right in your own kitchen.
Prepared salsas comes in numerous varieties, and have so many uses. If you're going to buy store-bought, go beyond mild, medium, and hot, and choose intriguing flavors like pineapple, mango, chipotle, or piquant tomatillo. Or, replicate and even improve on jarred salsas— homemade salsa is so easy to make. We've got a wide array salsa recipes for you at Fresh and Tasty Salsa Recipes — so break out the tortilla chips and beer and have a great time!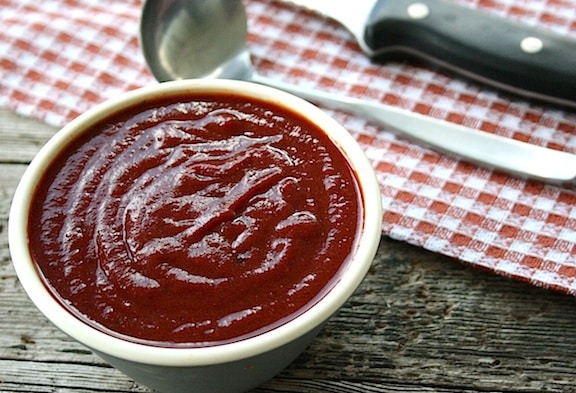 Barbecue sauce offers a spiced, sweet-and-salty flavor useful for preparing tofu, tempeh, and seitan in the oven, or on the stovetop or grill. I'm not one to shy away from natural condiments, but I've yet to find a prepared barbecue sauce that I truly like. If you want to go the prepared route, look for sauces that are made with good-quality sweeteners like molasses or maple syrup, and not high-fructose corn syrup. However, our Quick Vegan Barbecue Sauce is so quick and tasty that there's little excuse to buy it in bottles or jars.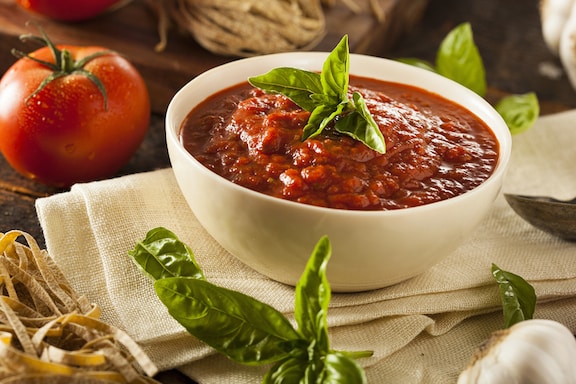 For quick pizzas and easy pasta dishes, keeping a couple of 28-ounce jars on hand is a good idea There are so many flavors available; choose whichever has ingredients that please your palate—garlic, wine, mushrooms, peppers, vegetables, and herbs. Even better: your own Fresh Tomato Marinara Sauce, with its enticing aroma of an Italian kitchen.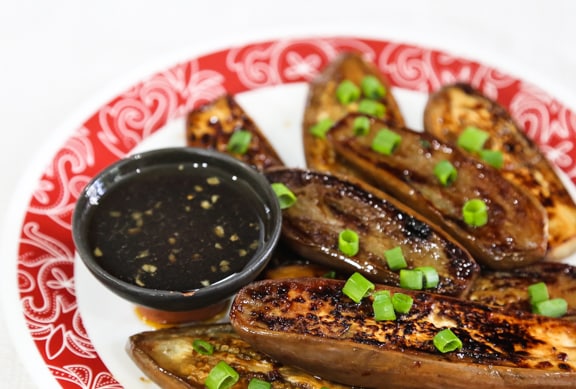 Add an Asian spin to grilled, stir-fried, or sautéd tofu, tempeh, and seitan with Teriyaki Marinade.  When you make it yourself, it's more about the flavor than the sodium! It enhances vegetables, including eggplant, broccoli, green beans, scallions, carrots, and mushrooms. Use it to pan-sauté or grill vegetables and plant proteins.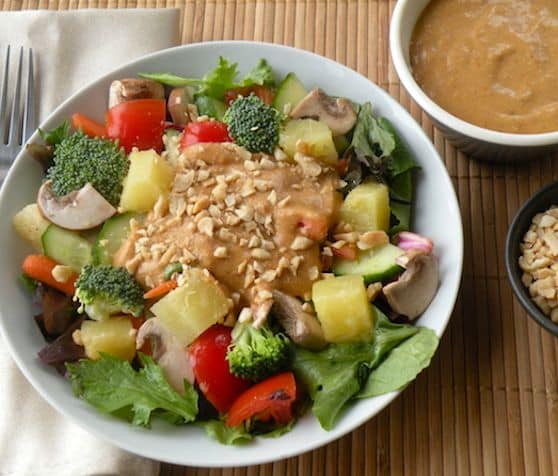 You can buy Thai peanut satay sauce, which comes in frustratingly tiny jars, or take a few minutes to make this Peanut Sauce. It uses ingredients you probably already have in your pantry. It tastes great over noodles, sautéed tofu or tempeh, or even used as a dressing on Asian-style salads such as the Thai-Flavored Tossed Salad shown above. No matter how you plan to use it, tailor the spiciness to your taste.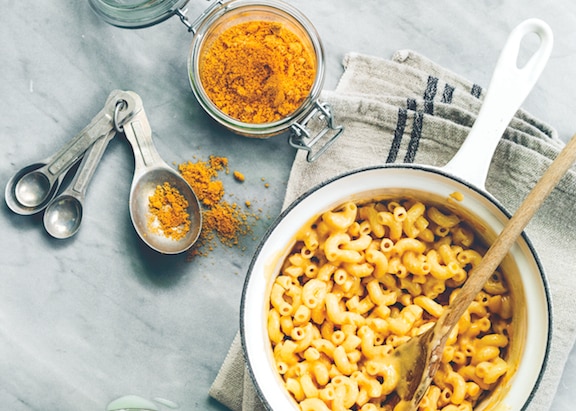 If you want to have your own macaroni and cheese sauce on hand to use at any given moment, whip up a batch of Miyoko Schinner's Well-Crafted Vegan Macaroni and Cheese Mix. It takes 5 to 10 minutes to make, and you can store it in the pantry for a month or two, or in the fridge for months. In fact, if you like the idea of making your own pantry staples, you'll love The Homemade Vegan Pantry by Miyoko, in which she applies her brilliance to showing readers how easy it is to make all kinds of vegan sauces, butters, pancake mixes, cheeses, and more.
*This post contains affiliate links. If the product is purchased by linking through this review, VegKitchen receives a modest commission, which helps maintain our site and helps it to continue growing!