Most any parent likes the idea of sending their child to school with a hearty school lunch, but some days, you just don't have the time or energy to make that happen. And when it comes to purchasing lunch in the school cafeteria, vegan and vegetarian kids and teens are often at a disadvantage. The following Amy's vegan lunch box hacks come to the rescue!
You're not a bad parent if you don't always have the wherewithal to make from-scratch hot meals or even repurpose dinner leftovers to use for lunch. That's where good-quality prepared foods like these come in. There's a wide array of choices in the vegan, dairy-free, and gluten-free range. Most are organic as well.
Vegan Food Hacks isn't affiliated with Amy's in any way; we just think these products are great, not only for your child's lunch, but for your own portable midday meal. They can add variety to school lunches when you most need a break from daily task of lunch box prep.
Amy's foods are available in well-stocked supermarkets and natural foods stores. See the store locator link at the end of this post. The soups and chilis come in BPA-Free cans; the remaining items come frozen, so you can keep the ones you and your kids like most in the pantry or freezer for the times you need them most! 
Heat and go; don't forget some fruit!
In all cases, heat up and place in a heat-retaining container to send to school (or take to work). Most are meals in themselves and need only some fresh fruit as a companion.

Soups
Some excellent vegan choices are Split Pea, Minestrone, Vegetable Barley, and Black Bean Vegetable. Others include Quinoa, Kale, & Red Lentil; and Split Pea. The only downside is that some of them are surprisingly low in calories, considering how hearty they are. With some warmed soup in a heat-retaining container for your child's lunch, you can always add a nut butter or other sandwich or wrap.

Chili and Refried Beans
We're major fans of Amy's Chili (see 6 Ways to Use Amy's Chili) While a can of chili providing two servings can't compare to the usefulness and pleasure of a big pot of really good chili on the stovetop, but there are those times that just won't happen. Send a portion in a Thermos-style container with some natural tortilla chips.
Amy's Refried Beans, which come in several varieties, are quite useful as well. You can use them in our Cool Refried Bean Wraps and Easiest Hot Bean Dip to enjoy as a portable lunch.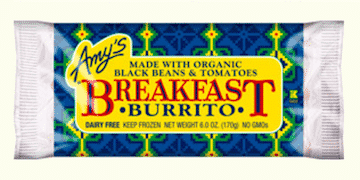 Burritos and Wraps
My kids were always very happy to find Amy's Breakfast Burrito in their lunch box, which I packed for them once or twice a month to change things up. The Black Bean Burrito is another good vegan choice, as is Black Bean Quinoa Burrito. There's also a Teriyaki wrap and an Indian Samosa Wrap, both of which are also vegan.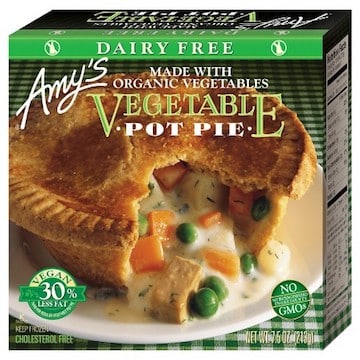 Vegetable pies
Amy's Dairy-Free Vegetable Pot Pies and Vegetable Pie Pocket Sandwich (shown at top) are both vegan and quite yummy. Like the burritos above, the latter was a lunch box favorite of my kids, to which they were treated once a month.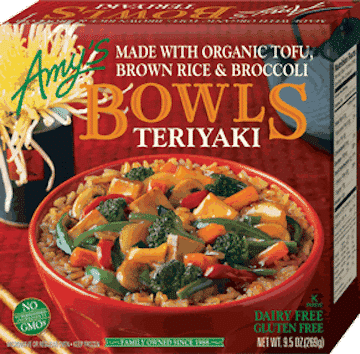 Rice Bowls
Amy's Bowls offer an array of plant proteins and veggies on rice. These are fantastic change of pace lunch box fare for more adventurous eaters — or their parents! For example, the Teriyaki bowl combines tofu, brown rice, broccoli, and other vegetables. Brown Rice, Black-Eyed Peas, and Veggies is another enticing combo. These two are not only dairy-free but gluten-free as well.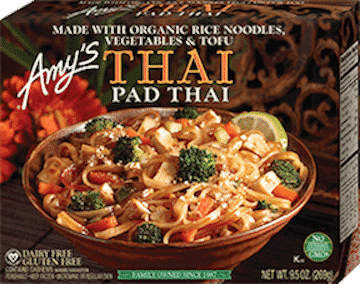 Thai specialties
Amy's Thai offerings let you send Thai-inspired meals to school with your child in a cost-effective way. Thai Red Curry, Thai Green Curry, and Pad Thai are all vegan and gluten-free and delicious.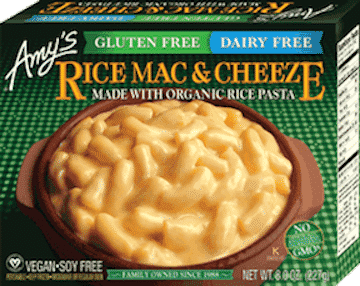 Pastas and Italian favorites
Who wouldn't love a Baked Ziti bowl on a chili day — one that anyone can enjoy with vegan cheeses and gluten-free pasta. Same goes for the nondairy, gluten-free Rice Mac and Cheeze. The latter is high in calories and relatively high in fat, so you may want to split it between two servings, and embellish with fresh veggies or a simple salad.
This is a small sampling of Amy's vegan products that are fit for the lunch box. Though many Amy's products not discussed in this listing contain dairy (and are vegetarian rather than vegan), you might like to know that no meat, fish, shellfish, poultry, eggs or peanuts are used in any Amy's products.
--
In addition to the Amy's products discussed above, here's a complete listing of their vegan offerings. Most products sold online, including their site's store, Amazon, Target, etc. tend to come in 12-packs rather than individual servings, so if you want to taste and explore before you buy in bulk, see their store locator.