Reviewed by Dianne Wenz. One of the first cookbooks I bought after going vegan in 2001 was Miyoko Schinner's The New Now and Zen Epicure. I didn't know much about cooking back then and The New Now and Zen Epicure really helped to get me get started on the culinary path I'm now on. When I heard about Artisan Vegan Cheese I could hardly contain my excitement! A new cookbook from Miyoko and it's how to make cheese? How awesome is that?
I was expecting a book full of cheese recipes, but Artisan Vegan Cheese contains much more than instructions on cheese making. It's full of recipes for everything from cashew chèvre and sharp cheddar to pumpkin cheesecake and tiramisu, with tons of recipes for meals using the cheeses you've just made.
Cheese making may sound difficult, and the recipes might look a little daunting because they take a while, but the truth is they're very easy and the hands-on time is very short. What takes a while is the fermentation process which can take anywhere from a few hours to a week. Not everything needs to ferment and there are also instructions for making super quick cheeses such as nut parmesan and easy tofu ricotta. The book contains recipes for vegan versions of other products you might miss from your dairy eating days such as sour cream and almond milk.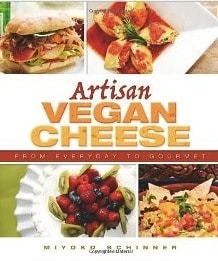 The first thing I made was a super easy cashew alfredo sauce, which I served with spinach, roasted butternut squash and noodles. Delicious! The alfredo sauce recipe made a lot of sauce, which is not a bad thing. There was enough leftover that I was able to make a second meal out of it, this time with broccoli, mushrooms and red peppers.
Next, I tried something a little more time consuming – I made meltable mozzarella. Even though this cheese took a little longer to make, I really spent only about 10 minutes in the kitchen with it. It required a little mixing, fermentation time and then a little bit more mixing and some stovetop time. And it really did look like fresh mozzarella!
The first dish I made with the mozzarella was stuffed shells, and I used Miyoko's garlic-basil cashew ricotta to stuff them with. I've made tofu ricotta before, but this recipe was different than the way I usually make it. It was rich and creamy and these stuffed shells were perfect cold weather comfort food. I had enough mozzarella leftover to make eggplant parmesan, which was delicious.
The cheese that took the longest to culture was the sun-dried tomato and garlic cream cheese, but it was well worth the wait. It was tangy and creamy and perfect on toasted bagels!
I see quite a lot of cheese making in my future, as I really want to try my hand at some of the hard cheese recipes, and I can't wait to tackle some of the desserts!
Link to more

reviews and recipes by Dianne Wenz

on Vegkitchen.
Link to Myioko Schinner's recipes and videos on VegKitchen.
See more of our reviews of

vegan cookbooks and health titles.

 
*This post contains affiliate links. If the product is purchased by linking through this review, VegKitchen receives a modest commission, which helps maintain our site and helps it to continue growing!