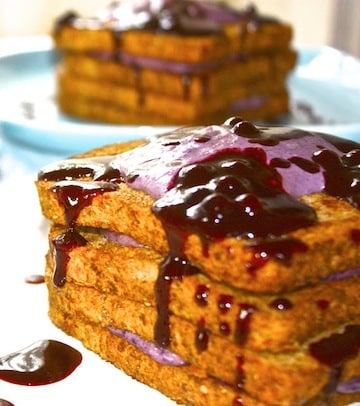 What to make for a late morning brunch... too cold for a smoothie, not really up for oatmeal... haven't had french toast for a while so I thought, why not make it a little different and a lot special...
There are three components to this fantastic, healthy dish: the french toast itself, the blueberry "cream" cheese stuffing and the blueberry syrup... of course you can use any or all of them separately for other yummy, nutrient-dense meals. Contributed by Helyn Dunn from her blog Helyn's Healthy Kitchen.
Serves: 4
1 ½ cups soy milk, or other non-dairy milk

2 tablespoons flax meal

2 teaspoons tapioca flour

1 teaspoon date or coconut sugar (or any minimally-processed sweetener)

½ teaspoon cinnamon

1 teaspoon vanilla
-
8 slices whole grain bread (I used Ezekiel)

A smidgen coconut oil for grilling
Place the first 6 ingredients into a blender and blend well. Transfer to a bowl. Let sit for at least 10 minutes.
Soak each slice of bread in the batter briefly; you don't want it too soggy.
Grill with a little coconut oil on medium heat until cooked through and golden brown.
Note: I usually make the french toast last so that it doesn't wait around getting cold.
To make the blueberry "cream" cheese:
1 cup raw cashews

¼ cup water, plus more for blending if needed

1 cup blueberries (fresh or thawed frozen)

Juice of ½ lemon

2 medjool dates, pits removed
Place all ingredients in blender and blend until smooth, adding more water as needed.
Try to use as little water as possible as you need the mixture to stand up to being smushed in between the heavy slices of bread. You will have to stop to stir it several times in between blending a little at a time to get it smooth. If you have time, you can soak the cashews in water for a few hours and then use a food processor instead of a blender which would make the blending easier.
To make the blueberry syrup:
1 ¼ cups blueberries (fresh or thawed frozen)

¼ cup water

3 tablespoons fruit juice sweetened jam or jelly
(great if you have blueberry but any kind will do—I used strawberry)

2 teaspoons tapioca flour, dissolved in a little water
Place 1 cup blueberries, water and jelly in a small sauce pan. Heat until warm.
Make a slurry out of the tapioca flour using a little water and add it to the pan. Stir until thick. Transfer to a blender and blend until smooth.
Transfer back to the pan, add the remaining blueberries and stir to combine.
To serve:
Place 4 slices of your french toast on a baking tray. Add about 4 tablespoons of the cream cheese to each slice and bake at 200 degrees for about 15 minutes. This will firm up the cream cheese a bit and also make everything nice and warm.
Remove the toast from the oven and place the remaining slices on top of each. Stack them double if you're serving 2 hungry people or leave it as a single sandwich to serve 4.
Top with extra blueberry cream cheese (you should have extra!) and some warm blueberry syrup.