We've all heard how important it is to start the day with a good, nutritious breakfast. But the truth is that many of us are tired and rushed in the morning. And since some people are just not that hungry first thing, the sleepy appetite is none too ambitious. It's unfortunate that the first hour of the day is rush hour, but for most of us, that's the reality.
In many cases, though, it's a matter of needing a list of good, easy recipes and ideas to have on hand for the first meal of the day. Vegetarian breakfasts have the built-in option of eggs and/or dairy products, but for vegan breakfasts, a bit more creativity is needed. Vegan breakfasts can be easy, quick, and energy-boosting with the right ingredients. Of course, you need not even think of the following as vegan or vegetarian breakfasts, but simply healthy breakfasts that can be enjoyed no matter what your dietary preference.
Complex carbohydrate foods based on whole grains (such as hot cooked cereals, muffins, or granola) are perfect for getting revved in the morning, yet are easy on the palate. Smoothies and other fruit-augmented recipes make satisfying breakfasts for those who like their morning meal on the lighter side. And in the third camp are those who like to start the day with a good dose of protein. There are recipes and ideas here to please all tastes. Make sure to scroll down to the end of this article to see a list of more breakfast recipes on VegKitchen.
A BASIC BREAKFAST PANTRY
One way to ease the breakfast rut is to have an array of good-quality breakfast foods on hand. You might also clear a portion of a pantry (or at least a couple of shelves) to keep all your nonperishable breakfast items—such as hot and cold cereals, granolas, pancake mixes, etc.—together.
Here's a list of what you might consider keeping in your pantry. Of course, you need not buy everything on this list, only what appeals to you and your family. Once you have a basic breakfast repertoire, you may enjoy adding new items from time to time, or changing some items seasonally.
Good-quality cold breakfast cereals: Choose organic, whole grain varieties.
Granolas: These are good on their own or mixed with other cold cereals.
Hot cereals: See the multitude of possibilities, including oatmeal and grits in Hot Cereals for Breakfast.
Embellishments for hot and cold cereals: Dried fruits, nuts, and seeds.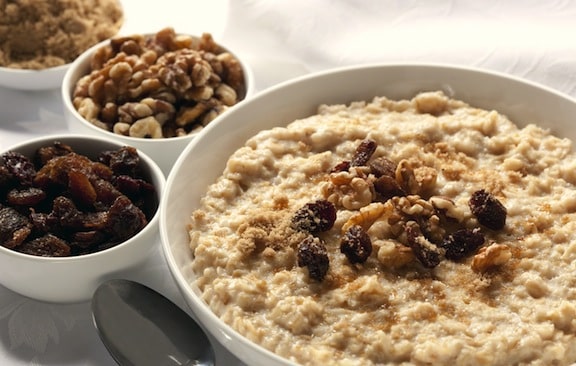 Flour tortillas: These are great for roll-ups and breakfast quesadillas
Fresh fruits in season: Bananas are welcome all year around; berries are good for summer and oranges and mangoes are delicious in winter. For serving as is or used for making juices, smoothies, or topping cereals.
Whole grain flours for pancakes and waffles: Whole wheat pastry flour, spelt flour, and cornmeal are especially useful. You might also like to stock good-quality prepared pancake and waffle mixes if you can't see starting from scratch on weekday mornings.
Whole grain frozen waffles: If you're not inclined to make fresh ones in the morning, there are some excellent organic toaster waffles available.
Maple syrup, agave nectar, and other natural sweeteners: Use sweeteners, even natural ones, sparingly in the morning!
Fresh whole grain breads, rolls, bagels, and English muffins: Mix and match for variety; keep some in the freezer.
Spreads for bread: All-fruit preserves, nonhydrogenated vegan buttery spread, nondairy cream cheese (Daiya makes a good one!), hummus, peanut and other nut butters.
Non-dairy milks: Almond, rice, hemp or soy milks in aseptic cartons are useful to have on hand in plain, vanilla and/or chocolate flavors.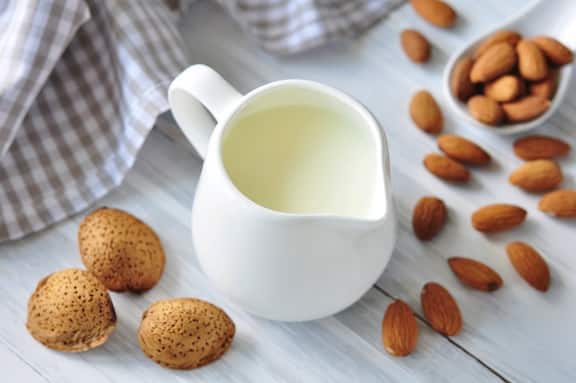 Here are some further ideas for easy vegan breakfasts. Some are to be made ahead, and some can be fixed minutes before enjoying them.
Savory fare
Cereals and such
Fruity breakfasts
Baked goods:
Smoothies
A couple of other vegan breakfast topics to explore