This classic dessert, a delectable cobbler made vegan and abundant with blueberries or blackberries, is delicious on its own or with nondairy  ice cream. It takes just minutes to prepare and is good warm or at room temperature.
Serves: 6 to 8
1 pint fresh blueberries or blackberries
2 tablespoons natural granulated sugar
Batter:
1 cup whole wheat pastry flour
¼ cup natural granulated sugar
1 teaspoons baking powder
½ teaspoon baking soda
2 tablespoons ground flaxseeds, optional
½ cup applesauce
1 tablespoon safflower oil
1 teaspoon vanilla extract
Pinch of ground cinnamon
¼ cup plain or vanilla nondairy milk
Preheat the oven to 350 degrees F.
Wash the berries and make sure that all small stems are removed. In a mixing bowl, toss them with the 2 tablespoons sugar. Place the berries in a lightly oiled 9-by-9-inch baking pan, or a 9-inch round pie pan.
Combine the first 4 (dry) batter ingredients plus the optional flaxseeds and stir together.
Make a well in the center of the flour mixture and stir in the applesauce, oil, vanilla, and cinnamon. Stir in the nondairy milk and stir just until it becomes a  smooth and slightly stiff batter.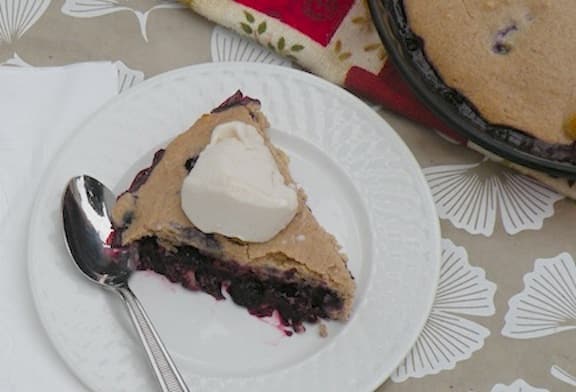 Pour the batter over the fruit and pat in evenly with the help of a baking spatula. Bake for 30 minutes, or until the top of the batter is golden and a knife inserted into the center tests clean (clean of batter, that is; of course, it's fine if the knife picks up some evidence of the berries below!).
Allow to cool until just warm or at room temperature. Cut into squares or wedges. Serve on its own or with some vanilla non-dairy ice cream.