Here's a very basic preparation for pureed butternut squash, a great side dish for winter meals. If you use a good, sweet butternut squash you'll agree that simple can be sublime. Photos by Rachael Braun.
Serves: 6
2 smallish or 1 large butternut squash (or see shortcut),
about 1 ½ to 2 pounds (or see Shortcuts)
2 tablespoons vegan buttery spread (like Earth Balance)
Pinch of nutmeg and/or cinnamon
Pinch of salt
Toasted pumpkin seeds or Candied Pumpkin Seeds for garnish, optional
The squash may be pre-baked in the oven or microwave. If you are going to use the oven, preheat it to 375 degrees.
Cut the squash in half lengthwise. Place the halves in a baking dish, cut side up with about ¼ inch of water, and cover. Bake until easily pierced with a knife, about 45 to 50 minutes. Or microwave until easily pierced with a knife, about 10 minutes.
If you don't have a knife that's sharp enough to cut the raw squash in half, simply wrap the entire squash in foil and bake in the oven until easily pierced through. How long this takes depends on the size of the squash used.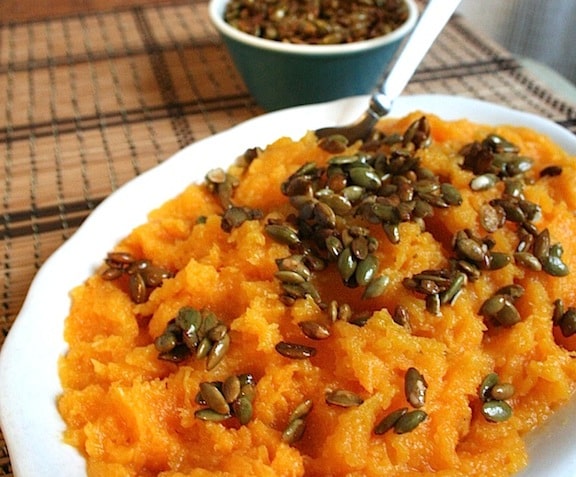 When the squash is cool enough to handle, scoop out and discard the seeds. Scoop out the squash pulp and transfer to a serving container. Add the Earth Balance, and stir in to melt. Mash the squash until smooth. Stir in the nutmeg and season with salt. Reheat in the microwave or oven just until heated through.
If desired, garnish with pumpkin seeds and serve.
Shortcuts: Use an equivalent amount of frozen and thawed butternut squash chunks. You can find peeled, diced fresh butternut squash in bags in supermarkets and natural foods stores if you don't want to deal with the baking, peeling and seeding (which is really not that difficult, but better to use butternut in any form than not at all!).