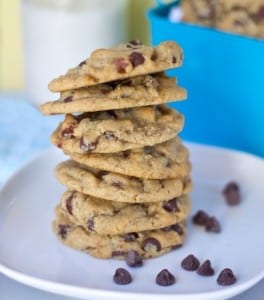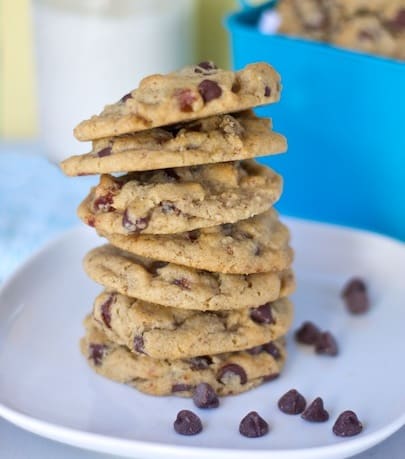 As a vegan with celiac disease… one thing that I thought I may never enjoy again was a classic Tollhouse style chocolate chip cookie. So I took it upon myself to de-glutenize and veganize a recipe I happen to consider perfect in every way (except for all
the animal ingredients it calls for, of course). Let me tell you … I kicked its ass.
I am betting that no-one could tell these cookies are missing like 90% of the original ingredients- and why waste your time telling anyone when you can be stuffing your face with such deliciousness? And since I'm a glutton for tastiness–-I added little bits of Medjool dates. Recipe and photo contributed by Allyson Kramer, from Manifest Vegan.
Makes: 24 cookies
1 cup vegan margarine (I used Earth Balance)
¾ cup vegan  brown sugar
¾ cup vegan granulated sugar
1 teaspoon sea salt
1 teaspoon baking soda
2 teaspoons vanilla extract
2 tablespoons flaxseed meal (ground flaxseed)
mixed with 4 tbsp warm water (let it set for about 1 minute)
1 cup sorghum flour
¾ cup brown rice flour
½ cup tapioca starch
½ teaspoon xanthan gum
1 cup Medjool dates, chopped into small pieces
1 cup vegan chocolate chips
Preheat oven to 375° F.
In large mixing bowl, cream together margarine, sugar, salt, baking soda, and vanilla extract. Add prepared flaxseed meal.
In separate, smaller bowl, combine sorghum flour, brown rice flour, tapioca starch, and xanthan gum.
On low speed of electric mixer, gradually add in flour mix until all is incorporated. At first, your dough will be crumbly… keep mixing (you may need to increase your speed a touch) until you achieve a soft cookie dough.
Fold in chopped dates and chocolate chips.
Scoop about 1 tablespoon worth of dough onto ungreased cookie sheet, leaving about 2″ between each cookie.
Bake 10 to 11 minutes, and immediately remove from oven.
I had to bake three separate batches, at 10 minutes each.
The cookies WILL NOT look done at this point… oh, but they are. 🙂
This is the hard part… let them stay on the cookie sheet until completely cool. This could take up to an hour or more (I know). Basically, when the chocolate chips have returned to a firm state, then they are ready to eat.  If you try to move them too soon, they will most definitely fall apart… so don't do it. And, if you do, don't say I didn't warn you.
Believe me, they are worth the wait. Enjoy with a tall glass of yummy non-dairy milk.