After waiting all winter and spring for summer to return, I have to admit that the last days of July find me starting to long for fall. I know, we're supposed to live in the moment, but I just can't make peace with heat.
When it comes to vegan dinner ideas, I think of the saying, "If you can't stand the heat, stay out of the kitchen." We take that to heart this week by presenting meals that require little or no heat. Shown above, Vegan Niçoise-Style Salad is a beautifully composed salad of French origin that looks fancy but is incredibly easy to make. The traditional version is often made with tuna, but here the fish is replaced with baked tofu, which makes a great stand-in. White beans or chickpeas, slender green beans, tomatoes, and olives makes it a splendid main dish salad for a summer meal, either on busy weeknights or festive occasions.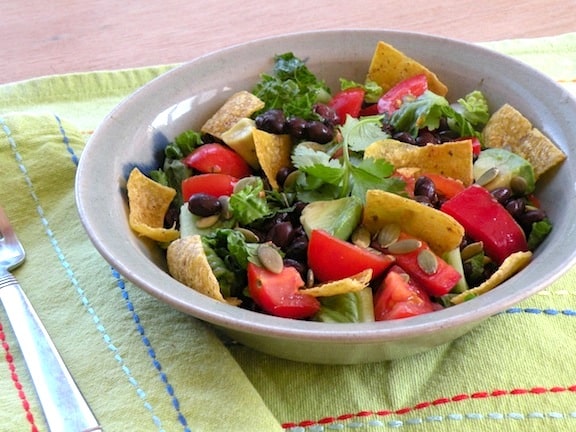 Salad is a lot more fun when it becomes a taco salad. Incorporating all the lively flavors of tacos, this tasty Taco Salad is quick and easy to prepare, and is a great choice when you'd like a hearty main-dish salad. If you'd like to add more to this one-dish meal, fresh corn is a perfect accompaniment.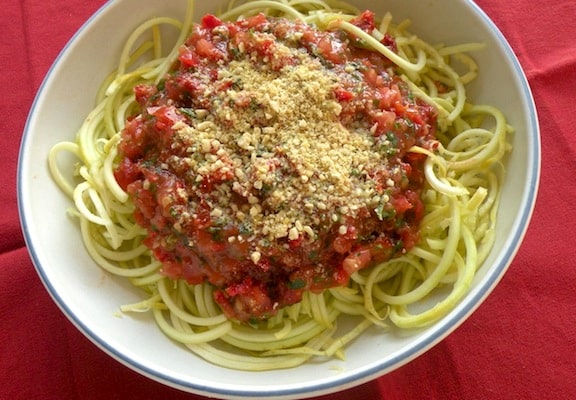 With tomatoes and zucchini quickly ripening in tandem, it's a perfect time to make Raw Squash Noodles with Fresh Tomato Sauce. Serve with a crusty bread spread with hummus.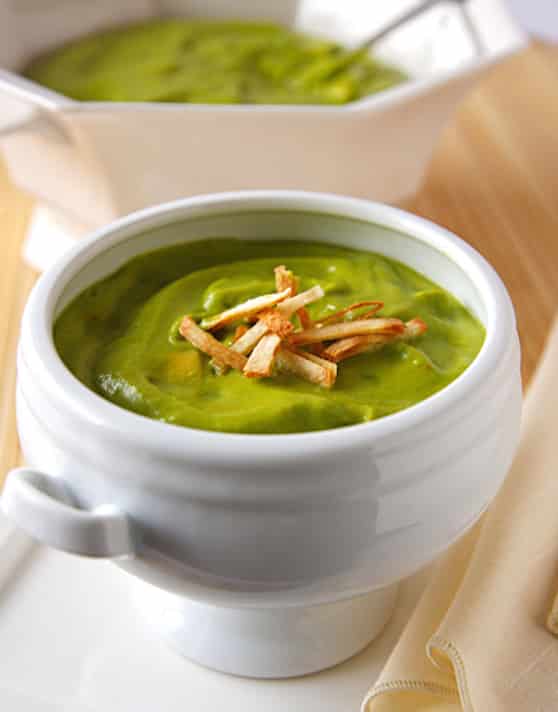 For me there's no greater refreshment in the summer than a cold soup. One of my favorites is Cold Avocado and Green Pea Soup. Serve with more of that crusty bread from last night, and add some fresh corn if you'd like.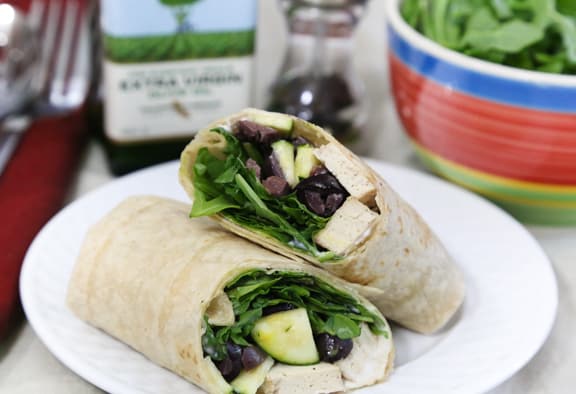 Baby arugula livens up the flavor of these simple Baked Tofu, Arugula, and Olive Wraps featuring baked tofu, crisp cucumber, and olives. The combination of flavors makes this one of my favorite wraps. Serve with leftovers of last night's soup, a perfect pairing!