Here's a relish-style corn salad that's especially good made with fresh corn. It's embellished with colorful red bell pepper, carrot, green pimiento olives, and herbs. It's an especially nice side dish with veggie burgers and wraps.
Serves: 6
3 cups cooked fresh or frozen corn kernels (from about 4 medium ears)
½ medium bell pepper, and color, finely diced
1 large celery stalk, finely diced
1 medium carrot, peeled and finely diced
½ cup halved or sliced pimiento olives
¼ cup minced fresh parsley
2 scallions, thinly sliced
1 tablespoon minced fresh dill, or ½ teaspoon dried
1 small fresh hot chili pepper, such as jalapeño, seeded and minced, optional
1 tablespoon olive oil
3 tablespoons sweet pickle relish, or more, to taste
3 to 4 tablespoons apple cider vinegar, to taste
Salt and freshly ground pepper to taste
Combine the salad ingredients in a serving bowl and stir together.
If time allows, cover and let stand for an hour or two before. Stir occasionally to distribute the dressing. Taste to adjust the various flavors — more pickle relish, cider vinegar, salt and pepper, then serve.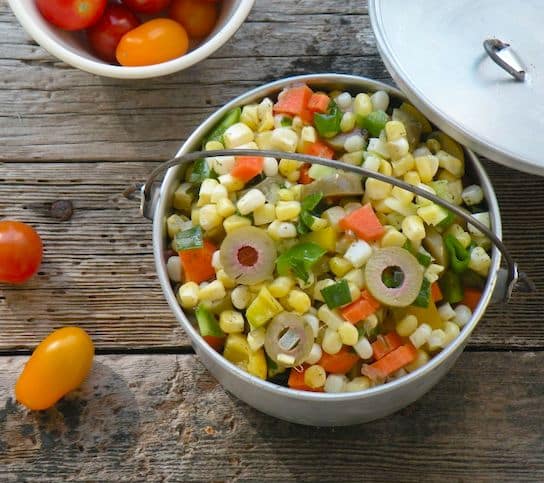 Explore more of VegKitchen's: