Smoothies are all the rage these days, and with good reason. They're a concentrated source of nutrients, and a great way to start the day, if your appetite is sluggish in the morning. They're also a easy route to getting a few servings of fruit in each day for those who don't think to do so otherwise. And they provide yet another way to entice kids and teens who are picky eaters. And of course, as an after-work or after work-out pick me up, few things are more refreshing. 
If your smoothies focus mainly on bananas, berries, apples, and other relatively soft fruits, using something as simple as an immersion blender is fine, as is a regular blender. But if you want to use seeds, raw cashews, or hardy greens (like kale or collards) in your smoothies, you need a high-speed blender. To create your own seasonal combinations, here's a basic formula for 2 to 3 servings:

1 - Combine in the container of a blender: 2 cups coarsely chopped fruit, or 1 cup coarsely chopped fruit and 1 cup berries — a banana can be among these; peel and freeze chunks of  bananas for this purpose.

2 - Make them green (optional): With a regular blender, you can add a handful of clean spinach leaves or a 2 to 3 romaine leaves, and you won't even taste the difference. If you have a high-speed blender, you can used spinach or romaine, of course, but you can take it a step further with kale or collards — one leaf per serving is about right.
3 - Then add: 1 ½ cups 2 cups liquid (unsweetened fruit juice, vanilla nondairy milk, coconut water, or even plain filtered water). Bananas add substance and sweetness for thicker and heftier smoothies.

4 - Add any of these optional ingredients: Ice, hemp seeds, chia seeds, maca powder or other superfoods or other nutritional supplement (avoid soy protein isolate, however!) or nondiary yogurt.
5 - Blend until smooth and pour into glasses. Smoothies are best consumed right away, to enjoy the most flavor and nutrition.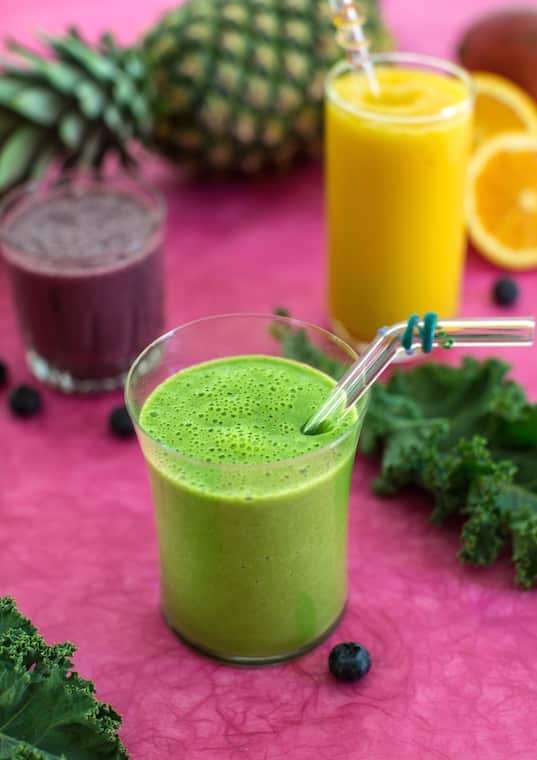 Need more inspiration? Here are more of our:
Photos by Hannah Kaminsky, from Plant Power by Nava Atlas.