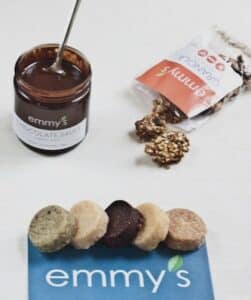 Contributed by Allyson Kramer of Manifest Vegan. Recently, I was sent a lovely package from Emmy's Organics, an excellent up-and-coming company dedicated to producing delicious goodies that are made in a dedicated vegan and gluten-free facility. 
After learning a little more about their company (which got its start in the co-creator, Ian's, mother's kitchen), I was not at all surprised to find that their products were just as great as the company's ethics. I was able to sample two types of granola, chocolate sauce, and five flavors of their macaroons. These products are not only vegan and gluten-free, they are also raw! I especially love this aspect because, as I've mentioned in many previous posts, I would consider myself a raw food devotee–even though I still eat the cooked stuff too. Balance, baby.
The Granola: I had two varieties to choose from: Apricot Flax and Original. They both had a ton of delicious, fresh tasting ingredients and a ton of flavor. Unlike other gluten-free granola I have tasted, this packed the crunch and punch of the granola that I have come to expect since growing up with the regular omnivorous varieties. There is no puffed rice, no corn, no oats!!, and no added sugars in this granola–only sprouted buckwheat, fruits, nuts and seeds that made this some of the best packaged granola I have ever eaten.
The Chocolate Sauce: I seriously put this chocolate sauce on just about anything I could find. It was unbelievably rich in chocolate flavor, and I had to keep looking at the label to make sure it was indeed a raw product. It tasted exactly like a favorite–definitely not raw nor healthy–brand of chocolate sauce that I used to devour back in the day … only better. It worked beautifully stirred into ice cream (add some crumbled up macaroons and it's pretty much Heaven), drizzled onto my famous Apple Nachos, as a fun addition to a peanut butter banana panini, and it went effortlessly along with my family and I on a picnic with its resealable and reusable packaging. Definitely a keeper, and great to have around for when those random chocolate cravings strike!
The Macaroons: As I mentioned, I got to try a whopping 5 flavors of these wonderful macaroons: Choco-Orange, Mint Chip, Coconut Vanilla, and Chai Spice, and I truly adored every flavor. My favorites were the Mint Chip and Chai Spice, mostly due to the fact that the flavors were very prominent, and the coconut taste seemed more of an undertone. Whereas in the Coconut Vanilla and Choco-Orange, the coconut seemed to dominate, which is apropos for a macaroon.
If you are not familiar with emmy's delicious products, you certainly should get acquainted soon. You can thank me later.
Emmy's also sells a variety of other products that are deliciously vegan, gluten-free and raw. Check them out and spread the love. Their simple and dare I say "hip" (environmentally friendly) packaging is cute enough to give even as a gift!