Allyson Kramer, who runs the popular Manifest Vegan blog (if you are interested in gluten-free, vegan, or both together, this is the place for you!) has released her first book, the bountiful, colorful Great Gluten-Free Vegan Eats.* Going vegan is a trend that has exploded over the last few years, and gluten-free diets have also gained traction in a big way.
For those with celiac disease, eating gluten-free is an absolute, life-saving necessity; for others with gluten sensitivity, eliminating gluten makes them feel immensely better. That has been true for my assistant, Rachael — what a difference it has made for her. Then there are others who may not have a medical reason to eliminate gluten, but who just know they feel better without it.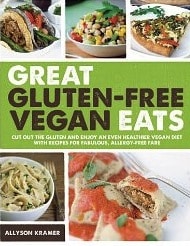 Somehow these two ways of eating have intersected quite a bit over the last couple of years. I can't really say why vegan and gluten-free have joined forces so companionably, but it does seem like this pairing is here to stay. Anyone who goes vegan knows, cutting meat and dairy from the diet opens up a whole new, wider world of foods, and similarly, eliminating wheat and other gluten-rich grains opens up another realm of possibilities.
I love that this book opens with a Gluten-Free Flour Guide and am looking forward to exploring more of these flours, which include superfine brown rice flour, millet flour, and quinoa flour (I'm already a big fan of quinoa flakes).
If you're gluten-free and tired of paying exorbitant prices for gluten-free bread, you'll love the Basic Brown Bread. I'm not the greatest bread baker but this came out wonderfully for me, tender and moist with the perfect crust. And since we're in the midst of strawberry season, I also tried the Strawberry Shortcake Muffins. These little cuties are brimming with fruit, and so easy to make.
With Allyson's guidance, you'll learn to make many baked goods you though you might never be able to eat, if you are indeed on the strict gluten-free diet: scones, cookies, blintzes, pie crust, pizza dough, and even bagels and donuts. You'll even get a lesson on making GF pasta, from scratch!
Aside from baked goods, you'll find an array of recipes that combine conversion with good, hearty vegan food, like Pasta Stroganoff, Stuffed Cabbage Rolls, and Mac 'n Cabbage Polonaise. To round your meals out, there are veggie-centric delights like Drenched Pad Thai Salad, Spicy Edamame Coleslaw, and Lemon Roasted Leeks.
An array of soups, desserts, snacks, and appetizers with unique twists will appeal to those who are GF and vegan, as well as anyone who appreciates easy, healthy fare that looks as good as it tastes. Allyson Kramer does her own photography for her blog, as she did for Great Gluten-Free Vegan Eats*, and her lovely photos will bring you up close and personal with every recipe in this collection.
Sample two recipes from the book:
See more of Allyson Kramer's recipes on VegKitchen
Read more of VegKitchen's book reviews.
--
*This post contains affiliate links. If the product is purchased by linking through this review, VegKitchen receives a modest commission, which helps maintain our site and helps it to continue growing!