EnLIGHTened: How I Lost 40 pounds with a Yoga Mat, Fresh Pineapple, and a Beagle-Pointer* by Jessica Berger Gross (Skyhorse Publishing, NY) is perfect bedside fare, easy on the eyes and relaxing to read. The author chronicles her long struggle with up-and-down weight, from childhood into early adulthood.
Her salvation has been a dedication to the practice of yoga. I would heartily recommend this book not only to anyone who battles with extra weight, but to anyone who wants to find a key to a more balanced way of eating and living. This is not about dieting, but about one woman's quest to live joyfully and healthfully, presented with charm and honesty.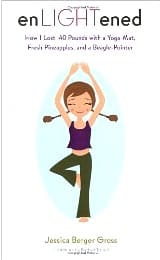 I've long taken yoga classes, but this book inspired me to start practicing at home on a regular basis. If I don't make it to class, I start to feel less limber and energetic. Since I have a number of excellent yoga videos, and I'm not a beginner, this book was just what I needed to inspire me to get into a routine. So, from now on: yoga on the mat in my den, at least twice a week, early in the morning! If I make it to a class as well, all the better. I credit this book with reigniting my love of yoga and helping me to commit more fully to making it a regular practice.
I appreciate the way the chapters starts with a brief Yoga Sutra. The Sutras are the key texts of yoga philosophy, originally written in Sanskrit. The ones touched upon here are truthfulness, moderation, discipline and zeal, purity, nonviolence, self-study and introspection, and touching enlightenment. But please, don't get the impression that this is a heavy philosophical tome. Mainly, it's a deeply personal, candid look at the emotional and cultural barriers to living a vibrant life in a slender body, and one woman's gentle quest to conquer this particular battle.
Yoga lifestyle and philosophy go hand in hand with vegetarianism and veganism (in fact, easy veg recipes are sprinkled throughout). This book would make a splendid gift for Mother's Day or for college grads who are interested in a healthy lifestyle and a concise introduction to yoga. Learn more about enLIGHTened at Amazon.com.*
*This post contains affiliate links. If the product is purchased by linking through this review, VegKitchen receives a modest commission, which helps maintain our site and helps it to continue growing!