Fattouche salad is a Middle Eastern classic that's not as well known in western culture as is tabbouleh, though maybe it should be — it's just as delicious. It gets its characteristic touch from the use of small bits of toasted pita bread mingling with juicy tomatoes, cucumbers, and fresh herbs. It's good all year round, though especially tasty with summer tomatoes
Serves: 4 to 6
2 large whole-grain pita breads, cut into bite-sized pieces
4 medium ripe tomatoes (try a combination of
yellow and red tomatoes as well as cherry or grape tomatoes)
1 smallish medium cucumber, peeled, quartered lengthwise,
and sliced (or 2 Kirby or Persian cucumbers, sliced)
½ red bell pepper, finely diced
½ cup black or green olives, any variety you like, pitted or not
2 to 3 scallions, minced
½ cup chopped fresh parsley
3 tablespoons extra-virgin olive oil
Juice of 1 lemon (about ¼ cup)
Salt and freshly ground pepper to taste
Toast the pita breads in a 375º F. oven or toaster oven until golden and just beginning to become crisp, about 8 minutes. Carefully stir about halfway through.
Combine the remaining ingredients in a serving bowl. Add the cut pita and toss again. Allow to stand for a few minutes so that the pita bits can soak up some of the flavors, then serve.
Variation: Toss some chickpeas into the fattouche salad to make it more substantial or to use as a main-dish salad.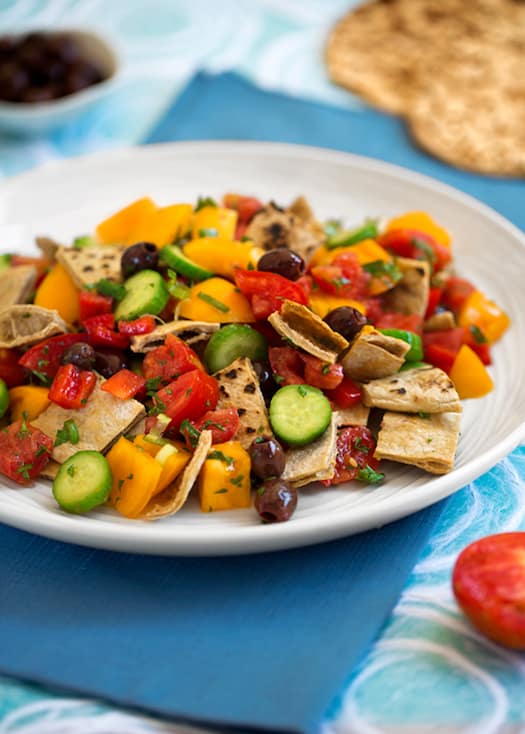 Photos: Hannah Kaminsky