The phrase "healthy holidays" might seem like a contradiction in terms for anyone with dietary restrictions (vegans, vegetarians), food intolerances and allergies (gluten, lactose) and the generally health-conscious. No one relishes the idea of gaining the fabled seven pounds that the average American puts on between Thanksgiving and New Year's Day. While this statistic might be an urban legend, but it's become  emblazoned on our consciousness. So, even the fear of those extra pounds makes it a force to be reckoned with.
Food-related guilt and stress aren't choice emotions with which to celebrate the holiday season. To help find balance and joy, here are a few of VegKitchen favorite ways to celebrate healthy holidays.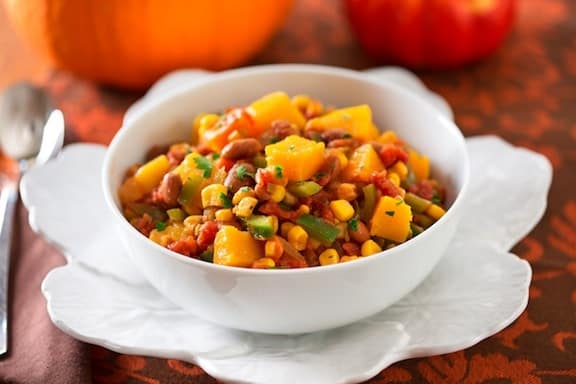 THINK ETHNICALLY: I enjoy stepping outside of my own cultural heritage to jazz up holiday meals, whether that means making Sephardic dishes for Hanukkah, or Native American dishes (such as Three Sisters Stew, below) for Thanksgiving. Ethnic cuisines offer a world of options, including the use of creative seasoning and greater use of produce in the menu. Shown above, Three Sisters Stew, inspired by a Native American recipe.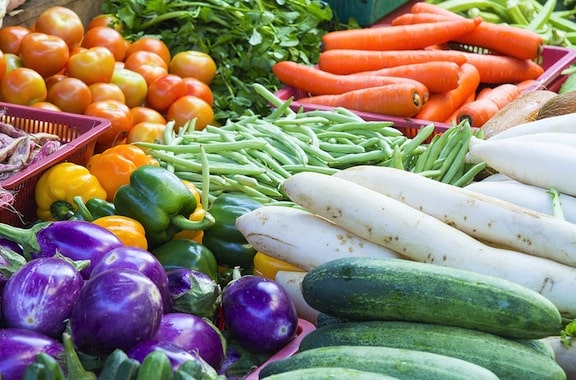 USE SEASONAL PRODUCE: Use an abundance of hardy fall vegetables, including a variety of squashes, pumpkins, apples, pears, sweet potatoes and other root vegetables, the cruciferous vegetables (cabbage, broccoli, cauliflower) and fresh greens. Support local agriculture by shopping for late-season crops at local farm markets. Soon, many of them will be closed until May. Use lots of seasonal fruits to reduce the temptation to overindulge in sugary sweets.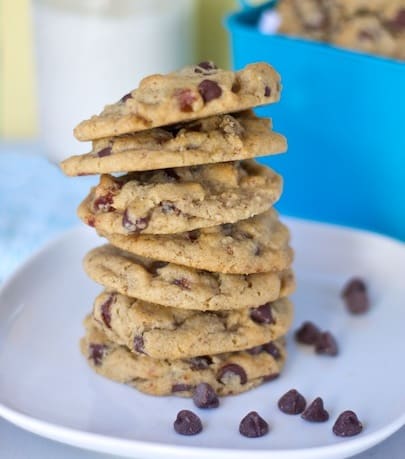 KNOW YOUR GUESTS' NEEDS: When planning a holiday meal, or any festive meal, I like to ask guests beforehand if they have any dietary restrictions. It's surprising, for example, how many people have gone gluten-free (see Allyson Kramer's GF Chewy Chocolate Chip Cookies with Dates, above). Being able to accommodate everyone is gratifying, and I like everyone to leave the table happy.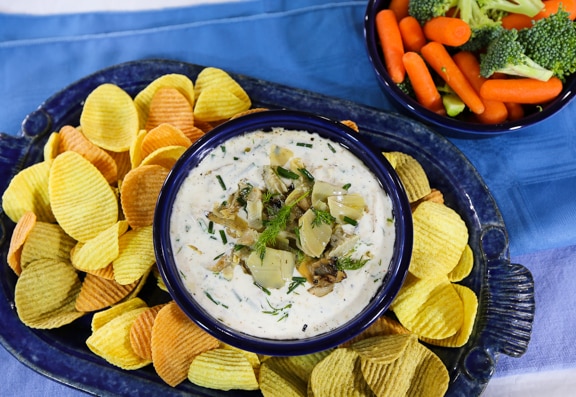 PROVIDE FOR YOURSELF: If you're invited to a gathering where you suspect there will be limited food choices, volunteer to bring something healthy, whether an appetizer (how about wowing your friends and family with Smoky Vegan Cheddar Cheez, shown at the top of this post, or the 5-Minute Vegan Artichoke Dip, above), a main dish, or a fruity dessert. You'll ensure your own satisfaction while sharing your good food choices with others.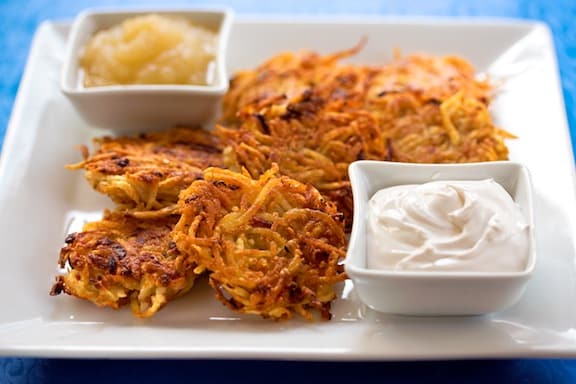 MINIMIZE THE FAT: Holidays are a perfect time for a bit of indulgence, but too much makes us feel awful. Don't be afraid to break with tradition. Just because your mom made a favorite dish or dessert with tons of fat, that doesn't mean you have to. There are many easy ways to substitute healthier ingredients for fatty ones, or to bake or roast dishes instead of to fry them. For our Vegan Latkes, above, you might actually come to prefer the baked version over the more traditional fried recipe. Some other tips:
For baking, you can substitute nondairy yogurt, or applesauce for nearly all the fat in a recipe (as I've done in the baked goods, above). The results are always unbelievably moist.
Cook grains and "sweat" vegetables in vegetable broth. It gives them a flavor boost that helps curb the impulse to use more fat such as butter to heighten taste.
Move away from the notion that the richer something is, the better it tastes. Fresh and dried herbs, spices, lemon and lime juice, vegetable stock, and wine all do wonders for flavor without adding fat—or even calories, for that matter.
KEEP UP THE EXERCISE! This is no time to undo any good exercise habits you've (hopefully) gotten into. In fact, exercise will not only help you burn off the almost inevitable extra calories, it helps regulate the metabolism, and is a great cure for the winter doldrums. It doesn't have to be anything fancy—grab a few of your holiday guests, bundle up, and take a nice long walk!