Looking for how to make Homemade Vegan Tortillas? This recipe uses only 3 basic ingredients! These tender, whole wheat tortillas are much better than store bought.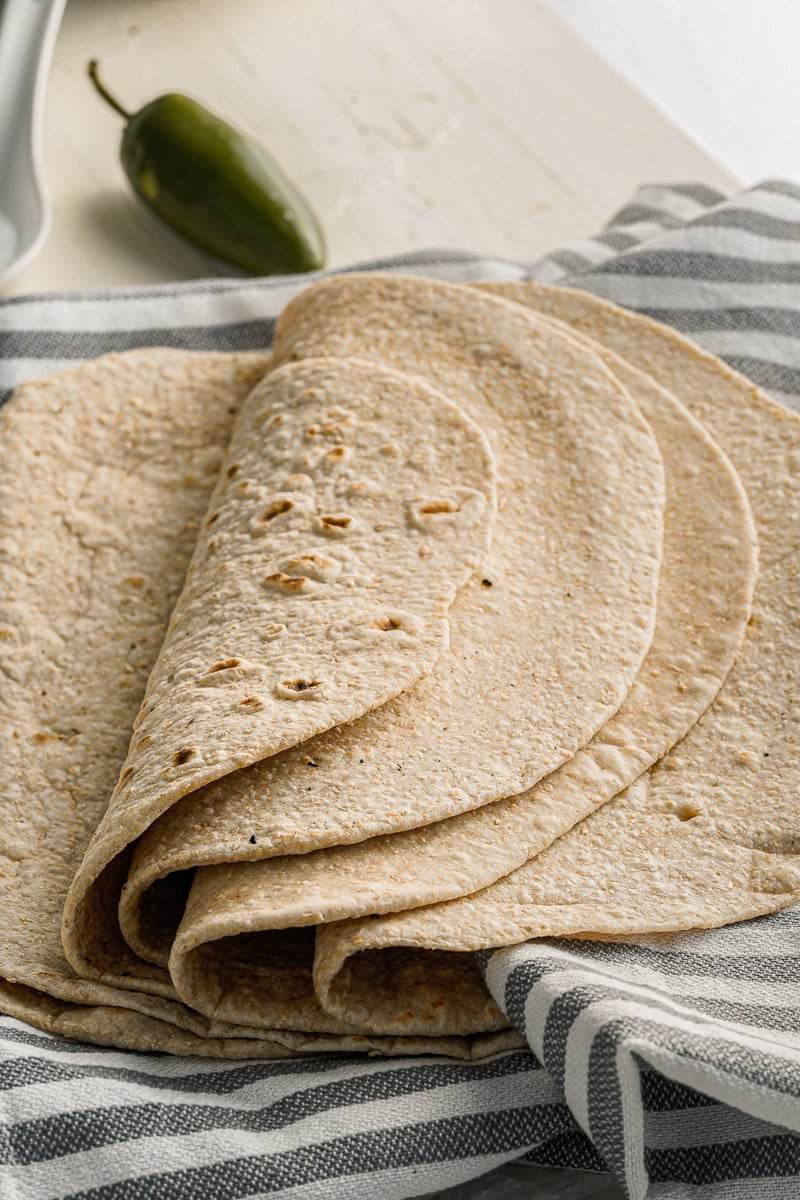 Jump to:
These vegan tortillas are pliable and offer a mild flavor. Use them in breakfast burritos, wraps, tofu burritos, and more. The possibilities are endless!
This Homemade Vegan Tortilla recipe is...
Made with 3 ingredients
Whole wheat
Easy to make
Freezer-friendly
How to Make Homemade Vegan Tortillas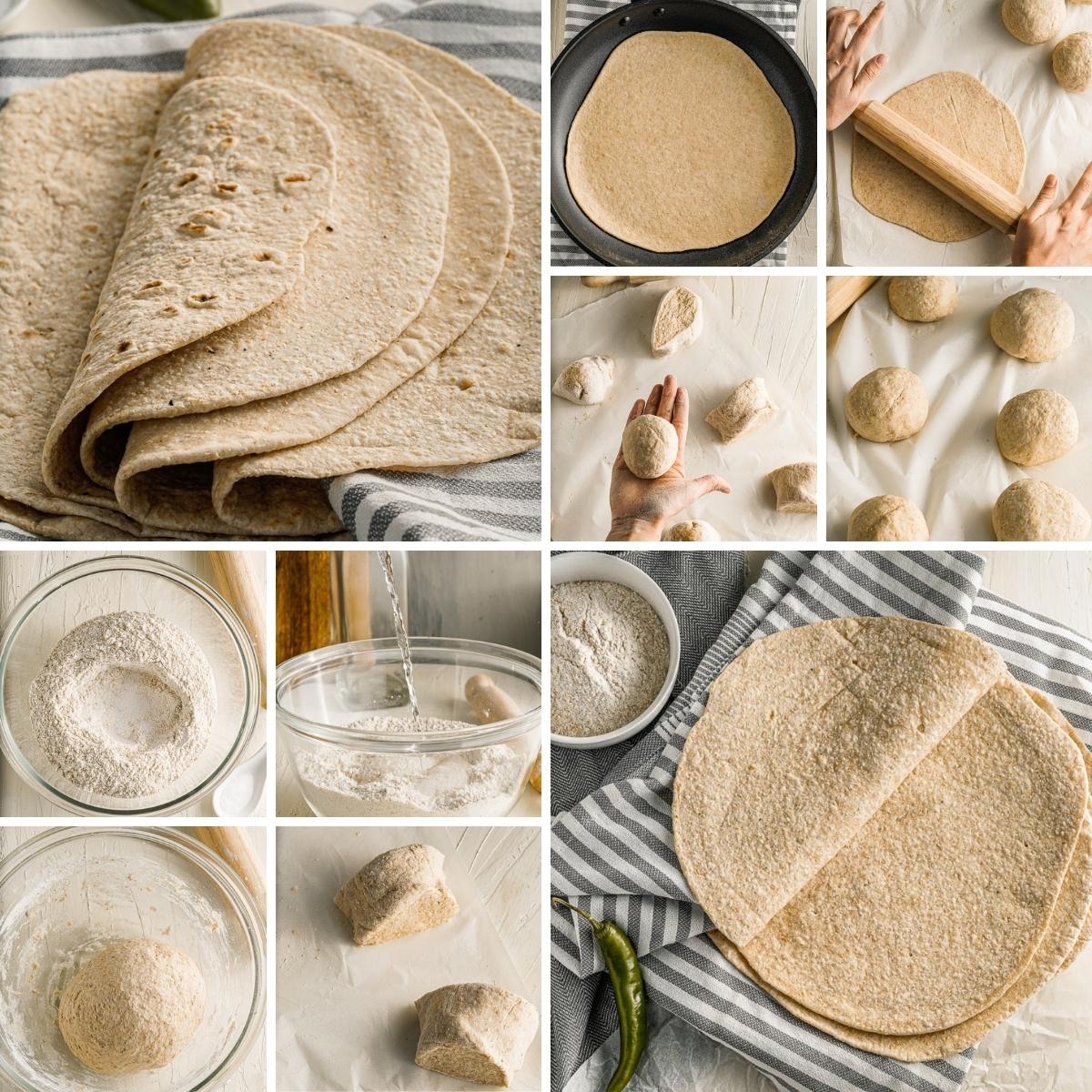 Mix the flour and salt in a large bowl.
Slowly add the water and mix to create dough.
Flour a cutting board and knead the dough for 5 minutes.
Once dough is soft, cut it into 6 equal parts.
Roll out each dough ball to create a thin tortilla.
Cook on a heated skillet, browning each side.
Full directions how to make Homemade Vegan Tortillas are in the printable recipe card at the bottom of the post.
Tips & Tricks for Homemade Vegan Tortillas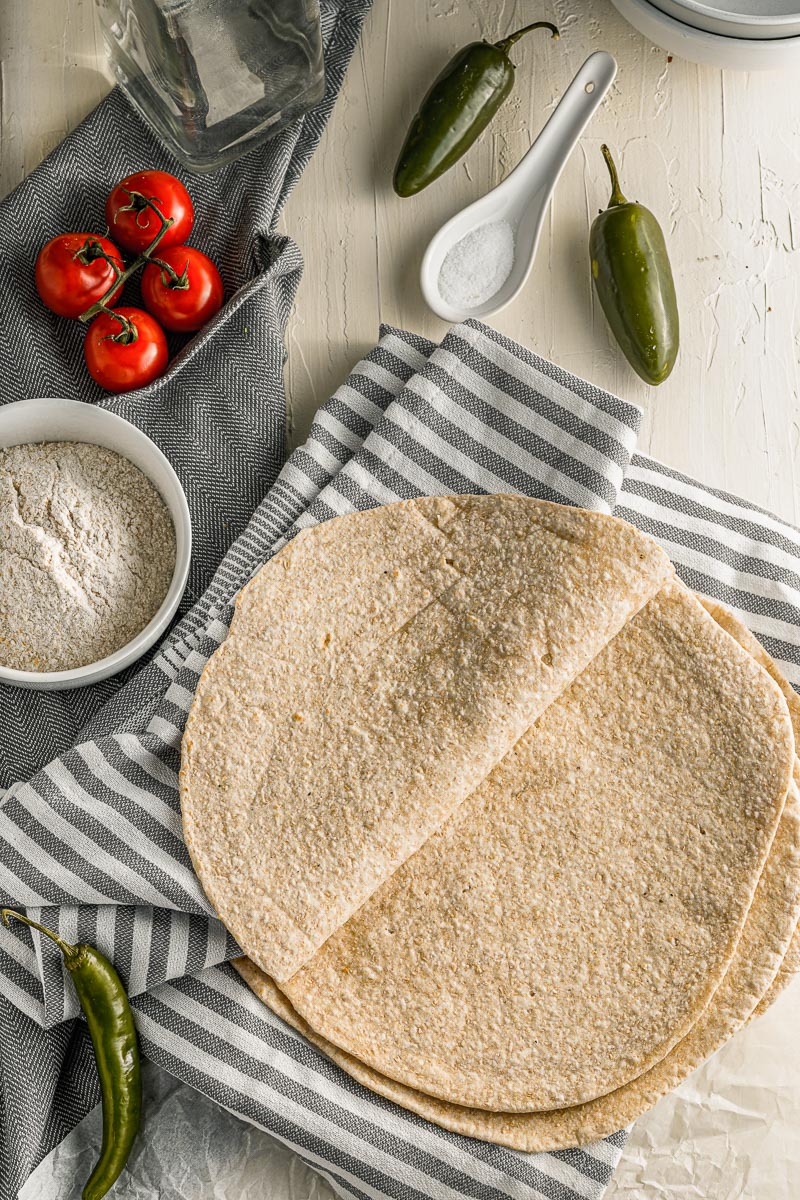 Working the Dough
Make sure that you really work and knead your dough for around five minutes. This kneading is going to create the perfect texture for your tortillas. If you don't knead your dough enough, your tortillas won't have that iconic tortilla texture you're looking for.
Rolling Out Tortillas
You can buy tortilla presses that will flatten all your dough balls evenly. Alternatively, you can use a rolling pin to create thin tortillas. Whichever method you choose, try to keep all of your tortillas the same size and thickness.
Air Pockets
As you cook the tortillas, air pockets may develop. If this happens, just grab a knife and gently break the bubble. The bubbles won't affect the taste of your tortillas at all.
Storing Tortillas
You can store your vegan tortillas for 3–5 days at room temperature in an airtight container. Or you can freeze them for 4–5 months. Just make sure to freeze them in a freezer-friendly container, and then thaw the frozen tortillas on the counter before using.
Variations to Homemade Vegan Tortillas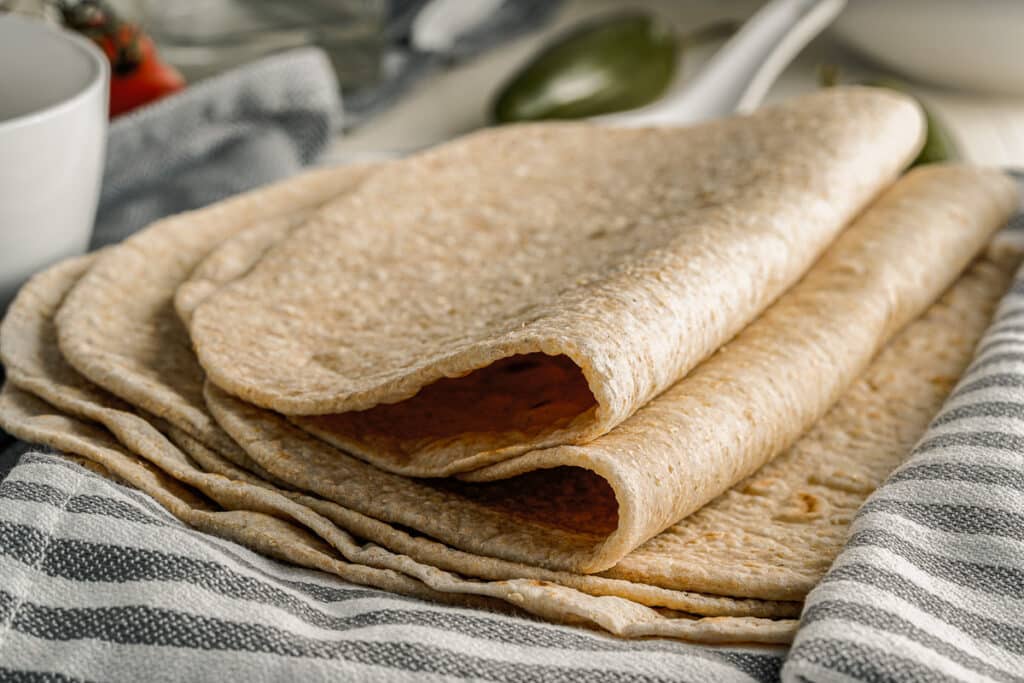 Flour
I used whole wheat flour for these flour tortillas. If you prefer, you are welcome to use an all-purpose flour or bread flour instead. Just note, you will need around ¼ cup extra water if you use all-purpose flour.
Herbs and Spices
If you want to flavor your tortillas, you can mix herbs and spices into the tortilla dough. This will then give your tortillas a nice seasoned flavor. Get creative and find the spice combination that you like best!
Homemade Vegan Tortilla FAQs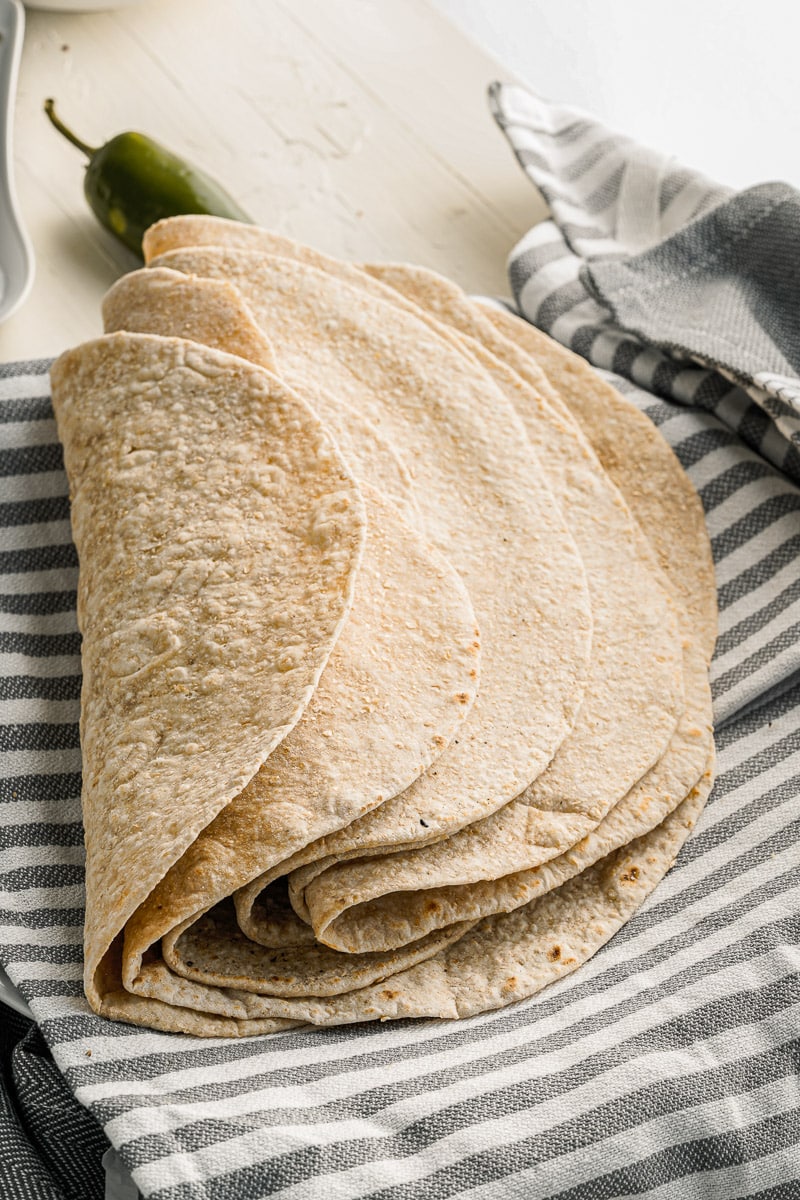 How many tortillas does this recipe make?
This recipe makes six 12" tortillas. If you want to make the tortillas larger or smaller, then make sure to divide the dough accordingly.
How should you store cooked tortillas?
Store your cooked tortillas in an air-tight container. I like to wrap my tortillas with either a cheese cloth or paper towels before placing them in an airtight container or bag. This extra wrap helps prevent the tortillas from drying out.
What is the difference between traditional and vegan tortillas?
Traditional tortillas are made with lard, which is not vegan friendly. Because vegan tortillas don't contain lard, there will be a slight difference in flavor between the two tortilla varieties. But overall, both traditional and vegan tortillas are very comparable.
How long do tortillas take to cook?
Tortillas only require a couple of minutes on each side to cook. You just want to create those golden pockets that help cook up the flour mixture. It's important to cook your tortillas fully so you're not eating raw dough!
Recipe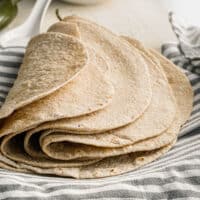 Homemade Vegan Tortillas
Looking for how to make Homemade Vegan Tortillas? These tortillas only require 3 basic ingredients and are much better than store bought.
Print
Pin
Rate
Email
Instructions
Mix the flour with the salt in a large bowl.

Combine until it forms a cohesive dough.

Sprinkle some flour on a cutting board. Knead the dough for five minutes or until soft. If the dough sticks to your hands, add additional flour and keep kneading until the dough is easy to shape.

Split the dough into six equally-sized balls.

Use a rolling pin to flatten each dough ball into a thin tortilla.

Cook the tortillas in a heated skillet for 1–2 minutes on each side. If bubbles appear, gently break them with the tip of a knife.
Notes
This recipes makes six large (approximately 12") tortillas. However, you can make a larger amount of smaller-sized tortillas.
Tortillas should be kept tightly wrapped to keep them from drying out.
You may use all-purpose flour for this recipe, but if so, you may need to add additional water to reach the desired consistency. I added approximately ¼ cup of extra water with my all-purpose flour version of this recipe.
Nutrition
Calories:
204
kcal
|
Carbohydrates:
43
g
|
Protein:
8
g
|
Fat:
2
g
|
Saturated Fat:
1
g
|
Polyunsaturated Fat:
1
g
|
Monounsaturated Fat:
1
g
|
Sodium:
391
mg
|
Potassium:
218
mg
|
Fiber:
6
g
|
Sugar:
1
g
|
Vitamin A:
5
IU
|
Calcium:
22
mg
|
Iron:
2
mg
Vegan-ize any recipe!
Grab our free vegan cheat sheet, packed with my favorite easy substitutions to make any recipe vegan.