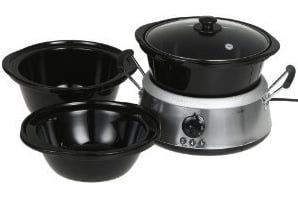 Contributed by Kathy Hester, author of The Vegan Slow Cooker* and Vegan Slow Cooking for Two (or Just for You*)One of the things I'm frequently asked is how to choose a slow cooker. I have favorites that I'm happy to recommend, but there are a few questions you need to ask yourself to determine what's best for you .
How many people are you cooking for?
4 quart will feed 2 and have leftovers for lunch the next day or feed 4
3 ½ quart is pretty close to a 4 quart but works better for a 2 to 3 person household
5 quart is good for a family of 4 to 6
Unless you have a huge family or cook meals ahead and freeze them you would not want anything over a 6 quart
Round or Oval?
Want to cook breads in a loaf pan? An Oval one is the way for you to go to fit pans inside the slow cooker and getting them back out easily. Round ones can be cheaper but tended to have more hot spots in my experience, so I don't like them for baking but they are perfect for soups or stews.
Manual or Programmable?
Manual ones are less expensive, so that's one reason to pick it. Programmable refers to the ability to automatically switch to warm after the time you specify. It does not allow you to program the time it starts. (Lots of people would get food poisoning if they did – especially meat eaters!)
If you come home late or have an unpredictable schedule spend the extra money on a programmable slow cooker. It will pay for itself by not ruining your dinner.
Why am I obsessed with 1 ½ to 2 quart slow cookers?
Ok, this is an easy one. These run around 10 to 20 dollars and you can make breakfast, dips, fondues, and cook just a cup of beans at a time. I really use mine every day for oatmeal and then again during the day to cook just enough beans to use for making dinner.
New Slow Cooker FAQS
It will run hotter than the one you are replacing that's 10 years old. Add more liquid or cook for a shorter amount of time.
Fill it up ½ to ¾ of the way full. If your instructions say ¾ believe them or you may come home to burnt stew. (Another reason to not buy one that's too big.)
The new low is almost as high as the old high. This was changed for safety issues.
Make sure you are at home the first time you use a new (or used) slow cooker. Just like any appliance you need to make sure it's working properly.
The outside may also get hotter so clear the area around the slow cooker.
My latest favorites: These change for me. Realize I own over 10 slow cookers of various sizes and brands. These are the ones that are on my counter this week.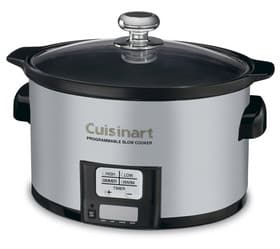 My new favorite is a 3 ½ quart Cuisinart. it's a little pricey but has a simmer setting which lower than low and is worth the money. They also have a 4 and 6 quart version of this. I got the 3 ½ because it was on sale and fits my needs of a 2 person household.
My next fave is any of the Hamilton-Beach 3 in 1* (I got mine on overstock on sale) — see photo at the top of this article. It has a 2, 4, and 6 quart interchangeable bowls with one base. It's perfect if you don't have much storage space. I like it because it lets you easily pick the size you need at the moment and they nest together for storage.
You should be able to make the oatmeal in the 2 quart of the 3 in 1, but you may have to add extra liquid since it's evaporating surface is larger than a smaller 1 ½ quart. I haven't tested it yet, but I will update this when I do.
Also both Hamilton Beach and Cuisinart state that they do not have lead in their crock glaze. That doesn't necessarily mean that all the others have lead, but it makes me feel better to have it stated.
I hope this helps you become more comfortable in choosing a new slow cooker. Definitely shop around for prices, they vary site to site.
Kathy Hester is the author of The Vegan Slow Cooker.* Visit her on the web at Healthy Slow Cooking and Busy Vegan.

*This post contains affiliate links. If the product is purchased by linking through this review, VegKitchen receives a modest commission, which helps maintain our site and helps it to continue growing!