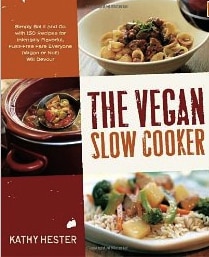 I'd like to take a quick poll. Three Questions.
How many of you are vegan or vegetarian, and think the slow cooker is not your friend?
How many of you are full-fledged carnivores and think your tummy and tastebuds wouldn't be satisfied without meat or cheese?
How many of you, whatever you eat, think slow cooker food is just bland, boring, and unhealthy?
Actually, one more. How many think that this pot pie below looks pretty darn delish? I don't blame you. Any of you. I can understand. Slow cookers are meant for meatballs and roasts. And people who like meatballs and roasts just don't understand how beans or tofu can make a meal. And all of those things, smothered in sodium-laden soup mix, kind of all taste the same after hours of being smothered. Because pretty much all slow cooker recipes boil down to soup mix.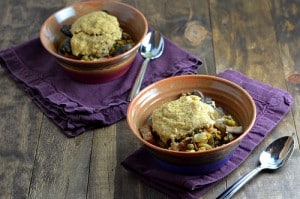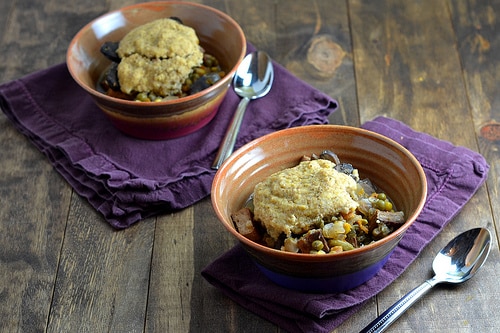 I know a book that will disprove both of those things,
and it's called The Vegan Slow Cooker: Simply Set It and Go with 150 Recipes for Intensely Flavorful, Fuss-Free Fare Everyone (Vegan or Not!) Will Devour.* This paperback gem, written by fellow food blogger Kathy Hester (I love when bloggers write books!) contains over 100 recipes sure to satisfy all kinds of eaters and cooks. When Kathy asked me to review her book, I was flattered and excited. When it arrived in the mail and I got to flip through it for the first time, I was giddy.
A book so tasty I can't decide to make first. Would it be the Chile Relleno Casserole (hello, it's got chickpea flour!) or Creamy Mushroom Lasagna? Or perhaps the Lemon Tea-Thyme Blondies? You didn't forget that these are all vegan, right? A good deal are gluten-free too, or can easily be adapted as such.
Delicious sounding recipes and pretty pictures weren't all that excited me, however. Short ingredient lists (don't you just hate having to buy a million weird things?) and easy instructions are another reason to love this book. Kathy even gives instructions for what you can throw together the night before (literally, this might be chopping a few things or whipping some ingredients together in the food processor, nothing more). I also like that she tells it like it is, for example: "if your slow cooker runs hot or you will be cooking for longer than 8 hours, add another cup or two of liquid." I confess that one of the struggles, when writing a recipe, is coming up with precise quantities and instructions that will work for everyone, but sometimes it's just not possible, especially for slow cooker recipes where time and temperature can vary quite a bit! I like that she gives us that little, but important, reminder, because she wants to make sure the recipes work for you.
And I can't see why they wouldn't. Having spent some quality time with The Vegan Slow Cooker*, I can honestly tell you that the recipes are super quick to prepare. Who wants to spend a long time prepping for something that's meant to save time? Not me. And, I can tell you that the recipes are superb. The Italian Eggplant Casserole was something my husband called leftovers on before he finished eating (as in, "how much is leftover? Can I take it for lunch tomorrow and the next day?"). My mother, who has never eaten tofu outside of hot and sour soup, was equally impressed with the Pantry Pot Pie.
Fortunately for you, the publisher has agreed to let me share these recipes. I hope you enjoy them as much as I do, and get a good taste of what's to come when you purchase The Vegan Slow Cooker.* If you're a vegan or vegetarian, you already know you'll get plenty of use from this book. If you're a shameless meat-and-dairy eater like me who's not convinced that eliminating those foods is necessarily healthier, simply consider that eating meat-and-dairy-free meals once in a while is a good way to save some money and lessen your load on the environment. Well, that, and they taste great and are easy to make!
Follow these links to Kathy's Recipes for:
Visit Cara Lyons on Cara's Cravings. If you like what you see and want more, subscribe via email or in a reader, follow her on Twitter, or visit her on Facebook.
*This post contains affiliate links. If the product is purchased by linking through this review, VegKitchen receives a modest commission, which helps maintain our site and helps it to continue growing!