Grits, or hominy grits, are hulled, dried, and cracked corn kernels. To add variety to your grain repertoire, do try them! Please seek out stone-ground grits, which are much more flavorful than the stripped-down quick-cooking grits sold in supermarkets. They make a soft bed of (naturally gluten-free) grain for bean and vegetable dishes. or even as a pleasant side dish. Grits can also play a starring role in simple preparations, rather than just being used as a bed of grain. 
Basic cooked grits: The directions for cooking grits are almost identical to those for polenta, using a bit less water. Bring 3 ½ cups of water to a simmer in a roomy saucepan. Sprinkle in a cup of stone-ground grits, whisking all the while. Turn the heat down to very low and cover the saucepan with the lid slightly ajar.
Cook for 15 to 20 minutes, whisking frequently to prevent lumping. If the mixture is too thick, whisk in an additional ½ cup of water. Stir in a tablespoon or two of Earth Balance or other vegan buttery spread, and season with salt. This makes 4 generous or 6 moderate servings.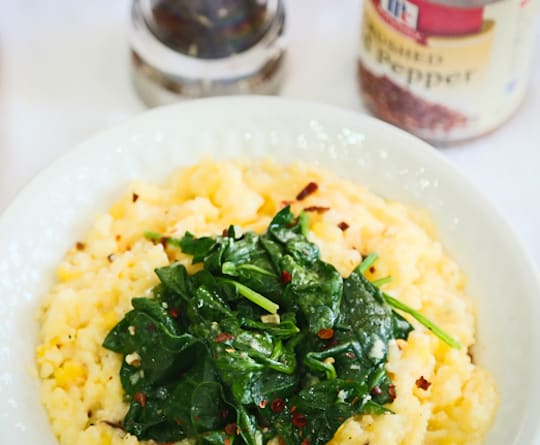 Here are a trio of simple and tasty ways to embellish grits, plus links to more recipes on this site:
Vegan cheese and/or corn grits: To the basic cooked grits, add ½ to 1 cup grated vegan cheese and a cup or so of cooked fresh or frozen corn kernels. This is a quick and comforting dish to serve any time of day or for dinner.
Tomato and chili grits: To the basic cooked grits, add 1 large or 2 medium diced tomatoes and 1 to 2 small fresh hot chili peppers, seeded and minced. To this, you can also add vegan cheese and/or corn.
Grits n' Greens: (see photos at top, and below) To the basic cooked grits or either of the variations above with a generous amount of wilted spinach, chard, kale or collards. If you need a formula to follow, consult Simple Sautéed Garlicky Greens. Sprinkle with pepper and/or dried hot red pepper flakes if you'd like.
See also: