I offer these creamy grits topped with my version of Ethiopian greens. Of course you can also experiment with different savory toppings for your grits or try the greens as a side with other dishes. Reprinted with permission from Afro-Vegan: Farm-Fresh African, Caribbean & Southern Flavors Remixed* by Bryant Terry, copyright © 2014. Published by Ten Speed Press, an imprint of Penguin Random House LLC. Photos © 2014 by Paige Green.
Serves: 4 to 6
Greens
1 tablespoon plus ¼ teaspoon coarse sea salt
1 pound collard greens, cut into bite-size pieces
3 tablespoons extra-virgin olive oil
1 red onion, finely chopped
½ teaspoon minced fresh ginger
¼ teaspoon chili powder
⅛ teaspoon cayenne pepper
2 large cloves garlic, minced
1 cup vegetable stock, homemade or store-bought
1 large red bell pepper, diced
1 jalapeno chile, seeded and minced
Grits
4 cups vegetable stock, homemade or store-bought
1 teaspoon coarse sea salt
¾ cup yellow corn grits
½ cup Creamed Cashews
¼ cup packed minced flat-leaf parsley
Hot pepper vinegar, homemade, or store-bought, for serving
Freshly ground black pepper
To make the greens, put about 12 cups of water in a large pot and bring to a boil over high heat. Add 1 tablespoon of the salt, then add the greens and cook uncovered until softened, about 10 minutes.
Drain well, pressing the greens to extract as much liquid as possible. When cool enough to handle, transfer to a cutting board and chop finely.
Warm the oil in a medium sauté pan over medium heat. Add the onion, ginger, chili powder, cayenne, and the remaining ¼ teaspoon salt. Sauté until the onion is soft and beginning to brown, about 10 minutes. Add the garlic and sauté for 2 minutes.
Stir in the greens and stock and bring to a simmer. Decrease the heat to medium-low, cover, and simmer, stirring occasionally, until the greens are tender, about 45 minutes. Stir in the bell pepper and jalapeño. Increase the heat to medium-high, cover, and simmer for 2 minutes. Taste and season with more salt if desired.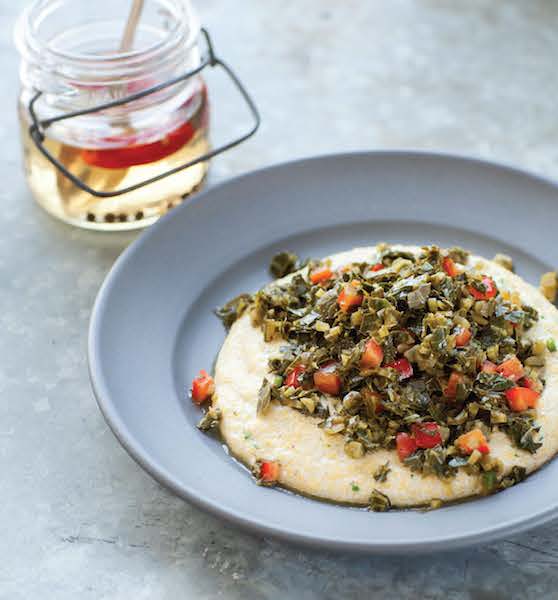 While the greens are simmering, make the grits. Put 3 cups of the stock and the salt in a medium saucepan and bring to a boil over high heat. Slowly pour in the grits, whisking constantly until no lumps remain. Return to a boil, then immediately decrease the heat to low.
Simmer uncovered, whisking occasionally to prevent sticking, until the grits have absorbed most of the liquid and are beginning to thicken, 3 to 5 minutes. Add the remaining 1 cup stock and simmer for 10 minutes, whisking occasionally, until most of the liquid has been absorbed. Stir in the cashew cream, cover, and simmer, whisking frequently, until the grits are soft and fluffy, about 30 minutes.
Add the parsley and whisk well. The grits should be firm and creamy. Add a bit of water to thin them if necessary.
To serve, top the grits with the greens, using a slotted spoon so that the liquid drains from the greens. Add a splash of hot-pepper vinegar and season with black pepper.
*This post contains affiliate links. If the product is purchased by linking through this review, VegKitchen receives a modest commission, which helps maintain our site and helps it to continue growing!