This is a basic way to prepare sautéed chard, kale, or collard greens — the classic olive oil and garlic sauté. Sometimes simple is best; this is definitely true when it comes to something as good as leafy greens!
Serves: 4 to 6
1 large bunch greens of your choice




(chard, kale, or collard greens), 12 to 16 ounces

1 tablespoon extra-virgin olive oil

3 to 4 cloves garlic, minced (or use more, to your heart's content!)

Juice of ½ lemon or apple cider vinegar to taste

Salt and freshly ground pepper to taste
Remove stems and thick mid-ribs from whatever type of greens you are using. Wash the leaves thoroughly, dousing a batch at a time in a large bowl to make sure that all sand and grit are removed.
If you'd like to use the midribs, slice them very thinly. Otherwise, discard them (you may want to discard collard stems in any case; they're pretty tough). Stack a few leaves atop one another and cut into wide strips.
Heat the oil in an extra-large skillet or steep-sided stir-fry pan. Add the garlic and sauté over low heat for 2 to 3 minutes, until golden.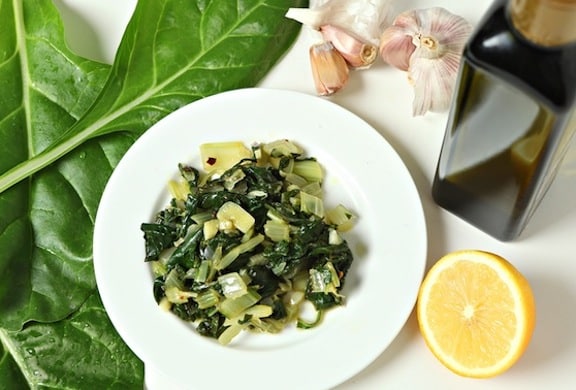 Add the greens to the pot and stir to coat with the oil. Add just enough water to keep the bottom of the pan moist. Cook over medium heat, stirring frequently, until the greens are bright green and just tender. Swiss chard takes 3 to 5 minutes; kale and collards about 5 to 8 minutes.
Add the lemon juice or vinegar. Season to taste with salt and pepper and serve at once straight from the pan, or transfer to a covered container.
Nutrition Information:
Per serving: 93 calories; 4g fat; 50mg sodium; 13g carbs; 4g fiber; 4g protein