As the weather gets warmer and the length of days peak toward June's summer solstice, these vegan dinner ideas will get you out of the kitchen quickly so that you can enjoy the sunlight. Triple Jade Stir-Fry (shown at top) is inspired by the dish of the same name served in western Chinese restaurants, is especially good to make when slender green beans are in season, but if you're pressed for time, organic whole frozen green beans do the trick as well. Serve with a simple slaw or a platter of raw veggies. If you cook some extra rice, the following night's dinner will be a breeze.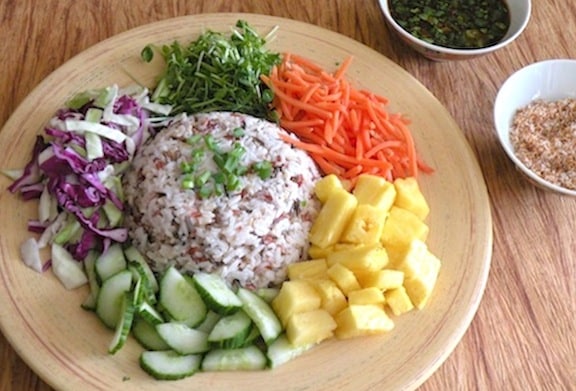 Central to this gorgeous Thai Composed Rice Salad is a mound of rice, which is surrounded by a variety of veggies plus one fruit — usually pineapple or green apple. A feast of flavors, textures and colors, what pulls it together is the toasted coconut. This meal doesn't need much to complete it — fresh corn goes well with this.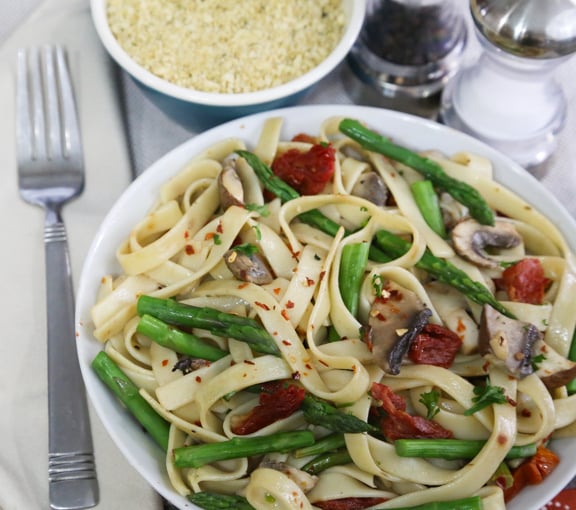 Linguine or Fettuccine with Asparagus and Portobella Mushrooms comes together quickly Try a flavored variety of linguine or fettuccine to further jazz up this dish. Serve with a colorful tossed salad; add some chickpeas for more protein.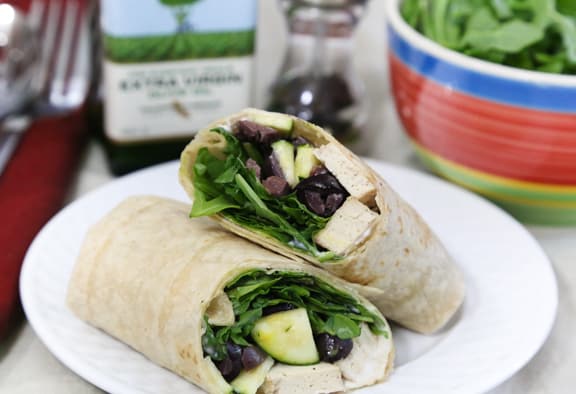 Baked Tofu, Arugula, and Olive Wraps are so easy, they're the next best thing to take-out. Serve with sliced tomatoes and baby carrots, plus some salsa and stone-ground tortilla chips. If you want a more filling meal, microwave a few potatoes or sweet potatoes.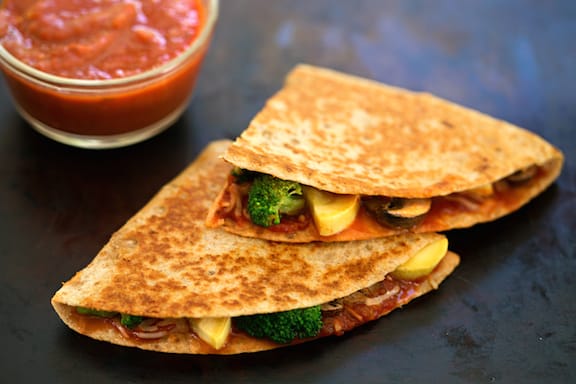 Vegan Pizzadillas are a fast and fun mash-up of pizza and quesadillas — perfect for vegging out on Friday night! Basically, you're filling soft taco-size tortillas with the kinds of ingredients you'd use for making pizza — marinara sauce, vegan cheese, and lots of veggies. And you can just wing it as far as measurements, too. Serve with a bountiful salad — maybe you've got some left over from last night's dinner?