Their mild, pleasantly nutty flavor and the variety of ways in which they can be processed make them a good, all-around grain whose uses go far beyond that of the familiar breakfast cereal. Here are ways to make the most of this familiar and comforting grain.
At 14 percent protein, oats have the highest protein content of all common grains, second only to the "supergrains," amaranth and quinoa. Oats contain seven B vitamins, vitamin E, and are mineral-rich, with a significant amount of iron, as well as a good supply of calcium and phosphorous. Oat bran provides a good amount of fiber and has recently been credited with the ability to reduce cholesterol in the blood.
Oats contain a higher proportion of fat than most other grains (although they cannot be considered a high-fat food by any stretch of the imagination). Some claim that this accounts for their value as a warming food in cold weather, because fat helps the body store heat and energy. Since oats are never refined (that is, their bran and germ are left intact), they retain their nutritional qualities through many phases of arduous processing. 
Oats have the additional benefit of containing an antioxidant substance that acts as a natural preservative to extend their shelf life. Still, for optimal freshness, store oats in all their forms in a cool, dry place as you would other grains. 
Steel-Cut Oats
Sometimes called Scottish or Irish oatmeal, steel-cut oats are made by slicing the whole groat into small pieces with sharp blades. To give them a toasty flavor, they are sometimes roasted before being marketed. Because steel-cut oats cook to a thick, very sticky consistency, they're more useful as a cooked cereal (albeit a rather long-cooking one) than as a grain for general cookery. Hearty, gritty, and nutty in flavor, they have far more texture than rolled oats or oatmeal. 
Basic Cooked Steel-Cut Oats: Use 4 parts water to 1 part grain. Bring the water to a boil, stir in the grain, return to a boil, then reduce the heat to low and simmer, covered, until the water is absorbed, about 45 to 50 minutes.
Use as a hot cereal with nondairy milk, nuts, and dried fruit. 

Add small amounts to baked goods, such as griddle cakes and muffins, for hearty texture. 

Add cooked steel-cut oats to vegetable or bean soups to lend thickness and substance. Or you can add them raw to long-cooking soups in place of barley or other grains. 
Rolled Oats
Rolled oats (sometimes referred to as old-fashioned oats or simply oatmeal) are whole oats that have been steamed then run through rollers to flatten them. These are what you get most often when buying in bulk. To make oats known as quick-cooking, the whole oats are steamed, then sliced into three or four pieces before bring flattened in rollers. Instant oats have been partially cooked and dried. Rolled, quick, and instant oats contain most of the original nutrients in whole oats; however, be aware that instant oats are often packaged with salt and sugar.
Basic Cooked Rolled Oats: For old-fashioned rolled oats, use 1 ½ parts water to 1 part grain. Bring the water to a boil, then stir in the oats. Cover and remove from the heat. Let stand until done to your liking, about 10 minutes. For packaged quick-cooking oats, follow package directions. Allow ⅓ cup dry oats per serving as a hot cooked cereal. 
Serve cooked oats as a hot cereal with raisins or other dried fruits (for a change of pace, use dried fruits such as prunes or black figs that have been soaked in water overnight to plump them) and the optional sweetener of your choice. Or add an unusual twist with chopped apricots, cashews, and cinnamon.
Uncooked rolled oats are very versatile and, in addition to their well-known role in oatmeal cookies, may be used to add pleasant texture and mild, nutty flavor to many recipes. Old-fashioned and quick-cooking oats may be used interchangeably. Here are some ideas:
Substitute ½ cup rolled oats for the equivalent amount of flour in your favorite recipe for banana bread.

For delicious pancakes, replace up to half the wheat flour in a standard recipe with rolled oats.

Use rolled oats instead of bread crumbs in casseroles or as a topping. 

For an easy savory pancake: Combine 1 cup rolled oats with an equivalent amount of grated zucchini, ¼ cup non-dairy milk, 1 teaspoon easy of mixed dried herbs and cumin, and salt and pepper to taste. Ladle quarter-cupfuls onto a hot, oiled skillet and fry both sides until golden brown. Drain on paper towels and serve at once. This makes about a dozen pancakes.

For a delicious granola, skillet-roast some rolled oats along with sesame seeds, wheat germ, and crushed almonds until the mixture smells toasty and fragrant. Add dried fruit and a touch of carob powder, then let cool and store in jars. The result is a naturally sweet and nutty cereal, considerably lighter than the heavy, baked-oil-and-honey versions of the 1960s!

To make a delightful topping for pies and fruit crisps, stir together 1 cup rolled oats with ¼ cup whole wheat pastry flour, ¼ cup finely chopped or ground walnuts, 2 tablespoons melted vegan butter, 1 tablespoon light brown sugar, and a pinch of cinnamon. 
Oat Bran
Oat bran is the edible outer covering of the whole oat groat and is often sold in bulk in natural-food stores. It has recently been recognized as one of the richest sources of a soluble form of fiber that helps to reduce cholesterol levels in the blood. Nutritionist Jane Brody, in her Good Food Book, cites studies that showed significant lowering of cholesterol levels in men who consumed oat bran on a daily basis in the form of muffins or cereal.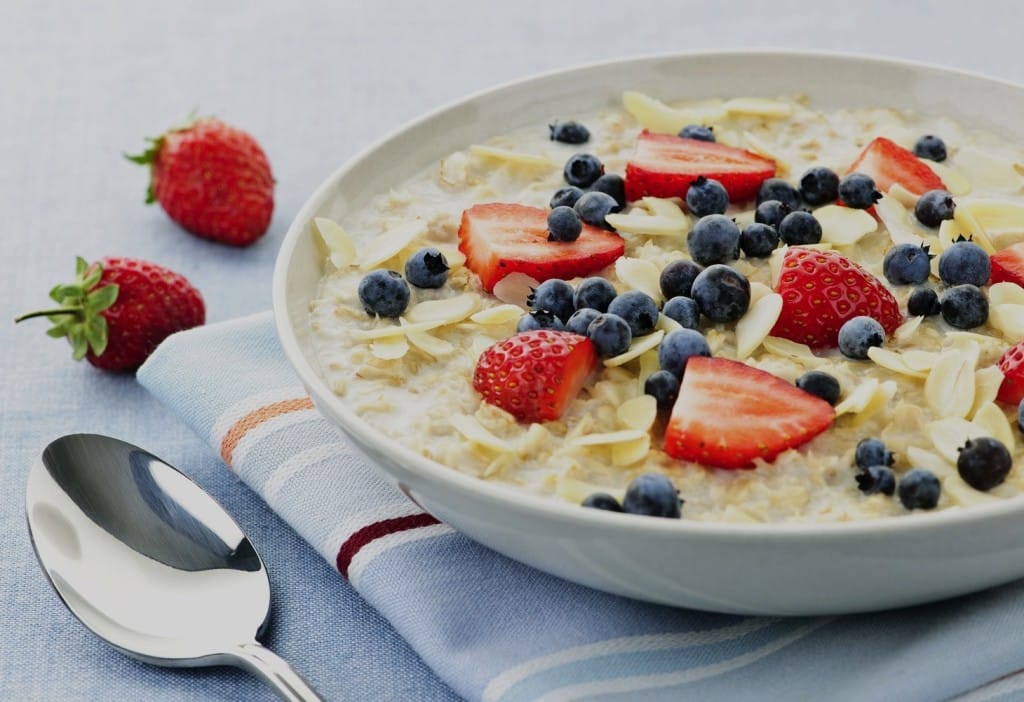 Here are some of VegKitchen's oat recipes: