When you want a lovely summer dessert but don't feel like fussing (or baking) this unbaked peach-berry crumble just the thing. I particularly like this with raspberries, if they're available. Adapted from Vegan Holiday Kitchen. Photos by Susan Voisin.
Serves: 6 to 8
Crumble topping:
½ cup quick-cooking oats or quinoa flakes

⅓ cup finely chopped walnut or pecan halves

2 tablespoons natural granulated sugar

Pinch of cinnamon

1 tablespoon Earth Balance or other vegan buttery spread
6 to 8 medium ripe, juicy peaches or nectarines

1 tablespoon Earth Balance or other vegan buttery spread

2 tablespoons maple syrup

Pinch of cinnamon

1 cup raspberries or blueberries, or half of each

½ teaspoon cinnamon
Frozen nondairy ice cream  for topping, optional (see note)
Combine the ingredients for the crumble topping in a small bowl. Heat the vegan buttery spread in a medium skillet. Add the crumble topping. Stir quickly to coat with the margarine and toast the mixture over medium heat for 3 to 3 minutes. Transfer back to the bowl and set aside.
Cut each peach in half lengthwise. Twist gently to separate the halves, then remove the pit. Cut each peach into thin slices.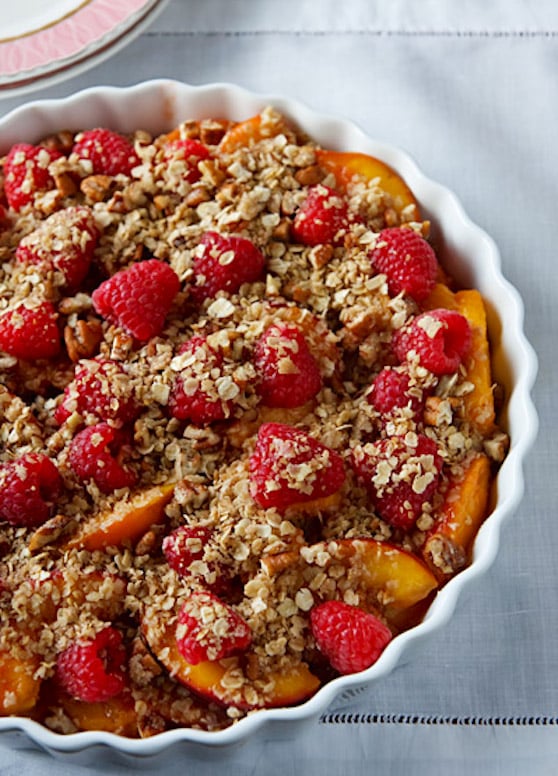 Heat the buttery spread in the same skillet. Add the peaches, syrup, and cinnamon. Sauté, stirring frequently, until they have softened but still hold their shape, about 5 to 7 minutes.
Transfer the peaches to a shallow serving bowl and scatter the berries over them, followed by the crumble topping
Cover and refrigerate until needed or serve at once. This is good served with the peaches cold or warm. Top each serving with a scoop of  the optional  ice cream.
For the nondairy ice cream, this is great with basic vanilla. Butter pecan, mango, or one of the coconut-based varieties are nice if you want to go for a little extra flair.