Pumpkin seeds are high in protein and have a unique flavor that makes them especially enticing as a healthy snack. Here's all the benefits of cooking with them, and some recipe ideas too!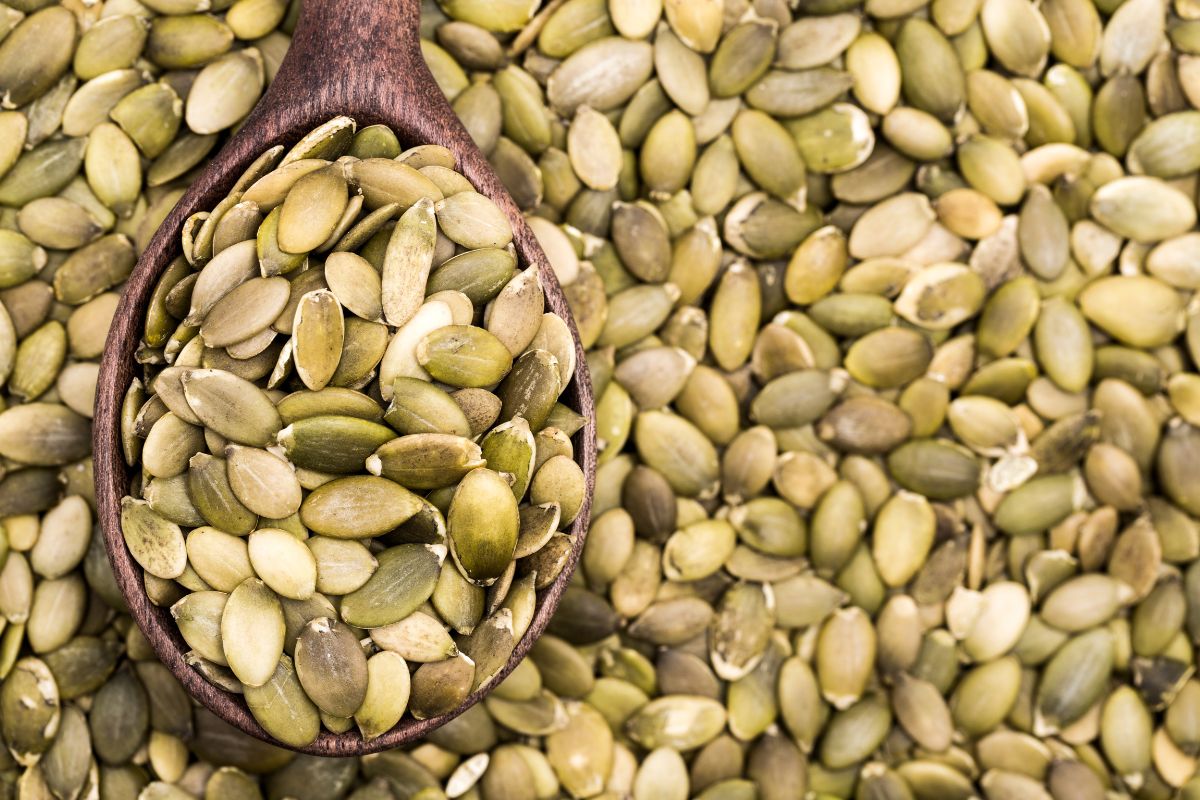 When buying pumpkin seeds, you can choose between raw or roasted, shelled or unshelled, salted or unsalted.
Roasting brings out their flavor and crunch, and you can easily roast them at home. Roasted pumpkin seeds are often marketed as pepitas.
Which type of pumpkin seeds should I buy?
If you'll be using them primarily as a snack, buy them in the shell. They're more economical that way, and the extra time it takes to shell them will help limit the number eaten in one sitting!
I tend to avoid salted pumpkin seeds, which are usually very salty, causing their flavor to be masked rather than enhanced.
Pumpkin seeds in the shell keep well for several months stored in an airtight container in a cool, dry place. Store shelled pumpkin seeds in the refrigerator if you don't think they'll be used up within 2 months.
On the other hand, if you're buying them to roast yourself (try these candied pumpkin seeds), you'll want to opt for the raw variety. In that case, I would recommend buying them pre-shelled to save yourself the extra work.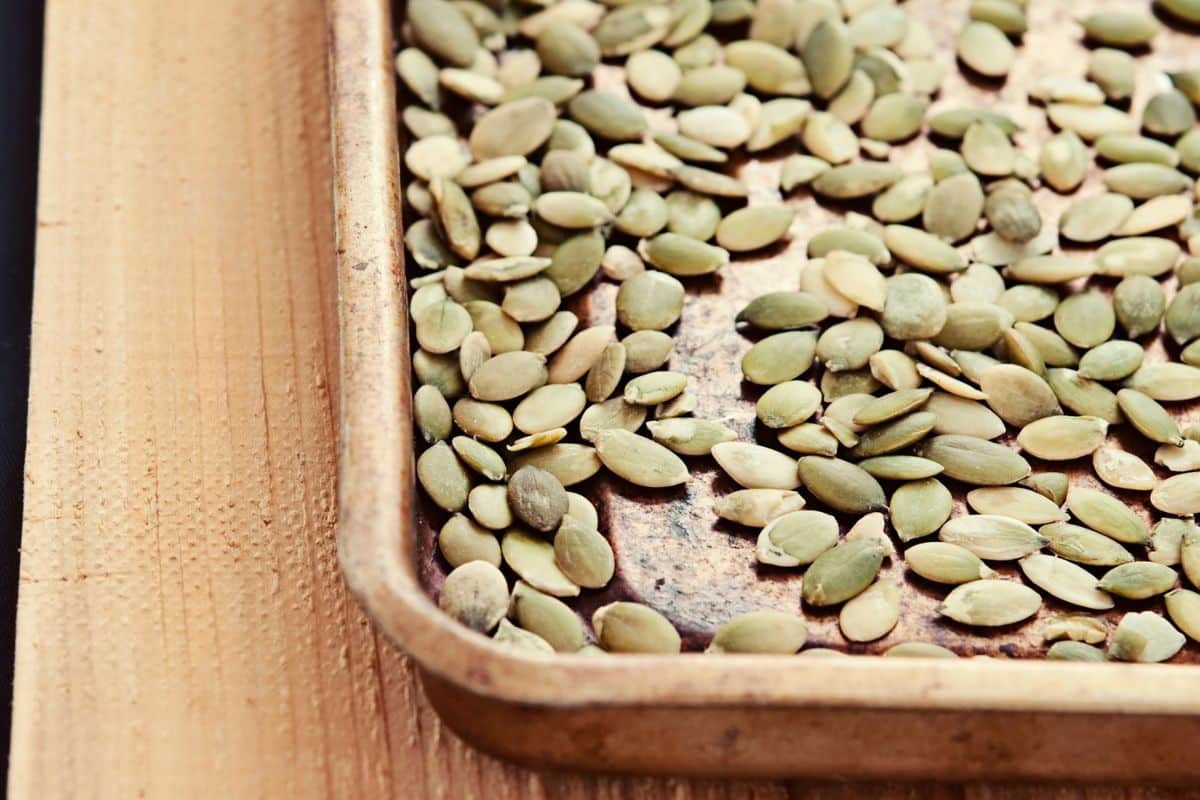 Health Benefits
Pumpkin seeds are 46 percent fat. The proportion of polyunsaturated fat is slightly greater than that of monounsaturated, with only a small percentage of it saturated fat.
They are an impressive 29 percent protein!
One cup of pumpkin seeds contains 774 calories; one ounce contains 148 calories.
Pumpkin seeds are quite high in phosphorous and iron and contain modest amounts of several B vitamins.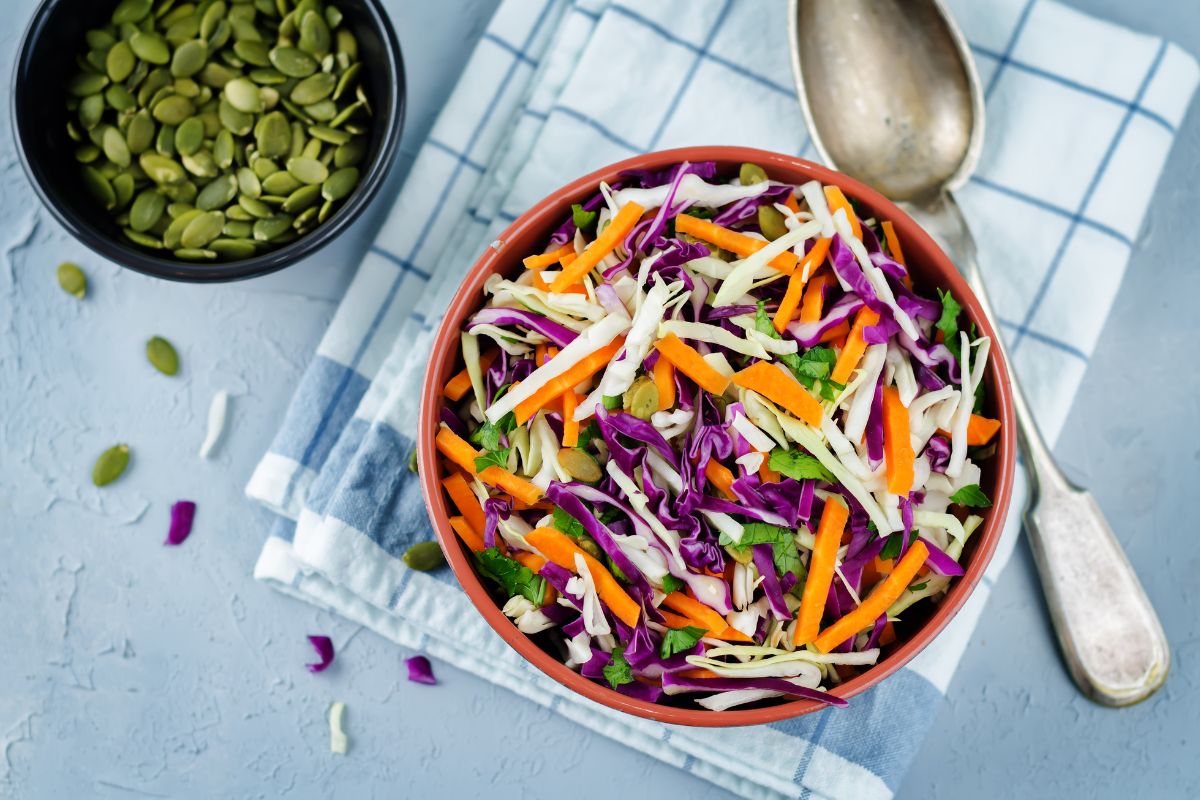 How to Use Pumpkin Seeds
Don't throw away seeds from your fall pumpkins! You can roast them for a delicious snack. Rinse them well of the pulp and fibers and spread them on baking sheets or pans to dry for a week or so, stirring them daily. When they are completely dry, bake them at 300 degrees F for 15 to 20 minutes, or until fragrant. 
Apart from simply using them as a snack, pumpkin seeds can be used in many of the same ways that nuts are used. The ideas given below are for toasted shelled seeds: 
Use pumpkin seeds in dried fruit-and-nut mixes. They're particularly good when mixed with raisins, dried apricots, and soy nuts.
Sprinkle a tablespoon or so over cold cereal for a delicious breakfast.
Coarsely chop about ¼ cup pumpkin seeds and add to batters for your favorite quick breads or muffins. They add a great crunch and flavor. Try them in corn muffins!
A handful of pumpkin seeds tossed into grain pilafs, green salads, and pasta salads will add an unusual flavor twist.
Use pumpkin seeds to garnish steamed vegetables, such as cauliflower, or the pumpkin's kindred vegetables–the squashes.
Here are some of VegKitchen's pumpkin seed recipes: