Reviewed by Rachael Braun. The latest book by Alicia C. Simpson, Quick and Easy Low-Cal Vegan Comfort Food: 150 Down-Home Recipes Packed with Flavor, Not Calories*, is focused on delicious food that is also low in calories. These 150 recipes are all 350 calories or less and are comfort foods that taste amazing!
In the introduction, Alicia explains how to be healthy and enjoy what you're eating. In the "Learn the Language" section, she goes over what defines Low-Fat and Low-Cal and serving sizes of grains, veggies, fruits and proteins; as well as how to count calories correctly and how much of certain nutrients (protein, fiber, calcium, iron, fat, carbs, sugar, cholesterol, vitamin B12, and sodium) that your body should be getting through out the day.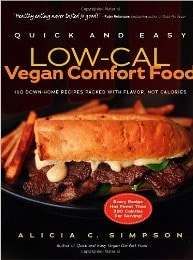 Alicia has a guide for your low-cal vegan pantry, with what and why to keep specific ingredients on hand. One of the best highlights of the book (besides the great recipes of course!) are the sample menus she includes for 1,400, 1,600, 1,800 and 2,000 calorie diets using recipes from the book.
Alicia has a great array of recipes broken down into these sections: The Basics, Rise & Dine, Breads & Rolls, Snacks and Small Bites, The Salad Bar, Soups On, The Main Event, Sinful Sweets, Beverages and Sauces, Spreads & Spice Blends. Each recipe is accompanied by per serving nutritional information, such as calories, fat, protein, saturated fat, carbs, sugar, etc. And something I always find useful in any book is easy accessible index where you are guided to exactly what you're looking for.
We tried a few of the recipes and they were all successful. Braised Baby Bok Choy appealed, because those of us who love greens can't get enough of them, and this gingery, nutty, and quick dish felt comforting yet healthy at the same time.
Kung Pao Tofu might not leap directly to mind as a comfort food, but it was an easy, low-fat version of a Chinese restaurant favorite. Other recipes like Buttermilk Biscuits, Banana Nut Bread, and Eggplant Parmesan fall more under the traditional comfort food category, and these veganized, low-cal versions promise to be easy and tasty. Finally, who can resist a mug of hot chocolate when the winter winds blow? You can try Alicia's Mexican Hot Cocoa to sample a recipe from this book here on VegKitchen. It's easy, slightly spicy, and irresistible.
If you're vegan and looking for a great way to get or stay in shape and eat right while still enjoying great-tasting, familiar dishes, you'll enjoy Alicia C. Simpson's Quick and Easy Low-Cal Vegan Comfort Food.*
*This post contains affiliate links. If the product is purchased by linking through this review, VegKitchen receives a modest commission, which helps maintain our site and helps it to continue growing!