Not long ago, we presented a delicious shortcut recipe, Instant Lentil and Kidney Bean Curry, inspired by the classic combo from Indian cuisine. One of the many full-flavored Indian simmer sauces available these days makes the meal a breeze to prepare — no need for the zillions of individual spices that gives the dish an authentic character. From mild coconut-based blends to hot jalfrezi sauces, the choice is yours. If vegan is important to you, check labels, as many of the varieties of these sauces contain dairy.
Completing this high-protein dish as a meal is a great idea, and that's just what we're going to do here. Brown rice and a refreshing cucumber salad are just the right companions. This meal is a bit light on vegetables; okay, quite light on vegetables, so we recommend fresh fruit or simple fresh fruit dessert (Pineapple-Orange Ambrosia, for instance) to make up for that.
For those of you who don't have the time or patience to take the 30 to 35 minutes it takes to cook brown rice, there are some quick or nearly-instant ways to solve that, too. There's quick-cooking brown rice, which isn't the greatest, but will certainly do; or the new microwavable rice options. Or, you can cook quinoa (15 minutes) or couscous (5 minutes).
No matter which shortcuts you choose, this tasty curry dinner is yours in less time than it takes to wait for carry-out!
Serves: 3 to 4
Time to table: 10 minutes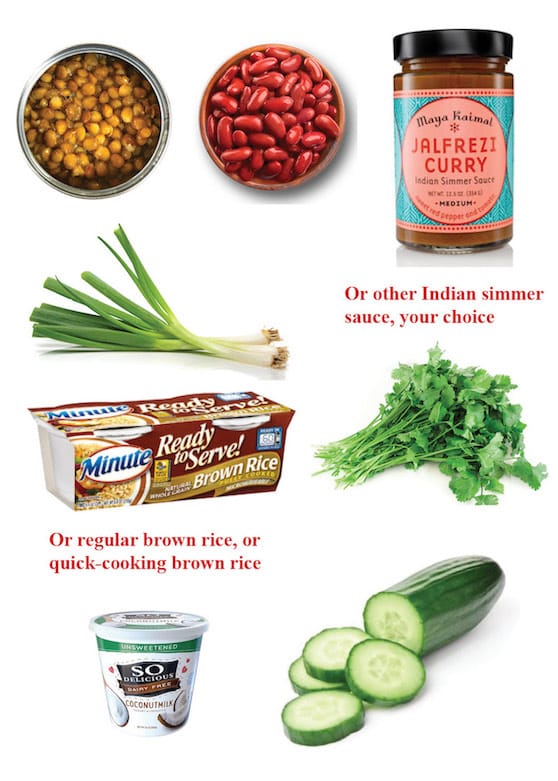 What you need
For the lentil and kidney bean curry:

15-ounce can brown lentils, drained and rinsed

15-ounce can kidney beans, drained and rinsed

2 to 3 scallions, sliced

12-to 16-ounce jar Indian simmer sauce, your favorite variety

Cilantro as desired (save some for garnish)
The rest:
Brown rice (regular, quick-cooking, or instant, depending on your preference)

1 medium cucumber

Plain coconut yogurt or vegan creamy dressing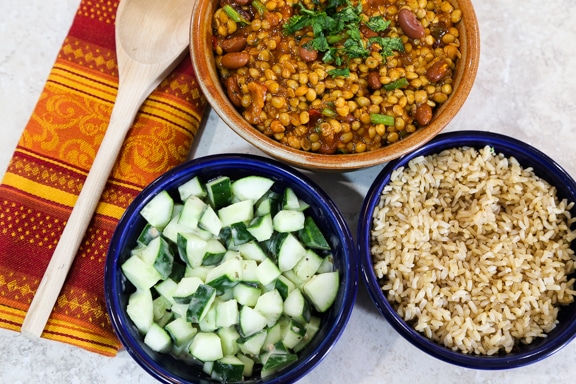 What to do
1 For the curry: Combine all of the ingredients for the lentil and kidney bean curry in a saucepan and bring to a simmer. Cook gently for 5 to 7 minutes, until piping hot.
2  For the rice: If you're using regular brown rice, you'll need to cook it ahead of time so that this meal arrives at the table quickly. Otherwise, follow package directions for quick-cooking or instant brown rice.
3  For the cucumber: Quarter the cucumber lengthwise. Cut away some of the seedy part, then cut into small pieces crosswise. Combine with coconut yogurt or creamy dressing as desired.
4  Serve the three components of the meal together, topping the curry with extra cilantro.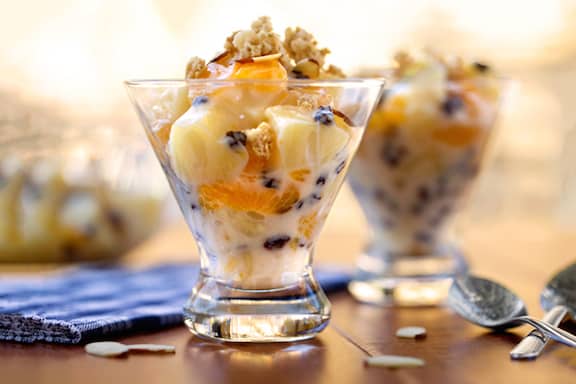 May we suggest Pineapple-Orange Ambrosia for as an easy dessert? It will boost the produce quotient of this meal.