To make the most of the incredible strawberries available in late spring and early summer, try this raw strawberry tart created by Carrie Forrest of Carrie on Living. This easy recipe highlights ripe, sweet strawberries, which are nestled in a healthy, no-bake crust made of pecans, oats, raisins, flax meal, currants, and date paste. The recipe makes for a very thick crust, but, as Carrie says, "that's kinda how I like it." Chances are, you will, too. Serves: 8 Date paste:
For the crust:
1 ½ cups unsalted raw nuts such as almond, pecans, or walnuts
1 cup rolled oats
½ cup raisins
2 tablespoons ground flax seeds
⅓ cup dried currants
½ cup date paste*
½ teaspoon vanilla extract
For the filling:
2 pints fresh strawberries (use in-season, organic varieties for the sweetest flavor)
1 teaspoon ground chia seeds
1-2 teaspoons coconut sugar, if desired (see Note)
Place the dates in a small saucepan with just enough water to cover (about ⅓ cup). Bring to a boil and then reduce the heat to low. Simmer, uncovered, for 15 to 20 minutes, or until the dates have reduced to a thick paste.
For the crust, place nuts and oats in a food processor and process on high for about a minute or until a flour-like consistency is reached. Add raisins and process on high for another minute.
Add ground flax seeds, dried currants, date paste and vanilla and pulse several times or until ingredients are combined. Transfer the crust mixture to a tart pan and press evenly, including up the sides.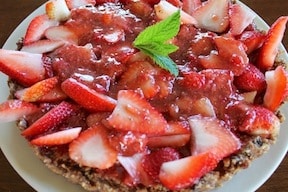 Wash one pint of strawberries and remove the stems. Add them into a medium bowl with the ground chia seeds. Use a fork to mash the mixture together and set aside for at least 10 minutes to thicken.
In the meantime, wash the other pint of strawberries and slice them thinly. Pour over the strawberry sauce into the tart pan and distribute evenly. Follow with an even layer of the sliced strawberries.
Let tart chill in the fridge for at least an hour before serving. Serve cold or at room temperature.
Note: This depends on how naturally sweet your strawberries are. If they are on the tart side, you might need the sugar. If your strawberries are very sweet, then leave out the sugar).
Carrie Forrest is a graduate student in public health nutrition, author of the popular blog, Carrie on Living, and creator of the recipe app for iPhones and iPads, Vegan Delish. As a survivor of thyroid cancer, she is keenly aware of the health benefits of a whole foods, plant-based diet. Carrie has been vegan since 2010 based on her love for animals and a commitment to making the world a more compassionate place.