A quick cooked cereal like oatmeal or a multi-grain blend makes a hearty breakfast, but there are some people, yours truly included, that don't enjoy sweet breakfasts. That's where these savory breakfast bowls come in. Topped with tempeh, avocado, and greens, these bountiful bowlfuls will keep you going all day.
Though this doesn't take long to make, it's probably more than what you'd want to do first thing in the early morning before work and school, so try it for a leisurely breakfast or brunch on the weekend. It's a fantastic thing to make if you're going to do any athletic activity! These bowls make an excellent lunch or dinner, too, paired with a simple slaw.
We designed this recipe for serving 4, but you can cut it in half to serve 2 easily (or one, with leftovers).
Serves: 4
Cooked cereal
4-portion serving of quick cooking whole grain cereal (see note)

Vegan butter as desired

Salt to taste
Tempeh (or see shortcut)
8-ounce package tempeh, any variety

1 tablespoon olive oil

1 tablespoon soy sauce or Bragg liquid aminos, or to taste

1 tablespoon maple syrup or agave or to taste
Greens
6 to 8 ounces kale, chard, collards, or baby spinach

Splash of lemon juice or apple cider vinegar, optional

Salt and freshly ground pepper to taste
Other toppings
1 medium avocado, pitted, peeled, and sliced

Nutritional yeast (optional)

Sriracha (optional)
Cereal: Cook a 4-serving portion according to package directions. When done, stir in a little vegan butter and season to taste with salt.
Tempeh: Cut the tempeh into ¼-inch slices crosswise. Combine the oil, soy sauce, and syrup in a medium skillet. When the mixture starts to bubble, add the tempeh and cook on both sides until golden. Taste and add more soy sauce and syrup if you'd like a stronger flavor.
Greens: Stem and chop the greens (you need not do this for baby spinach). Rinse well. Combine in a skillet with a little water, cover, and steam until tender to your liking. Don't go past the point of bright green! Drain off any excess liquid then season with optional lemon juice or ACV, and salt and pepper.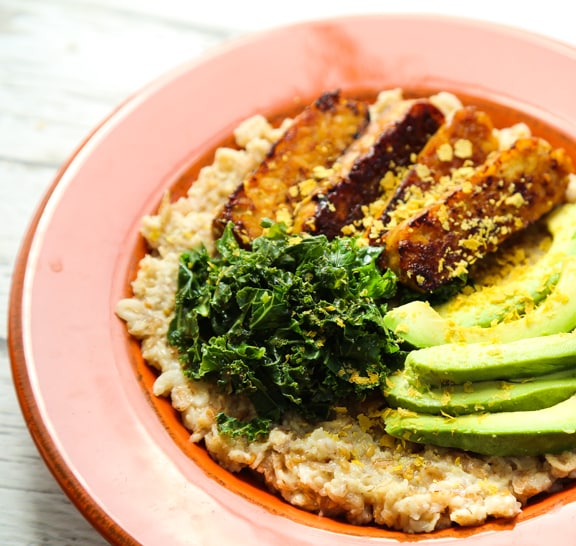 Distribute the cooked cereal evenly between 4 bowls. Arrange ¼ of the tempeh, greens, and avocado atop the cereal.
Sprinkle the optional toppings over the bowls if you'd like, then serve.
Shortcut: Use prepared tempeh bacon, which you can just heat on the skillet with a little oil, and skip the soy sauce and syrup.
Tip: For this recipe, I love using Old Wessex 5 Grain Cereal, which combines oats, rye, triticale, barley, and golden flax. It's less mushy than oatmeal, cooks quickly, and is so flavorful and filling! But you can just use your favorite oatmeal. Alternatively, you can use quinoa or brown rice instead of cooked cereal.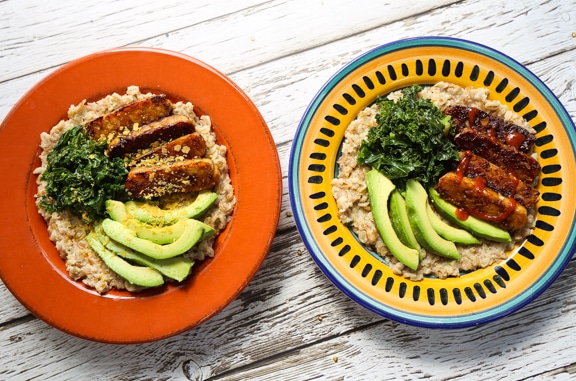 Photos: Evan Atlas