Seitan gives this stew a "meaty" texture, and combined with potatoes and carrots becomes a comforting, hearty dish. Prepared seitan is readily available in most natural foods stores as well as a growing number of well-stocked supermarkets, but you can make your own as well (see the link in the ingredient list). Photos by Evan Atlas. Adapted from The Vegetarian Family Cookbook. 
Serves: 6 to 8
2 tablespoons olive oil
1 large onion, quartered and thinly sliced
2 to 3 cloves garlic, minced
5 medium potatoes, peeled and diced
4 medium carrots, peeled and sliced
32-ounce carton low-sodium vegetable broth
or 4 cups vegetable stock
2 to 3 teaspoons salt-free all-purpose seasoning
(such as Frontier or Mrs. Dash)
2 teaspoons sweet paprika, or 1 teaspoon each sweet and smoked paprika
1 to 1 ½ pounds seitan or

Homemade Seitan

, cut into bite-sized pieces
1 ½ cups frozen green peas, completely thawed
Salt and freshly ground pepper to taste
¼ cup minced fresh parsley, optional
Heat half of the oil in a large soup pot. Add the onion and garlic and saute over medium heat until the onion is golden.
Add the vegetable broth along with the potatoes, carrots, broth, seasoning blend, and paprika. Bring to a simmer, then cover and simmer gently for 25 to 30 minutes, or until the potato and carrots are tender.
Meanwhile, heat the remaining oil in a large skillet. Add the seitan pieces and saute over medium-high heat, stirring frequently, until most sides are nicely browned and crisp.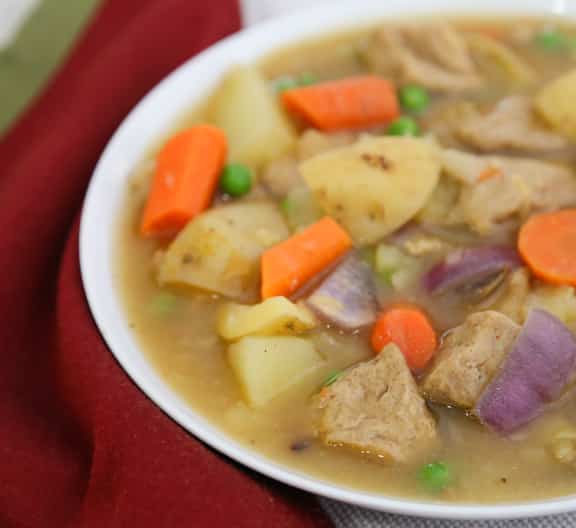 Once the vegetables are done, use the back of a wooden spoon to mash enough of the potatoes to thicken the base of the stew. Stir in the sautéed seitan and peas. Add a bit more water if necessary. The consistency should be thick and moist, but not soupy. Cook over low heat for 1 to 2 minutes longer.
Season with salt and pepper, then serve in shallow bowls. Pass around parsley for garnishing individual portions, if desired.
Variations

Add a cup or so of cleaned, stemmed, and sliced brown mushrooms at the same time as the potatoes and carrots.
Stir in a big handful or two of baby spinach once the stew is done, cooking only until it wilts down.
Nutrition information
Calories: 286;  Total fat: 5g;  Protein: 30g;  Fiber: 3.8 g  Carbs: 32g;  Sodium: 620 mg