When vegetables are rated in terms of overall nutritional value, spinach is usually among the powerhouse veggies that top the list. It's vitamin-rich and a good source of iron and fiber.
Spinach is a cool-weather leafy green, and one of the first seasonal offerings at CSA (Community Supported Agriculture) farms and and farm markets, or if you're lucky enough, from your own garden. Like any veggie that can be cooked and eaten the same day it's pulled from the earth, just-harvested spinach is incomparable. Later in the summer, you might like to explore Malabar and other varieties referred to as summer spinach; they have larger, thicker leaves and stems, more akin to chard than its small and tender cool-weather cousins.
Supermarket spinach often comes in bags or plastic boxes marked "triple washed," meaning that sand and grit trapped in all those crevices is not as much of a worry. Yet if this convenient type of spinach isn't organic, skip it. Unfortunately, spinach almost always appears at the top of another kind of list—the list of top ten produce items  to avoid in non-organic form.
Baby spinach is convenient to use since you need not stem; if you buy it organic, it needs only a good rinse, but even if it looks clean, don't skip this step—you just never know!
No matter where you get your spinach, resist washing it until you're ready to use it, as excess moisture will make it go bad more quickly. If you purchase it loose (that is, not in plastic bags or boxes), wrap it in paper towel, then in a plastic bag and refrigerate. Use as soon as possible, though it will keep for 3 to 5 days when stored this way.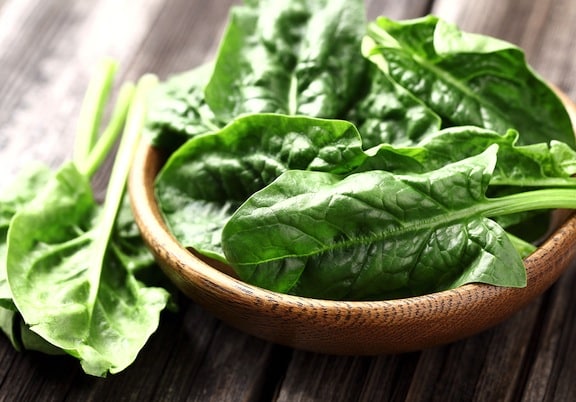 Among the dark, leafy greens, spinach is among the quickest to cook (or you don't have to cook it at all), and arguably the most versatile. Here are a few easy ways to get more spinach into your repertoire:
Use it raw in place of lettuce in wraps and sandwiches.
Toss some raw spinach leaves into most any kind of green salad.
Stir it into most any soup at the end of cooking time for added color and nutrition, it will wilt practically on contact. There are few soups in which it isn't welcome—from brothy Asian-style soups to hearty bean stews.
Same with stir-fries and bean stews— just toss some spinach in once everything is done, and stir in until wilted for an added dose of green goodness.
Don't forget to add spinach to your smoothies! It's a delicious addition to fruit smoothies, where it adds a lovely hue, but its flavor is delightfully subtle. For every smoothie (it's great with apple, banana, and pineapple) just add a good handful of spinach leaves.
Here are just a few spinach recipes you'll find on VegKitchen:
There are lots of others! Just enter the word "spinach" into VegKitchen's search box.