So often around the holidays, vegans and vegetarians end up eating nothing but the side dishes. Mashed potatoes, stuffing, and Brussels sprouts are all easily vegan. But what about the main dish? Where's the star of the show?
Move over, Tofurkey, we've got a Vegan Nut Roast that's going to blow your mind. It's packed to the brim with good stuff: brown rice, tofu, veggies, and three kinds of nuts. Since the nuts provide a big boost of protein and healthy fats, this Vegan Nut Roast is incredibly satisfying, and of course, it's also delicious. I fed this nut roast to a group of people, none of whom were vegetarians, and they were all raving about it. Served with a nice plant-based gravy, some roasted squash, and a salad, you'll have a delightfully festive vegan Thanksgiving meal.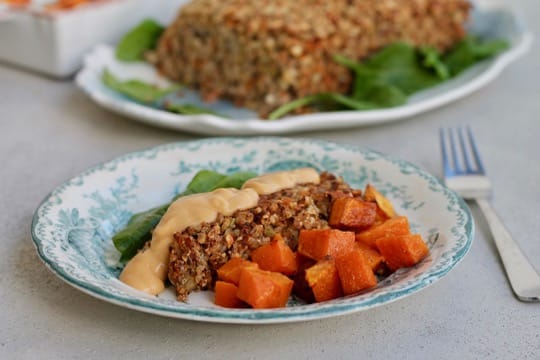 Vegan Nut Roast Recipe
Serves: 6
Time to table: about 2 hours
What you need:
2 Tablespoons flax seeds
6 Tablespoons warm water
2 Tablespoons extra virgin olive oil
1 medium onion, diced (about 1 cup of diced onion)
1 cup diced celery
1 cup shredded carrrot
1 cup finely chopped cauliflower (use your food processor to make cauliflower rice)
¼ cup chopped fresh parsley
2 Tablespoons minced basil leaves
2 Tablespoons minced sage leaves
1 teaspoon dried rosemary
2 teaspoons Herbamare (or other herb salt)
1 teaspoon freshly ground black pepper
2 cups cooked brown rice
8oz medium-firm tofu, crumbled
1 cup raw almonds
1 cup raw cashews
1 cup raw walnuts
What to do:
Preheat your oven to 350°F. Line a loaf pan with parchment paper and grease the ends with olive oil.
In a small bowl combine flax seeds and warm water. Set aside while you prepare the other ingredients.
Heat the oil in a large heavy-bottomed skillet over medium high heat. Add the onion, celery, carrot, cauliflower, parsley, basil, sage, and rosemary. Sauté, stirring frequently, for 5-10 minutes until the vegetables have softened. Remove from the heat and set aside to cool slightly.
Place the nuts in the bowl of a food processor and pulse until they are finely chopped. Transfer them to a large bowl.
Place the tofu in the food processor and pulse until finely crumbled. Add to the nuts.
Add the cooked vegetables, salt, pepper, rice, and flax mixture to the bowl with the nuts. Mix well.
Taste, and adjust seasonings if necessary.
Press the mixture into the prepared loaf pan, pushing firmly down on the top.
Place in the oven and bake for one hour, until crisp and golden on top.
Remove from the oven and let cool for 10 minutes before slicing.
Serve with vegan gravy and vegetables on the side.