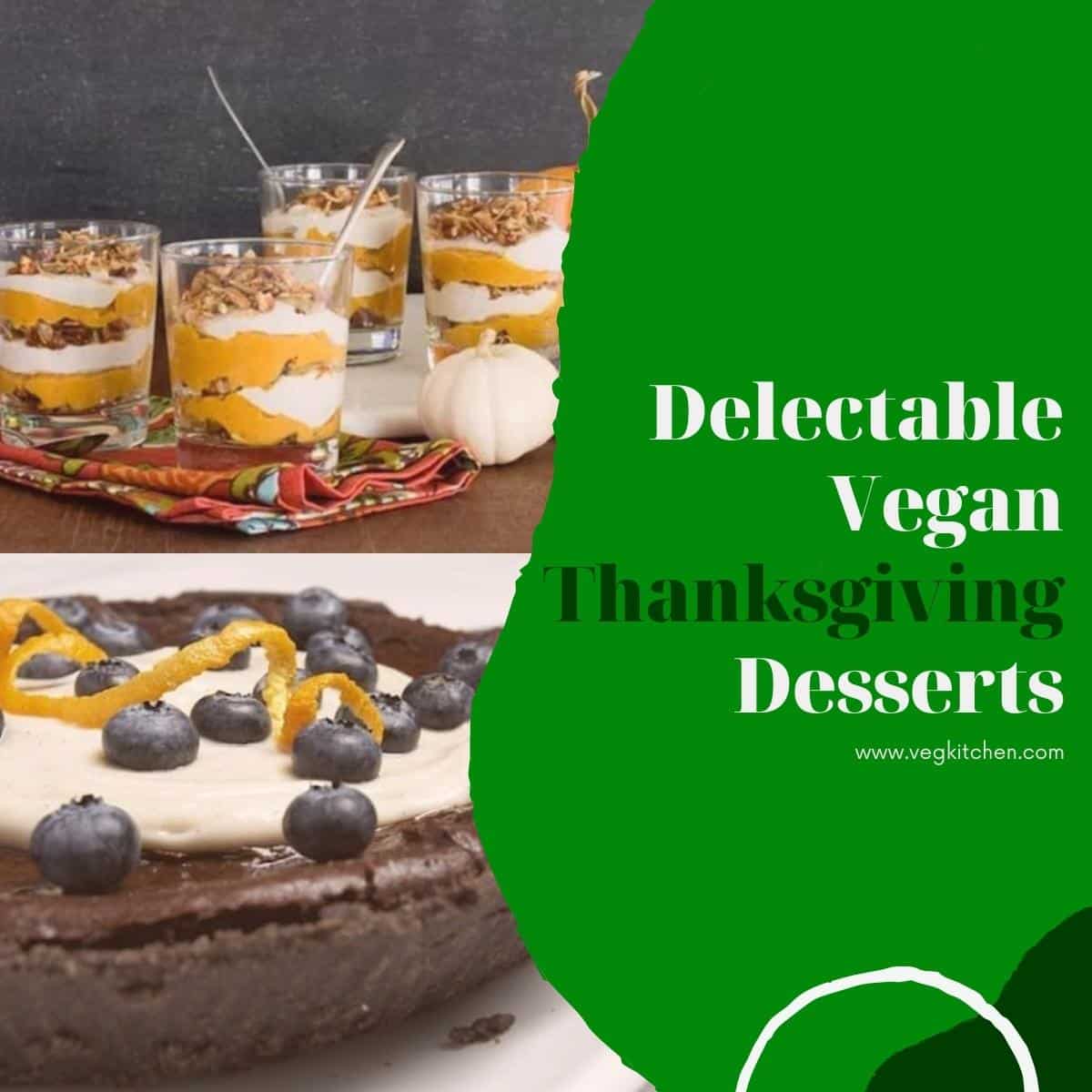 Thanksgiving is the Mother of All Holidays, according to many vegans. There are few special occasions that can compare when it comes to amazing plant-based food choices that celebrate the fall harvest — truly something to be thankful for. And even though the meal can be filling — or indeed, over-filling — leave room for one or two of these delectable vegan Thanksgiving dessert recipes. There are the requisite pumpkin pies, with variations, but if that's not your thing, there are plenty of other appealing options. Make sure to visit our Vegan Thanksgiving Dinner page for an incredible array of options for the entire meal.
Delectable Vegan Thanksgiving Desserts
Make sure you leave room for one or two of these delectable vegan Thanksgiving dessert recipes. Here's an array of recipes including pumpkin pie and apple, pear, and cranberry treats.
Vegan Pumpkin Pie Recipes
Smooth, sweet butternut puree in Easy Vegan Pumpkin or Squash Pie tastes just as good as sugar pumpkin in the classic pumpkin pie (vegan style)—perhaps even better! Once you've got the squash or pumpkin baked, which I do ahead of time, making this nourishing pie is a snap.
Thanksgiving isn't the same without pumpkin pie. But if you're looking for something different and delicious that your guests will go crazy over this Double-Layer Pumpkin Cheesecake.
Chocolate Pumpkin Pie is rich and decadent, so a little slice will do. It's a nice variation on standard pumpkin pie at Thanksgiving dinner. Serve portions with vanilla nondairy ice cream or vegan whipped cream, cashew cream, or fresh fruit.
Combining coconut milk, pumpkin puree, maple syrup, and sweet spices, this Pumpkin Spice Ice Cream is a fall treat, on its own or served over a warm dessert.You can cook a fresh pumpkin for this recipe if you like, but canned works just fine.
Warm, creamy, and comforting, Pumpkin Bread Pudding is the perfect dessert to ward off those autumn chills while celebrating the season's bounty. It's a snap to customize depending on your preference; consider the spices as a mere suggestion, and a handful or two of nuts, chocolate, or dried fruit never hurt anything.
From our friends at Oh My Veggies, each layer of this Maple Pumpkin Parfaits is lightly sweetened and flavored; it's hard to decide which is the best one! These come together fairly quickly, but be sure to plan enough time for the cashews to soak overnight and for the parfaits to chill.
Apple, Pear, and/or Cranberry Desserts
Maple syrup brushed on the warm Apple-Walnut Cobbler adds color and shine to the other-wise pale topping. And don't save this excellent cobbler for wheat-sensitive people only; everyone will like it.
If you'd like an alternative to pumpkin pie for fall celebrations like Thanksgiving, or everyday meals, this pear and apple crumble is a welcome dessert. It's especially tasty served warm over vanilla nondairy ice cream.
"Easy as pie" surely does fit this 6-ingredient vegan Apple-Cranberry Pie - a luscious combination of apples and cranberries, perfect for fall. If you love the tart burst of healthy fresh cranberries, you're sure to love this pie.
Cranberry-Carrot Cake with Maple-Cream Cheese Frosting is festive and luscious, but with a minimum of fat and a plethora of fresh fruit (and a vegetable!) in the batter, not the least bit guilt-inducing. It's a nice alternative to pumpkin pie for a vegan Thanksgiving dinner and wonderful for Christmas as well.