Contributed by Joni Marie Newman. Kathy Hester has already taught me so much with her first book, The Vegan Slow Cooker,* and now she's taught me so much more with The Great Vegan Bean Book.* Did you know that you can make a pie crust out of beans? How about biscuits? And what would you say if I told you you could make fudgesicles out of beans? Wha-wha-what? Yep! Kathy has recipes for all of these, plus more than a hundred other innovative recipes featuring the magical fruit.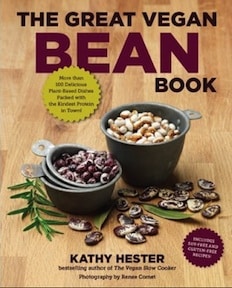 I will admit that I had my doubts when I heard Kathy was writing a book all about beans. I mean, how many different ways are there to make beans? Well, apparently, hundreds! And I was absolutely floored by the amazing ways she put them together. I mean just link through to Cherry Basil Crumble Bars for just one example.
This book is really well laid out with a short and sweet intro that gives the reader all sorts of awesome bean how to tips and a glossary of different types of beans. Then come the recipes. Organized by style of meal, (Morning Beans, Portable Beans, Bean-a-licious Sweet Treats) these recipes run the gamut from pancakes to stews to macaroni and cheese (hello white bean cheesy sauce!) and each one seems more innovative than the last.
Many of the recipes also come with Soy-free, gluten-free or oil-free options, and many have "Fancy Bean Substitutes" suggested just in case you want to make use of some fancy heirloom beans.  The index is concise and easy to use. Finally, the many photographs by Renee Comet are stunning.
I have so many pages bookmarked in this book, that my husband told me he is worried about me eating too many beans (you know, the more you eat the more you...) but no worries, Kathy even has tips for using natural herbs to help you digest these beans more easily.
Some of my favorites so far include Hawaiian Sliders, Pumpkin White Bean Chowder, and Cherry Basil Crumble Bars. Two more recipes from this book you can sample here on VegKitchen:
This review by Joni Marie Newman was originally reprinted on Just the Food: Absolutely Delicious and Cruelty-Free Recipes.
*This post contains affiliate links. If the product is purchased by linking through this review, VegKitchen receives a modest commission, which helps maintain our site and helps it to continue growing!