The Urban Vegan: 250 Simple, Sumptuous Recipes from Street Cart Favorites to Haute Cuisine* is a lively cookbook and a fun read. Though Philadelphia is the city she calls home, Dynise Balcavage is a world traveler, and brings her urban adventures together between these covers.
Arranged a bit differently than the standard cookbook, here you'll find thematic chapters such as Café Culture, All Night Breakfast at the Diner, Lunch Cart, The Melting Pot, House Party, Urban Garden, Haute Cuisine, and more. But just because the recipes in this book draw upon big-city culinary pleasures and pastimes, this doesn't mean that it will have you scrambling all over for esoteric or expensive ingredients.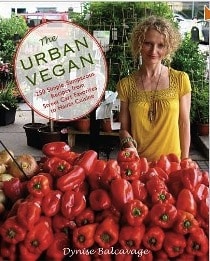 Due to lots of early season colds and flues in my family (see grumbling, below), I didn't get to make all of the Urban Vegan recipes I had flagged, but I did manage to make Cranberry Upside-Down Cake, Classic Marinade for Tofu or Seitan, and Spicy Udon Noodle, all to great accolades. Other recipes awaiting with Post-Its™ include Babci's Polish Mushroom Soup, Rosemary-Olive Bread (I try not to eat much bread but I adore olive bread!), and A La Recherche du Pain Perdu, which I would make no matter what, because I love the pun and literary reference (it's kind of a fancy baked French toast).
My only regret is that The Urban Vegan* doesn't contain a few photos of Dynise's urbane culinary adventures, but otherwise, this is a book that will be as welcome on your night stand as in your kitchen. Dynise also as a blog of the same name; please visit her there!
BABCI'S POLISH MUSHROOM SOUP
from The Urban Vegan* by Dynise Balcavage
6 servings
2 tablespoons canola oil
1 large onion, chopped
5 whole black peppercorns
4 whole balls of allspice
4 cups chopped, fresh wild mushrooms (to be authentic, use Polish mushrooms
like borowiki; otherwise, shiitake, porcini, oyster mushrooms, cremini,
and/or cepes make wonderful substitutes)
6 cups vegetable broth
3 tablespoons flour
½ to 1 cup vegan sour cream (add less for a thinner soup,
more for a thicker, richer soup)
1 pound small red potatoes, scrubbed and cut into quarters
Parsley, for garnish
Salt and lots of black pepper
Heat the oil over medium heat. Add the onions, peppercorns, and allspice. Sauté for about 5 minutes, then add the mushrooms. Sauté another 5 minutes, then pour enough broth in the pan to just cover the vegetables.
While the vegetables are cooking, whisk together the flour and sour cream in a medium bowl until there are absolutely no lumps. Then slowly add this mixture to the soup pot, a bit at a time, mixing continually until completely blended. Add the remainder of the broth and the potatoes.
Simmer the soup, partially covered, over medium-low heat until the mushrooms and potatoes are soft and cooked, about 1 hour. Add a bit more water or broth if you need to.
When the soup is ready, puree about half of it in the blender and then add it to the pot. Adjust seasoning. Serve with a dollop of sour cream and a bottle of Pilsner or wheat beer.
*This post contains affiliate links. If the product is purchased by linking through this review, VegKitchen receives a modest commission, which helps maintain our site and helps it to continue growing!