The Vegetarian Mother's Cookbook: Whole Foods to Nourish Pregnant and Breastfeeding Women—and Their Families* by Cathe Olson is a friendly, useful resource that delivers just what it promises in its subtitle. It offers a wealth of information and options for healthy eating, while never sounding judgemental or preachy. The recipes here are geared toward the pregnant and lactating mother, but honestly, this big collection of straightforward, tasty recipes is a perfect all-purpose cookbook for any busy family with vegetarian or vegan members.
In the book's introduction, Cathe writes, "During pregnancy, it is often difficult to stand for long periods of time to prepare complicated menus, especially if you have other children to care for." The truth is that, with family life being so busy, few of us have time to prepare complicated menus, even when our kids get older, so these recipes, which focus on good ingredients in dishes that come together in very few steps, is just as useful to busy families with growing kids and teens.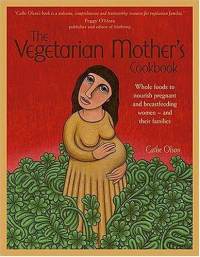 All the recipes I've tried have been successful. Obvioiusly the author thought these through well and tested them thoroughly. Roasted Root Vegetable Salad employs a technique I enjoy very much—roasting veggies to bring out a mellow sweetness—and then dresses up the result with olive oil, balsamic vinegar and pine nuts for a delicious warm salad.
Bean and Rice Salad with Citrus Dressing combines a somewhat Southwestern slew of ingredients (brown rice, black beans, corn, cilantro, etc.) with a citrusy Asian-flavored dressing. The combination is surprisingly compatible, and makes for a hearty main dish salad that is also excellent for the next day's lunch. Tofu Enchiladas possibly takes a few more steps to accomplish than many of the other recipes, but it is not at all difficult. This dish of tofu and vegetables encased in tortillas and topped with a tangy enchilada sauce is luscious.
Pasta with Vegetables and Pine Nuts is just the kind of easy, bursting-with-vegggies pasta dish I love to make on busy weeknights, and was quite a hit with my broccoli- and cauliflower-loving family. Likewise, my sons have never met a tofu dish they didn't like, so I was practically assured that Tofu and Udon Noodles with Sesame-Peanut Dressing (another of Cathe's great main dish salads) would be a hit. This flavorful dish would be a perfect entrée for a warm summer night.
Other dishes I've bookmarked include Tortilla Soup, Seitan "Chicken" and Cashews, Zucchini-Avocado Salsa, Tempeh, Apple, Potato, and Kraut Casserole, and Granola Bars. I'm sure to be using this book regularly, as it is compatible with my own cooking philosophy—using just the right amount of high-quality ingredients for maximum effect. The recipes are unpretentious and look practically goof-proof. Most of the recipes are suitable for a vegan diet, or provide substitutions to make them so. The book's layout makes the recipes easy to read and follow, something I always look for in a cookbook.
So, even though this book has proven to be a fun and delightful resource for my vegan family, let's get back to why it's perfect for its intended audience—pregnant and lactating mothers. Each recipe not only offers nutritional information (the usual data, including calories, protein, fat, fiber, and carbs), but also the key  nutrients of the dish. Folate, for instance, is an important nutrient for pregnancy, and here, you can see which dish may be a good source. Some dishes are great sources for the B vitamins; others are calcium-rich; others provide iron; most dishes here offer at least several key nutrients. One of our favorites, Tofu Enchiladas, for example, looks like a goldmine of nutritional goodness.
The first thirty or so pages of The Vegetarian Mother's Cookbook* offers a quick guide to nutrition for the pregnant and lactating mother, plus a host of useful and interesting tips. There are sample menus; a whole foods shopping list; a description of key nutrients and "super mommy foods;" foods to boost mood and quell morning sickness, and much more.
I sure wish this book had been available during my own pregnancies, which were trouble-free, but during which I wish I had more guidance. At the time, I was vegetarian, not vegan, and basically followed my cravings. There were few good books on the subject and the only really well known one on eating during pregnancy was the really bossy one (which shall remain unnamed!). I'm glad to have the chance to use this book even though my "babies" are taller than me now. This book, along with Cathe's Simply Natural Baby Food, would make a perfect gift set for any pregnant or new mother.
To find out more about Cathe Olson and her books, visit Simply Natural Books. 
*This post contains affiliate links. If the product is purchased by linking through this review, VegKitchen receives a modest commission, which helps maintain our site and helps it to continue growing!