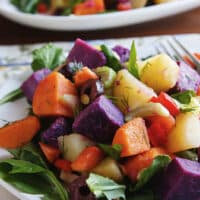 This gorgeous potato salad combines three kinds of potatoes with the early greens of spring for earthy flavor with plenty of eye appeal. Blue potatoes are surprisingly easy to find, if you look for them, but if you can't find them, simply substitute two additional medium sweet potatoes. Recipe from Wild About Greens. Photo by Susan Voisin, FatFree Vegan Kitchen.
Serves: 8 or more
1 medium sweet potato
3 medium blue or purple potatoes
2 medium yellow potatoes
2 celery stalks, thinly sliced on the diagonal
½ medium red bell pepper, finely diced
⅓ cup pitted kalamata olives or sun-dried tomatoes, sliced
2 tablespoons extra-virgin olive oil, or more, as desired
2 to 3 tablespoons apple cider vinegar
2 to 3 tablespoons minced fresh dill
Salt and freshly ground pepper to taste
3 big handfuls baby arugula or baby spinach leaves,
or a combination
Toasted pumpkin seeds (pepitas) or sunflower seeds for topping, as desired
Cook, bake, or microwave the three kinds of potatoes until done but still nice and firm. Plunge into cold water. Let stand until cool enough to handle, then peel and cut into ½- to ¾-inch dice.
Combine the potatoes in a mixing bowl with the celery, bell pepper, olives, olive oil, vinegar, dill, salt, and pepper. Stir together gently.
Stir half of the greens in with the potatoes and line a serving platter with the rest. Mound the potato salad onto the platter, and scatter the seeds over the top. Serve at once.