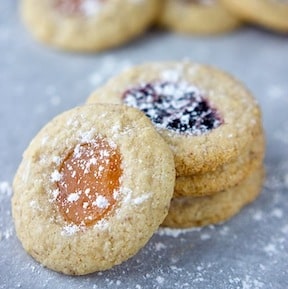 These Vegan and Gluten-Free Almond Thumbprint Cookies are as simple to make as they are beautiful. Use any flavor of preserves you'd like in this recipe. I happen to really love the amber glow of the apricot preserves. A thicker jam or fruit preserve is key to having a uniform color puddle in your cookies. Sprinkle with a touch of confectioners sugar for the ultimate eye-popper.
Recipe and photo contributed by Allyson Kramer, from Manifest Vegan.

Vegan and Gluten-Free Almond Thumbprint Cookies
Makes: 24 cookies
Ingredients
1 cup vegan margarine
1 cup organic granulated sugar
1 tbsp flaxseed meal mixed with 2 tbsp water
1 tsp almond extract
1 tsp baking powder
1 cup sorghum flour
1 cup potato starch
1 cup almond meal
1 tsp xanthan gum
Your favorite flavor of thick preserves
Instructions
Preheat oven to 350°F.
Cream together margarine and sugar until smooth. Add in prepared flaxseed meal and almond extract and mix well.
In separate bowl, combine baking powder, sorghum flour, potato starch, almond meal, and xanthan gum.
Gradually add flours into sugar mixture until a stiff dough forms.
Shape into 1-inch balls and place onto cookie sheet lined with parchment paper or a silpat mat.
Use the back of a ½ teaspoon (or your thumb) to make an indent in the cookies while slightly flattening them.
Fill with a little less than a teaspoon of preserves. Bake for 15 minutes in preheated oven and then let cool completely.
Sprinkle with confectioner's sugar and have yourself a cookie.
This post was originally published on 9 July 2012.