Pancakes are a staple in my house, especially when I'm planning our Saturday brunch! Pancakes are so satisfying and have a cozy, nostalgic feel to them. Our Vegan Blueberry Pancakes will be your new go-to. They're made with flour, vanilla almond milk, applesauce, and a few other pantry-staple ingredients. They smell great and have that perfect fluffy pancake texture we all know and love.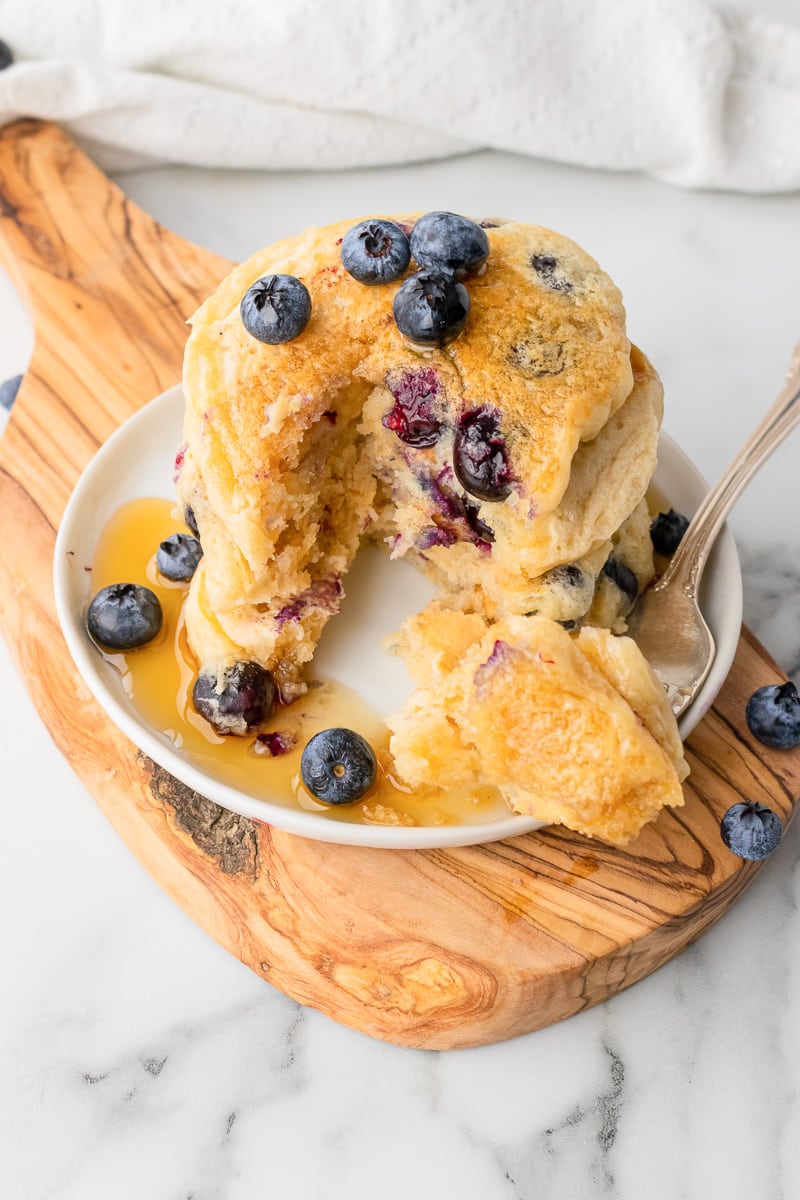 Jump to:
One of the best parts about making pancakes is knowing that they'll always be tasty—and our recipe for vegan pancakes isn't any different. This recipe has been taste-tasted by even the pickiest of eaters and still checks out as being absolutely DELISH!
Our blueberry pancakes follow a simple recipe. They're a perfect meal to get your littles involved in making. They'll have a blast measuring and mixing, and before you know it, the pancakes will be ready to enjoy!
This Vegan Blueberry Pancakes recipe is...
Easy to make
A one-bowl recipe
Great for making with your littles
Perfect for Saturday brunch
Loaded with nutrient-packed blueberries
Fluffy and scrumptious
How to Make Vegan Blueberry Pancakes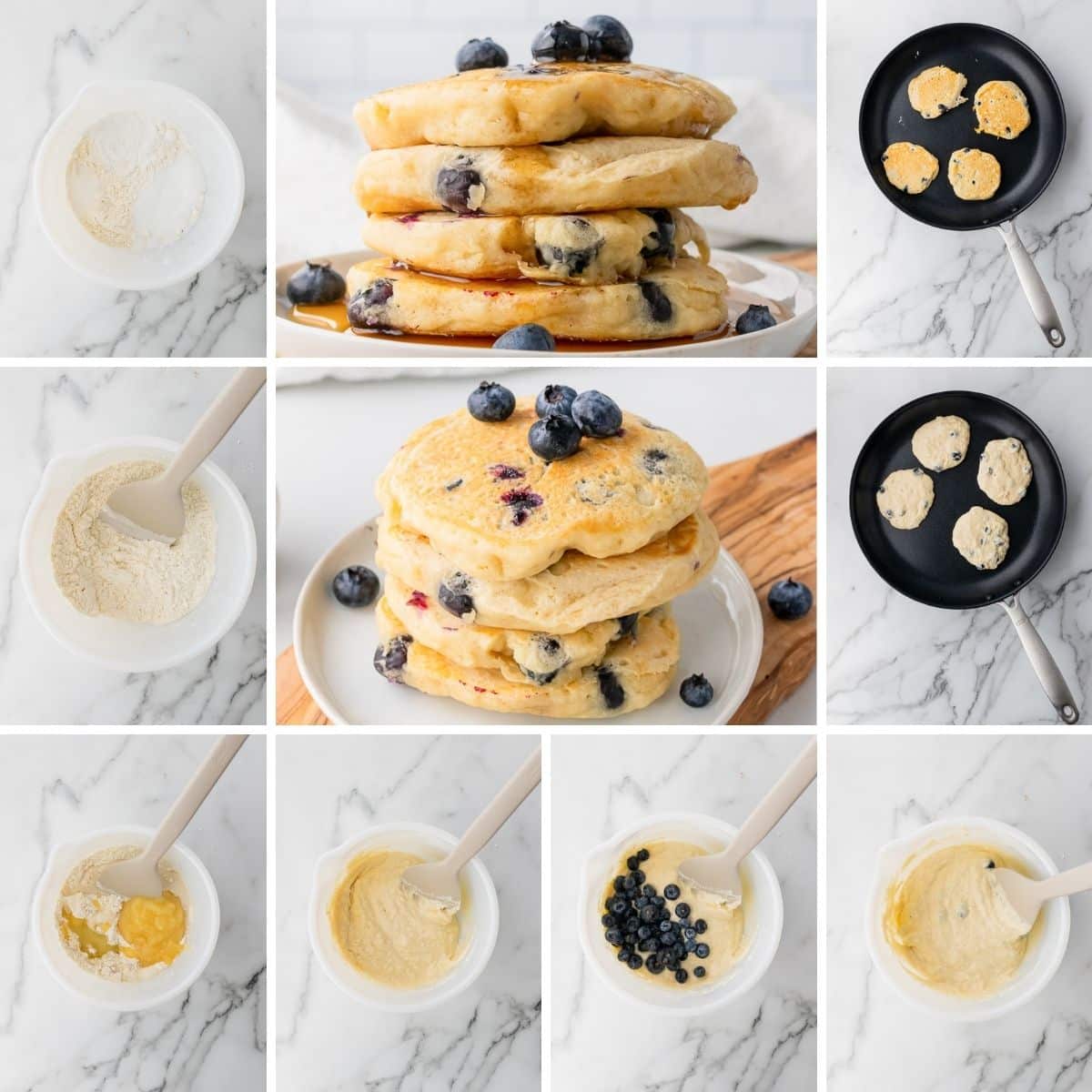 Preheat a nonstick skillet over medium heat.
Whisk together dry ingredients in a large bowl.
Add wet ingredients and stir until combined.
Fold in blueberries until evenly distributed.
Cook the pancakes until they're golden brown on both sides.
Serve warm topped with fresh blueberries and maple syrup.
Full directions for how to make Vegan Blueberry Pancakes are in the printable recipe card at the bottom of the post.
Tips & Tricks for Vegan Blueberry Pancakes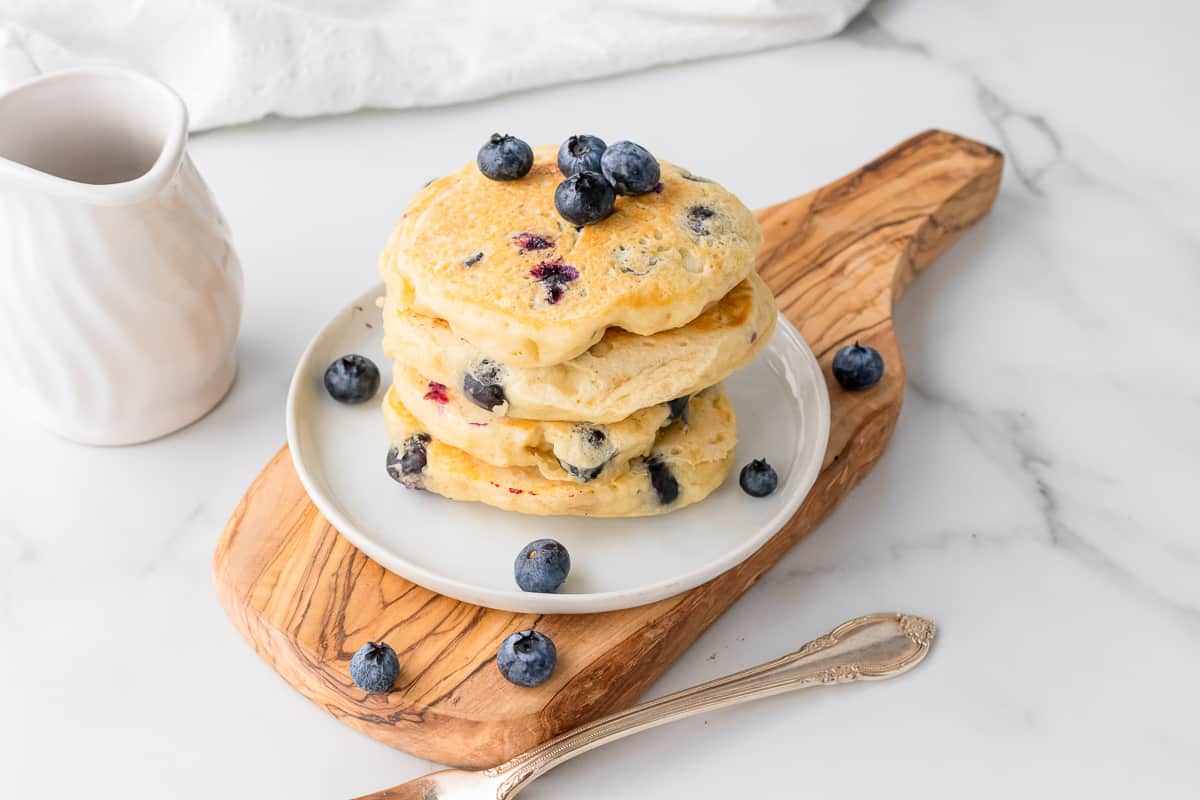 Large Bowl
This is a simple one-bowl recipe which means all of the ingredients get mixed together in one large mixing bowl. Make sure to choose a large enough bowl that will give you enough room to mix everything. Choosing a large enough bowl will decrease any spillage.We love this stainless steel mixing bowl set.
Whisking Benefits
You've probably seen the word "whisk" countless times in recipes, but do you know why? Whisking accomplishes two things at once: it mixes the ingredients and incorporates air. The shape of the whisk allows the wires to grab all of the batter around the bowl, mix, and bring in air. Because of this, whisking usually results in a fluffy result—in this case, extra fluffy pancakes!
If you don't own a whisk already, here are a few to consider:
Baking Powder
Baking powder is an important ingredient in our pancakes, and it's crucial that your baking powder is fresh and active. Usually, baking powder has a shelf life of anywhere from 6–12 months.
To test if your baking powder is active, simply drop half a teaspoon into boiling water. The water should bubble up quickly. If it doesn't, then the baking powder isn't active, and you'll need to replace it in order to make a recipe successfully.
Brunch Deliciousness
If you're anything like my family and me, then you LOVE brunch! Our blueberry pancakes are a perfect addition to any brunch plan. Here are a few other brunch-y ideas to try:
Variations to Vegan Blueberry Pancakes
Pancake Toppings
I topped our pancakes with fresh blueberries and a drizzle of maple syrup. A few other pancake topping ideas include jam, lemon and sugar, and vegan bacon and maple syrup.
Vegan Blueberry Pancakes FAQs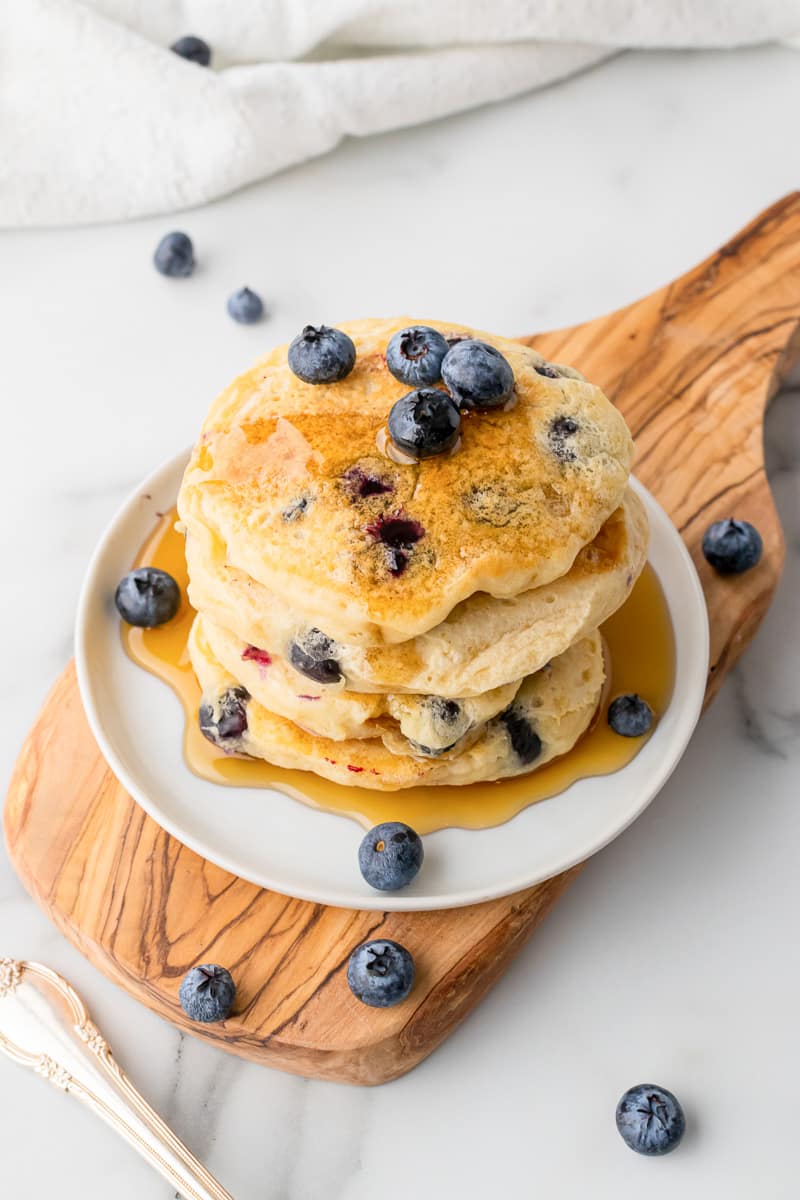 Why don't my pancakes have the right texture?
The texture of pancakes depends a lot on the quality of the ingredients used and the process of combining them. To have the best tasting pancakes, use fresh ingredients. Additionally, avoid overmixing the batter; simply whisk until combined.
How do you know when to flip the pancakes?
The common mistake when making pancakes is trying to flip them too early. Many people flip their pancakes right after the batter bubbles; however, you should wait until the batter bubbles pop and don't bubble anymore. This indicates that the underside is cooked (because the hole is not filling up with more batter to bubble again), and it's ready to flip.
Recipe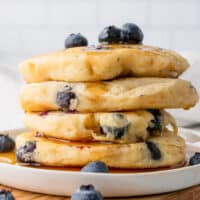 Vegan Blueberry Pancakes
Pancakes are a staple in my house, especially when I'm planning our Saturday brunch! Our Vegan Blueberry Pancakes will be your new go-to.
Print
Pin
Rate
Email
Ingredients
1

cup

flour

2

tbsp

sugar

2

tsp

baking powder

¼

tsp

salt

½

cup

vanilla almond milk

⅓

cup

applesauce

2

tbsp

oil

½

cup

blueberries
Instructions
Preheat a nonstick skillet over medium heat.

In a large bowl, whisk together the flour, sugar, baking powder, and salt.

Add the almond milk, applesauce, and oil, and stir until combined

Mix well—some lumps are okay.

Fold in the blueberries until evenly distributed.

Cook the pancakes in the preheated pan, using a ¼ cup measuring cup to scoop the batter.

Flip once after 3–4 minutes, then cook an additional 3–4 minutes or until both sides are lightly golden brown.

Serve pancakes warm with additional blueberries and some maple syrup.
Nutrition
Calories:
112
kcal
|
Carbohydrates:
18
g
|
Protein:
2
g
|
Fat:
4
g
|
Saturated Fat:
1
g
|
Polyunsaturated Fat:
1
g
|
Monounsaturated Fat:
2
g
|
Trans Fat:
1
g
|
Sodium:
200
mg
|
Potassium:
32
mg
|
Fiber:
1
g
|
Sugar:
5
g
|
Vitamin A:
8
IU
|
Vitamin C:
1
mg
|
Calcium:
81
mg
|
Iron:
1
mg
Vegan-ize any recipe!
Grab our free vegan cheat sheet, packed with my favorite easy substitutions to make any recipe vegan.