Review and photo at top by Dianne Wenz. I really dislike malls and impersonal gifts, so during the holidays I often make presents for those on my Christmas list. I give cookies and cupcakes to certain people like the girl who cuts my hair and the complex superintendent. I've always wanted to amp my gift giving craftiness up a little though, with fancy wraps and homemade jams.
This just might be the year that I do just that, as I'm now armed with Joni Marie Newman's Vegan Food Gifts: More than 100 Inspired Recipes for Homemade Baked Goods, Preserves, and Other Edible Gifts Everyone Will Love.*
When Vegan Food Gifts arrived in my mailbox, I dropped everything, made a cup of tea, curled up on the sofa, and read it from cover to cover as if it was an extra installment in the Harry Potter franchise.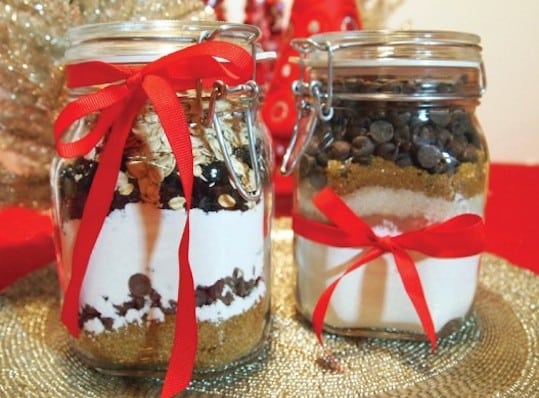 Vegan Food Gifts is a gorgeous book with an easy to read layout and beautiful full-page photos taken by Celine Steen. It's full of everything you need to get yourself going in the area of food gift giving, from gift box templates and copiable gift tags to recipes and canning instructions.
Each recipe includes ideas on how to gift the finished product, and all of the just-add-water recipes are accompanied by a cute illustrated card that can be photocopied and attached to the finished product. All of the recipes use easy-to-find ingredients that omnivores won't think are "too weird" to try, and every project has a key rating level of difficulty, cost and speed of completion.
Ms Newman has also included a list of sources to find jars and other crafting supplies, making the gifting process even easier.
Giving vegan food gifts is an excellent idea on many levels. First, you're engaging in a subtle form of activism, (or baketivsim, as my friend Rachel likes to call it) by showing your recipient how delicious and fun vegan food is.
You're also helping the planet out by not contributing to mass-manufacturing and corporate greed. And you're saving yourself a trip to the overcrowded shopping complex. I don't want to ruin anyone's surprise, but if you're on my Christmas list you should be expecting a vegan food gift this year!
Visit Joni Marie Newman's website here to learn more about her books, recipes and much more, and make sure to learn more about Vegan Food Gifts on Amazon.*

*This post contains affiliate links. If the product is purchased by linking through this review, VegKitchen receives a modest commission, which helps maintain our site and helps it to continue growing!
See more of our reviews of 

vegan cookbooks and health titles.

Link to more reviews and recipes by Dianne Wenz on Vegkitchen.