These Vegan Halloween Treats are a little bit spooky, a little bit sweet, and a whole lot of delicious!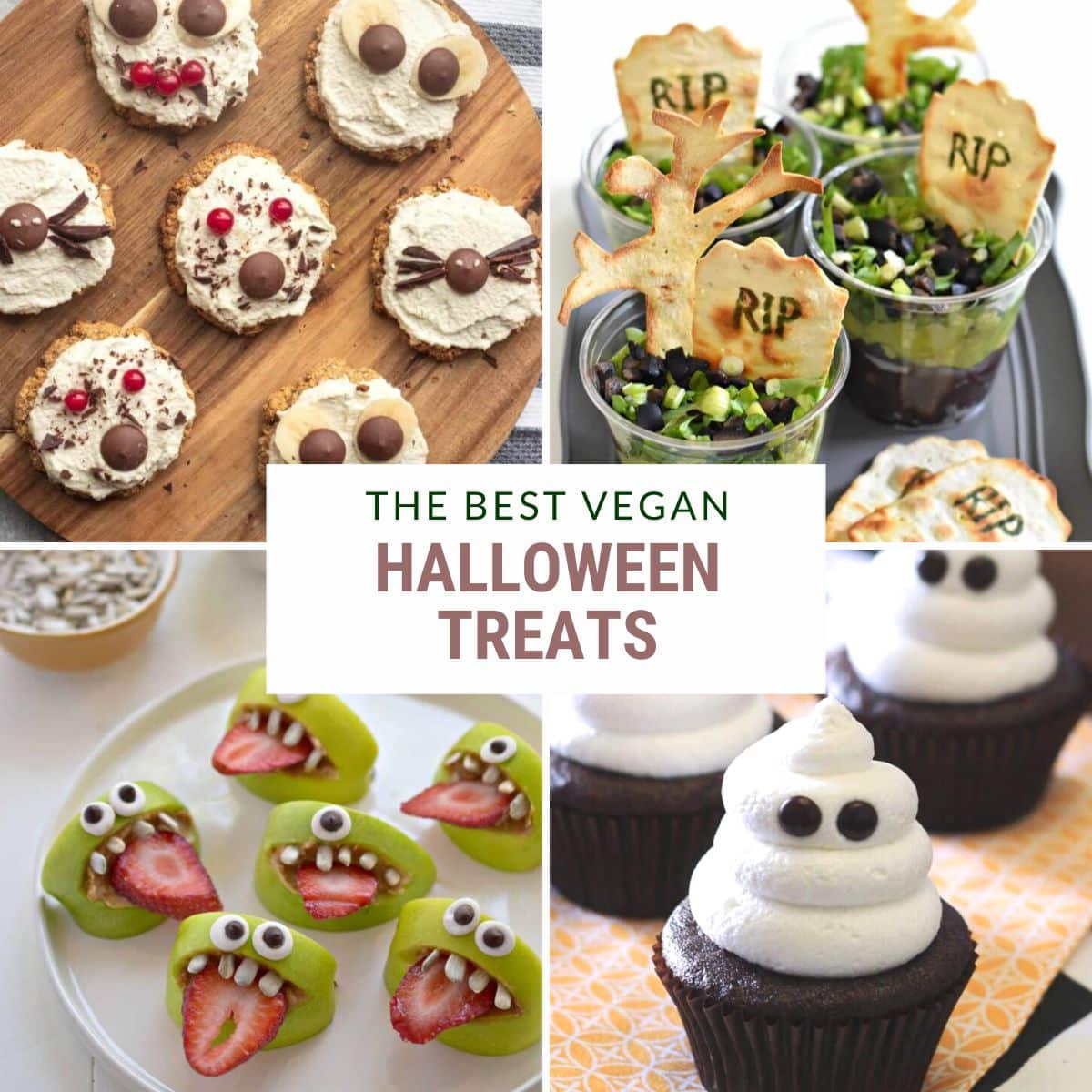 Are you ready for Halloween? I'm sure not - but I'm getting there! And the treats are my absolute favorite part of this fun-filled holiday.
So I've gathered up all of my favorite vegan friendly Halloween treats to share with you today. From savory party-worthy appetizers to sweet vegan desserts - there's a little something for everyone!
Vegan Halloween Treats
My favorite vegan Halloween recipes!
Photo Credit: www.forkandbeans.com
These vegan friendly taco cups are ghoulishly good - and make a super fun appetizer for a Halloween party.
Photo Credit: www.sarahbakesgfree.com
These adorable little ghost cupcakes are the perfect sweet treat for Halloween! And these yummy chocolate cupcakes are not just vegan, but gluten free too!
When you're done carving all those Jack O' Lanterns, don't toss the seeds! Save them up to make these tasty and simple candied pumpkin seeds.
Photo Credit: ohmyveggies.com
These spooky and sweet Halloween cookies are simple to make and 100% vegan. And they're topped off with a delicious cashew cream cheese frosting.
This yummy homemade pumpkin juice is a sweet and tasty treat that the whole family will love - and it's healthy too!
For a super fancy Halloween treat, try your hand at making homemade donuts. Homemade pumpkin donuts, that is!
Photo Credit: blog.fatfreevegan.com
For another savory Halloween treat, check out this easy black bean hummus - complete with a spider web!
Photo Credit: ohmyveggies.com
This creamy vegan milkshake is loaded with pumpkin spice flavor, and easy to make in just 5 minutes!
Photo Credit: www.forkandbeans.com
For a super healthy treat, check out these little monster shaped apple bites. I love the strawberry tongues!
Photo Credit: dreenaburton.com
The bat-shaped chocolate lollipops are as easy as it gets, with just two simple ingredients! Perfect for all the little trick or treaters.
Photo Credit: www.popsugar.com
It's Halloween's most loved (or hate) candy - candy corn! But this time it's gotten a vegan makeover so you can enjoy guilt free.
If you love these vegan Halloween recipes, be sure to check out these other tasty ideas: