Weeknights rarely feel like a good time to experiment with exotic ingredients and elaborate preparations. If you're craving, let say, Indian flavors and want dinner in a hurry (without doing take-out — again!), you may feel like you're out of luck. So for today's vegan menu, we dived into our collection of Vegan Dinner Hacks and pulled out one of our favorites, a 15-minute Chickpea Masala dinner.
You read that right — the entire meal takes 15 minutes to make, thanks Maya Kaimal's line of luscious, complex Indian simmer sauces. They make anything taste like it came from the finest Indian restaurant. Look for this line of sauces in natural foods stores (if yours doesn't carry them, ask them to special order for you, or better yet, to start carrying them! There are other brands of Indian sauces —many are vegan— such as Trader Joe's, but MK's remains our favorite.
For the main event of this Chickpea Masala Dinner, you'll find a handy visual list that you can look at on your phone as you shop for the few ingredients.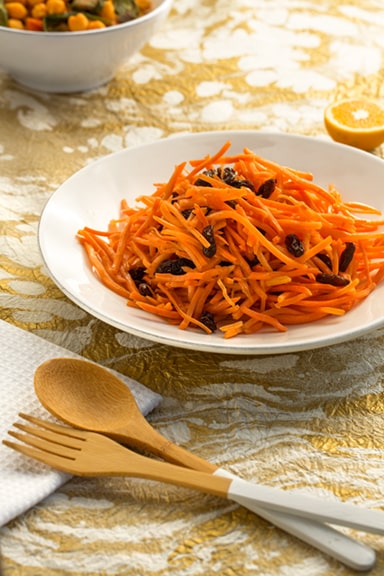 A classic carrot-raisin salad goes well with this main dish. You'll find the easy instructions for it in the link to the dinner above, as there's really not much to it other than mixing the pregrated carrots, raisins, and lemon juice together; but, if you do want a more specific recipe, you can find one here. Serve the salad and chickpea masala together along with some fresh flatbread, and you've got a fabulous meal in no time flat!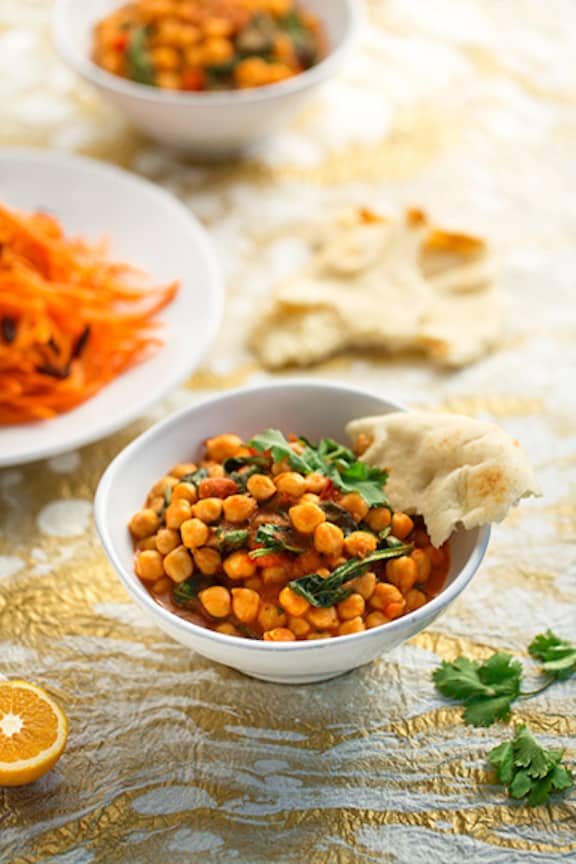 Photos by Hannah Kaminsky