This fun vegan menu offers up easy BLT wraps — Tempeh Bacon, Lettuce, and Tomato Wraps, to be more exact. And would you like fries with that? Sure you do. You'll love our fuss-free polenta fries, with a fraction of the grease and guilt of ordinary fries.
If you'd like to make your own tempeh "bacon" to use in TLT wraps or as a side for tofu scrambles and such, you'll find an easy and tasty way to do it. Prepared tempeh bacon is good, but this DIY version of tempeh bacon allows you to control the flavor and tweak it to your liking. These tempeh bacon, lettuce, and tomato wraps are perfect for dinner, and also make a nice portable lunch.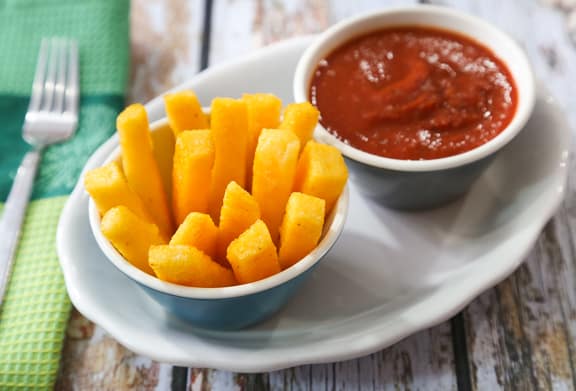 We recommend making Fuss-Free Baked Polenta Fries with precooked polenta — the kind that comes in those neat tubes. Compared with 2 to 3 hours of prep and wait time when you make these from cooked polenta, your prep is cut down to 2 to 3 minutes — much more reasonable for a quick weeknight treat!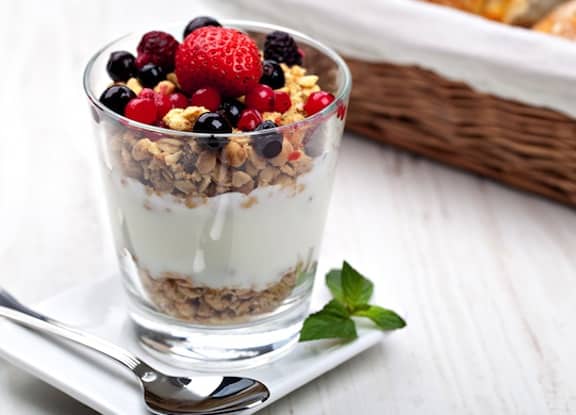 Fruit and Vegan Yogurt Parfait is so simple that it's almost not a recipe at all. It's as welcome for breakfast as it is for dessert. Layering nondairy yogurts with seasonal fruits takes almost no effort, creating a treat that looks as appealing as it tastes.
See more from our Vegan Menu collection for easy weeknight meals.