It's frittata time! This authentic-tasting vegan frittata is baked in the oven, making it especially easy to prepare. With a delicious potato/onion base, paired with an herb-infused egg-like filling, this egg-less entrée is a true winner, perfect to serve for any meal of the day.
Recipe and photo by Laura Theodore, from JazzyVegetarian's Deliciously Vegan. Published by Scribe Publishing, ©2018, reprinted by permission.
Serves: 3 to 4
POTATO LAYER
¼ cup water, plus more as needed
1 teaspoon reduced-sodium tamari
2 large red or white potatoes (with peel on) very thinly sliced
1 teaspoon Italian seasoning blend
½ cup minced sweet onion
"EGG" LAYER
2 tablespoons rolled oats
1 block (14 to 16 ounces), extra-firm regular tofu, drained
3 tablespoons nondairy milk
1 teaspoon Italian seasoning blend
½ teaspoon reduced-sodium tamari
¼ teaspoon ground turmeric
ADDITIONAL INGREDIENTS
¼ teaspoon sea salt
4 cups baby spinach
⅛ teaspoon smoked paprika
Preheat the oven to 375 degrees F. Liberally coat a 9 to 10-inch round quiche dish with vegan butter.
Put the potato layer ingredients in a large skillet in the order listed. Cover and cook on medium-low heat for 15 to 18 minutes, or until the potatoes are almost fork tender, flipping them over half way though cooking. Check often and add more water, 2 tablespoons at a time, as needed to prevent sticking.
Meanwhile, put the rolled oats in a blender and process into coarse flour. Add the tofu, nondairy milk, Italian seasoning, tamari and turmeric and process until smooth.
Arrange all of the potatoes in an overlapping, even layer in the prepared dish. Sprinkle ¼ teaspoon sea salt over the top. Spread one-third of the tofu mixture evenly over the potatoes. Top with the spinach, pressing it down firmly.
Carefully pour the remaining tofu mixture over the spinach and gently spread it in an even layer, using a rubber spatula.
Sprinkle the paprika over the top of the frittata. Tent with foil and bake for 30 minutes. Remove the foil and bake for 15 to 20 minutes more, or until the frittata is set. Put the dish on a wire rack and loosen the sides of the frittata with a knife. Let cool 12 to 15 minutes and slice into wedges. Serve warm.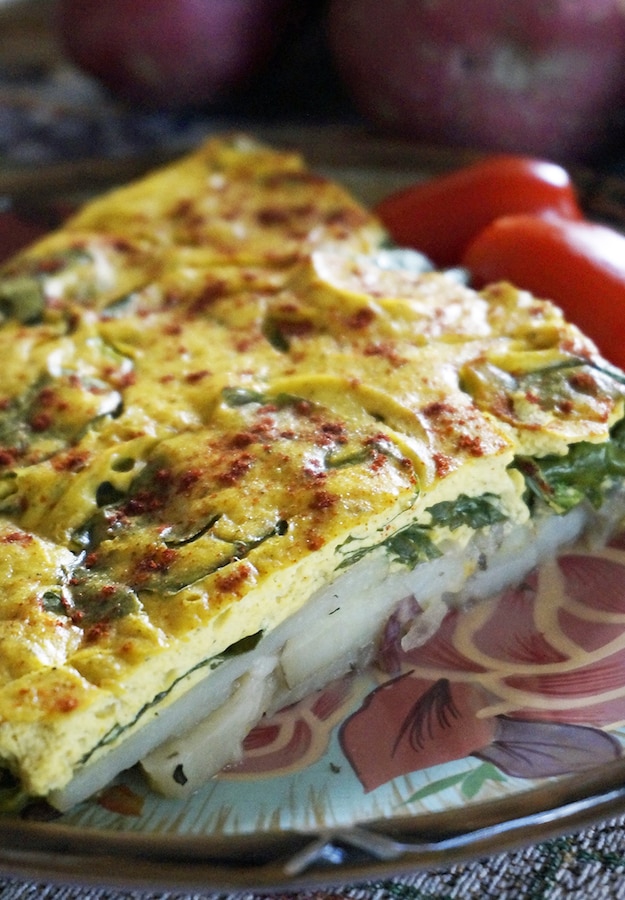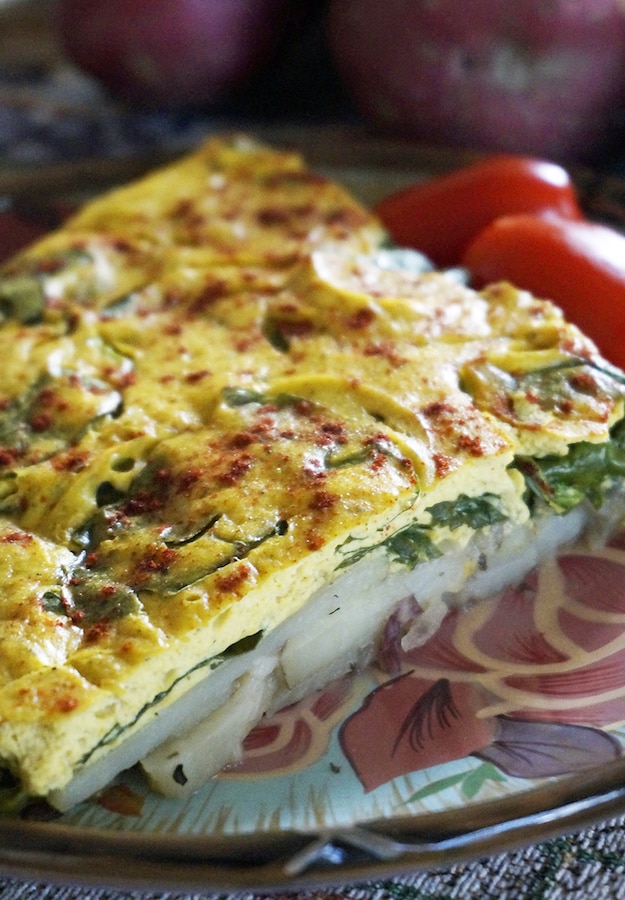 *This post contains affiliate links. If the product is purchased by linking through this review, VegKitchen receives a modest commission, which helps maintain our site and helps it to continue growing!