This quick frittata is one of the most requested dishes in my household. It can easily have countless variations by using seasonal vegetables from your local farmer's market in place of the ones listed. Try shredded kale instead of asparagus and zucchini in place of the carrot for a fun twist or try adding minced red pepper for a dash of color.  Recipe and photo contributed by Allyson Kramer, from Great Gluten-Free Vegan Eats Around the World* ©2013 Fair Winds Press, reprinted by permission.
Serves: 4 to 6

For the Frittata:
1 tablespoon olive oil

6 stalks fresh asparagus, tough ends removed and chopped into ½-inch pieces

1 medium-size red onion, diced

2 cloves garlic, minced

Dash salt

1 ¾ cups gram (chickpea or garbanzo) flour

1 cup water

1 ½ teaspoons sea salt

¼ cup nutritional yeast

½ cup olive oil

1 ¾ (14-ounce) tubs extra-firm tofu,
drained and pressed for at least 4 hours or overnight (see Note)

Additional sea salt, to taste

½ cup packed shredded carrot

½ cup packed chopped fresh parsley
For the Salsa Verde:
4 tomatillos

1 Serrano chili pepper, diced

4 shallots, peeled

Giant handful fresh cilantro

Half of a ripe avocado, peeled and pitted

½ to ¾  teaspoon sea salt, to taste
To make the frittata:
Preheat your oven to 350° F and lightly grease a standard-size pie pan. Set aside.
Heat the olive oil in a small frying pan over medium heat. Add the asparagus, red onion, garlic, and a dash of salt and sauté gently until the asparagus turns a bright green and is barely tender, about 2 to 3 minutes.
In a large mixing bowl, whisk together the gram flour, water, sea salt, nutritional yeast, and olive oil to make a somewhat runny, yet substantial, batter. Crumble the blocks of tofu on top of the batter and salt lightly but evenly. Stir well to combine, but use a gentle touch so as not to purée the crumbled tofu.
Fold in the asparagus mixture, shredded carrot, and chopped parsley and then spread into the prepared pie pan. Bake for about 60 minutes or until golden brown on top. Remove from the oven and let cool at least 30 minutes before slicing. Top with the salsa verde and serve either warm or cold.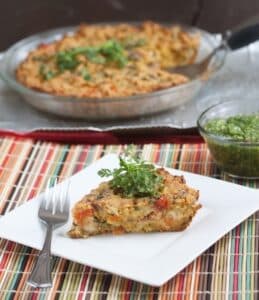 To make the salsa verde:
Peel, wash, and roughly chop the tomatillos. Carefully deseed the Serrano pepper while wearing kitchen-grade gloves to prevent burning of the skin. Very roughly chop the shallots and place all the ingredients in a food processor. Pulse a few times until well combined to a salsa consistency. Add sea salt to taste. Store in an airtight container in the fridge.
Note: To easily press tofu, drain all water from the package and then wrap the tofu tightly in a large, clean kitchen towel. Place the tofu on a flat baking sheet or plate and then top with another flat baking sheet or plate. Weigh down the tofu with a few heavy cans (two 30-ounce [840 g] cans of tomatoes work great) for about 4 hours until most of the water from the tofu has been absorbed into the towel, replacing the saturated towel with a clean towel halfway through pressing time, if necessary.
*This post contains affiliate links. If the product is purchased by linking through this review, VegKitchen receives a modest commission, which helps maintain our site and helps it to continue growing!