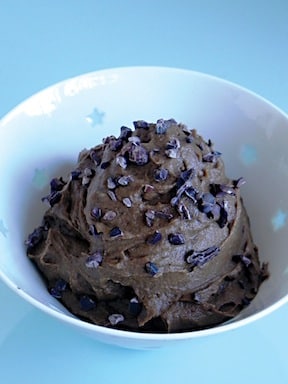 For some of you, avocado pudding is probably old news, but for others of you, this might be the beginning of a beautiful friendship. Avocado creates a silken texture that you have to taste to believe (and I promise you won't notice any avocado flavor). From Practically Raw Desserts * ©2013 by Amber Shea Crawley. Used by permission from Vegan Heritage Press.
Serves: 4
⅔ cup pitted dates (any variety)
2 large, ripe avocados, pitted, peeled, and chopped


(about 2 cups chopped)

⅓ cup water or nondairy milk of choice
½ teaspoon vanilla extract
Big pinch of sea salt
⅓ cup cacao powder
Stevia to taste (optional)
Cover the dates with hot water and let stand for 15 minutes, then drain.
Combine the avocados, water, vanilla, and salt in a high- speed blender or a food processor. If you don't have a high-speed blender, use the food processor here, not a conventional blender. Blend until smooth and combined, using the tamper if necessary with the high-speed blender.
Add the dates and blend again until well-combined and smooth. You will need to use the tamper here with the blender. Add the cacao powder, put on the lid (so you don't get dusted in chocolate!), and blend again until smooth. Taste for sweetness and add stevia, if desired. Chill or serve immediately.
Store leftover mousse in an airtight container in the refrigerator for up to 1 day.
Variation: Unsweetened cocoa powder or carob powder can be used instead of cacao powder, and ⅓ cup maple syrup or coconut nectar can be used in place of dates, just reduce or omit the water.
* This post contains affiliate links. If the product is purchased by linking through this review, VegKitchen receives a modest commission, which helps maintain our site and helps it to continue growing!