Many of us know that brown rice is better for you than white (see Top 10 Benefits of Brown Rice), but boy, the stuff can be boring. If you're a fan of brown rice, you'll love these easy ways to make this bland yet worthy grain more enticing. Best of all, none of these brown rice ideas require recipes to follow; just be inspired, and add your own tweaks and touches.
You might especially appreciate these ideas if you have leftover brown rice from Chinese takeout (yes, sometimes, even us vegan kitchen gods and goddesses succumb). But there's nearly always way too much rice, because it's really packed into those boxes. So there it is the next day, sitting all forlorn and drying out in its paper container in the fridge. Read on for great ways to put brown rice to use, whether you cook it yourself or it's left over from takeout.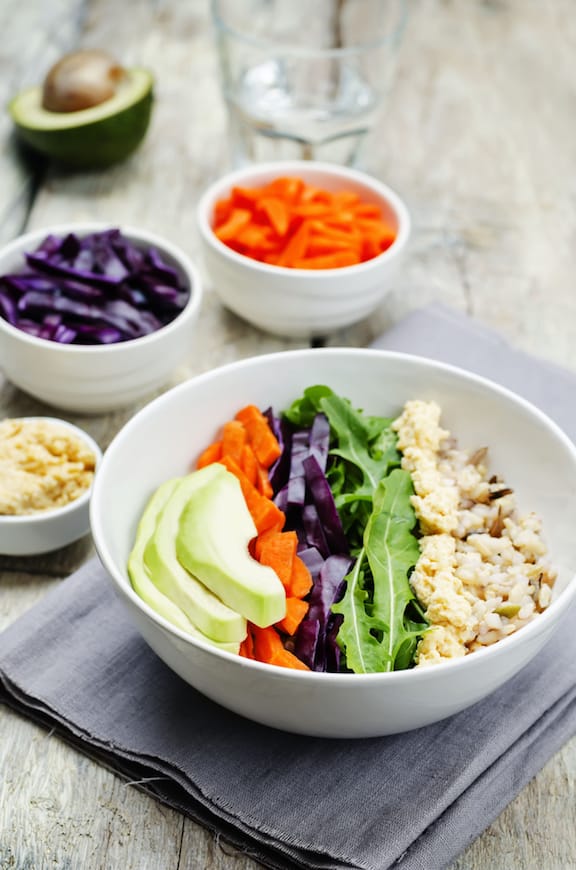 Rice bowls: "Bowls" are all the rage. They're basically a bowlful of grain with fairly simple ingredients arranged artfully on top of single servings. You can use combination of cooked and raw ingredients, and tie everything together with a dressing or sauce.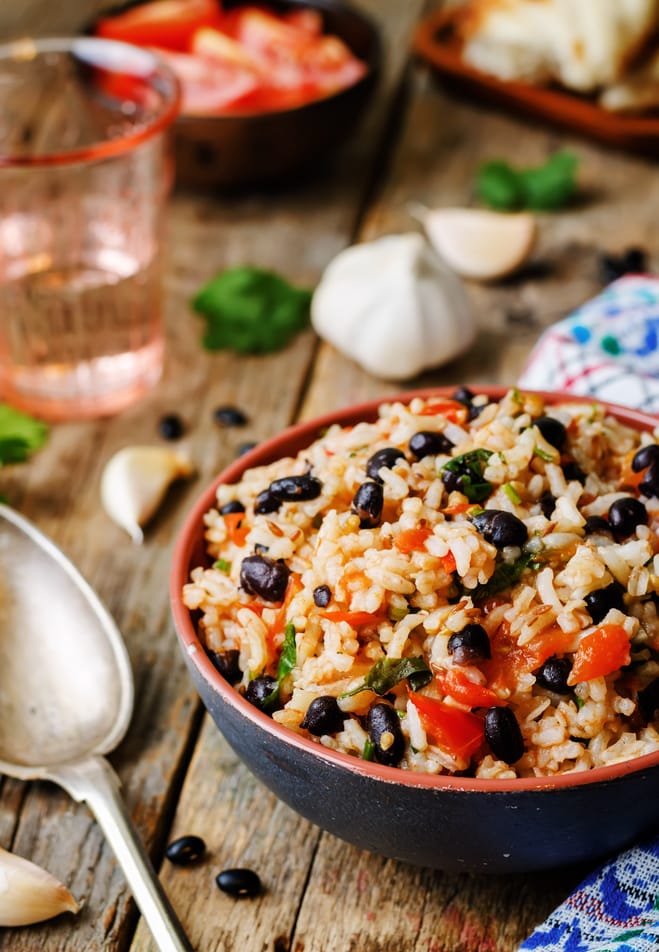 Rice and black beans: Warm up your leftover rice with a 15- to 16-ounce can of drained and rinsed black beans in a skillet. Stir in some prepared salsa for lots of extra flavor. If you want to go an extra step, sauté some garlic and peppers in olive oil first before adding the rice and beans. Add some fresh tomatoes and/or fresh herbs, or just go for the salsa.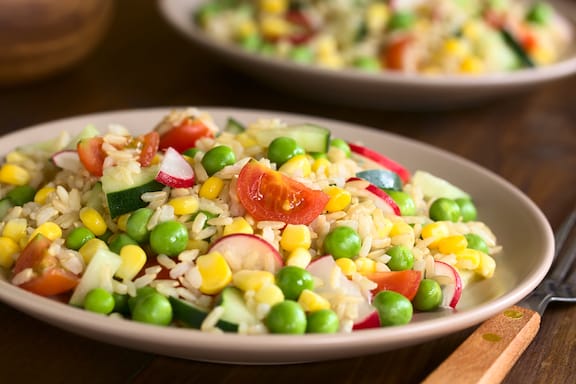 Savory rice salad: Combine your leftover rice with frozen corn kernels, peas (lightly steamed), and what ever bits a vegetables you have in the fridge. Dress in a vinaigrette. This is great to pack in a container for lunch at work.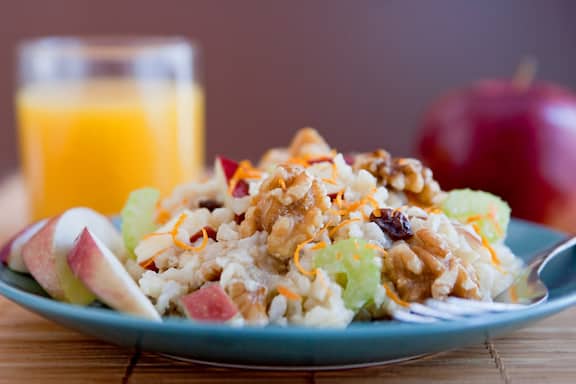 Sweet rice salad: Leftover brown rice can also be transformed into a salad that's on the sweet side. Here's one that recalls a Waldorf salad, with apples celery walnuts and raisins. Dress the whole thing in vegan mayo or coconut yogurt.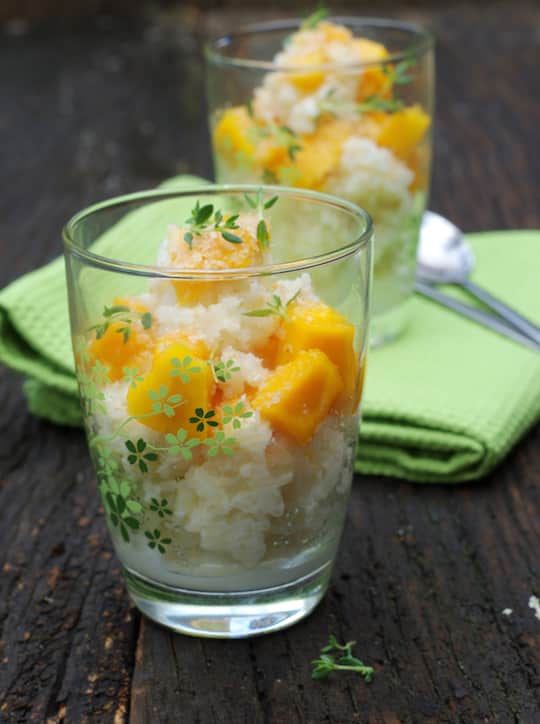 Rice pudding: Continue on the sweet theme, your leftover rice can easily be transformed into a comforting dessert. Warm the rice up in a little almond milk or nondairy milk first. Mix in raisins or other dried fruit, fresh fruit like cut up pears or bananas, some cinnamon, and a little maple syrup. Or make it Thai-inspired, like in the photo above. Warm the rice in enough coconut milk (or coconut milk beverage) to make it creamy but not soupy. Combine with diced fresh or organic canned mango.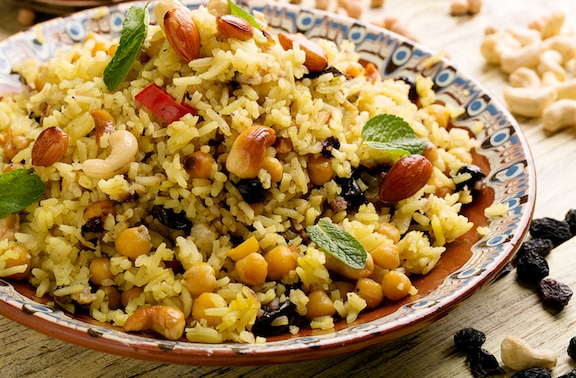 Quick curried pilaf: Rice pilaf from scratch can be a pain in the neck, what with adding a little of this and a little of that. So just combine your leftover rice in a skillet with some trail mix — one that has a nice blend of dried fruits, nuts, and seeds. Heat it all up in a skillet with some vegan butter or nut oil, sprinkle in a little curry powder, ginger, and whatever other seasonings you're not too lazy to add. To make it more of a main dish, add some chickpeas.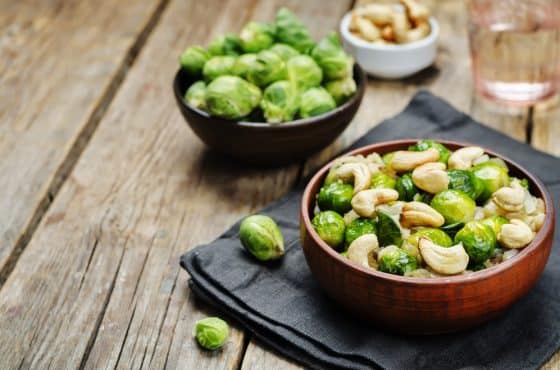 Green veggies and nuts: Brown rice by itself and steamed green vegetables by themselves can both be ho-hum, but combining them as a bowl and topping with yummy nuts makes for a tasty trio. This is good with steamed brussels sprouts, broccoli, or green beans.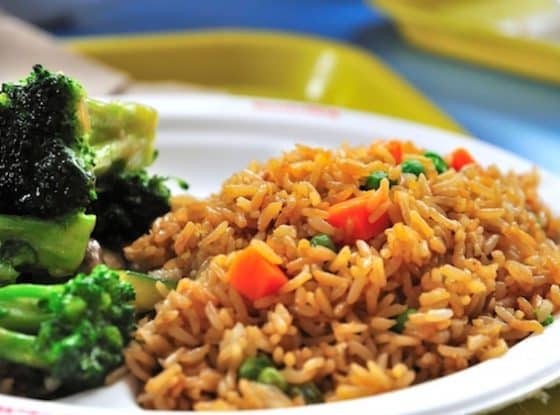 Chinese vegetable fried rice: Heat some sesame oil or any neutral vegetable oil in a stir-fry pan. Toss in some frozen peas or mixed vegetables. Stir-fry until the veggies are no longer frozen. Add your leftover rice, then season with soy sauce and pepper. If you have some squeezable ginger, that's a good addition. Some thinly sliced scallions are always welcome, too.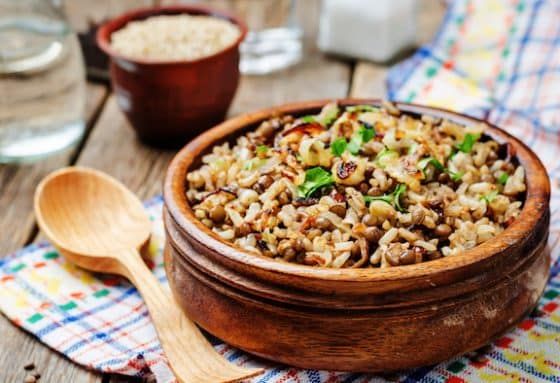 Instant Mujaddarah: This the Middle Eastern dish featuring rice (or sometimes bulgur) and lentils together. In our instant version, the rice is already cooked, so all you need to do is add a 15-ounce can of lentils (drained), and as much scallion and parsley as you'd like. Heat it all up in a skillet. Add salt and pepper, of course. If you want a bit of heat, add hot red pepper flakes or pass around a bottle of sriracha. If you have more time, brown a couple of onions in olive oil to use instead of (or in addition to) the scallion.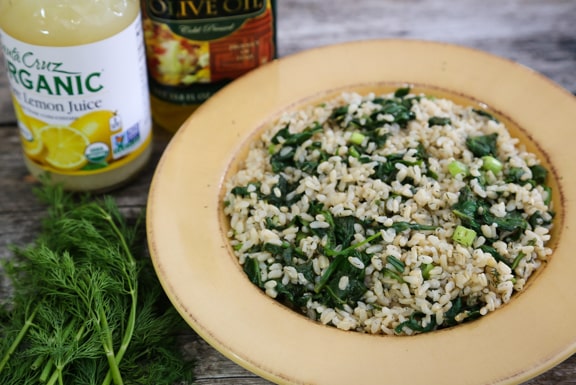 Spinach and herb rice: It's so easy to wilt down some baby spinach and stir it into warm cooked rice along with your favorite chopped fresh herbs. Parsley and dill go well with this. Add a drizzle of extra-virgin olive oil and lemon juice to taste.
Looking for more brown rice info and recipes?