This week's meal suggestions showcase an array of colorful dishes that include plenty of spring vegetables. First up, this simplified version of a popular Indian dish, Chana Masala, is a delightful way to showcase tasty chickpeas. The traditional version doesn't usually contain green beans, but they do add color and texture to the dish. If you prefer, you can substitute a few ounces of fresh spinach or other leafy greens for the green beans. Serve with hot cooked grains and/or fresh flatbread and a simple salad of tomatoes and cucumbers in a generous dollop of coconut yogurt.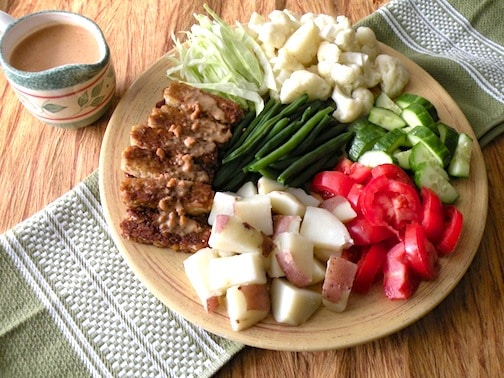 Indonesian-Style Vegetable Platter with Peanut Sauce is a mélange of raw and cooked vegetables, arranged in separate mounds and served with a rich peanut-coconut dressing. With tempeh (or sometimes tofu) as the usual protein on the platter, this is meant to be a one-dish meal, and not the kind of salad that's served on the side. Though entirely optional, plain cooked rice is often served with this kind of platter, known as gado-gado. Cook extra rice to go into tomorrow's wraps!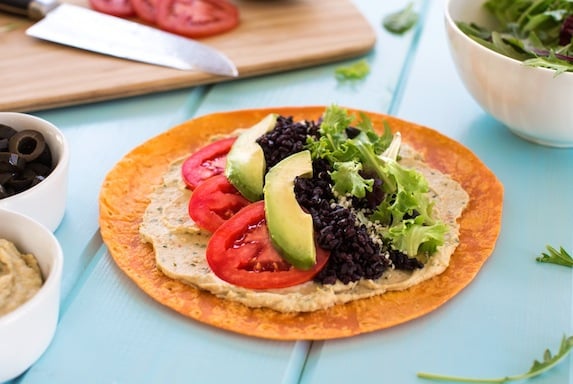 Hummus Wraps with Grains and Greens is chock-full of flavor and a good use of leftover grains of all kinds. Once you have your grain cooked, the wrap comes together in minutes. Serve with a simple potato dish, and/or fresh corn—these wraps go with most anything! Or, pair with a soup.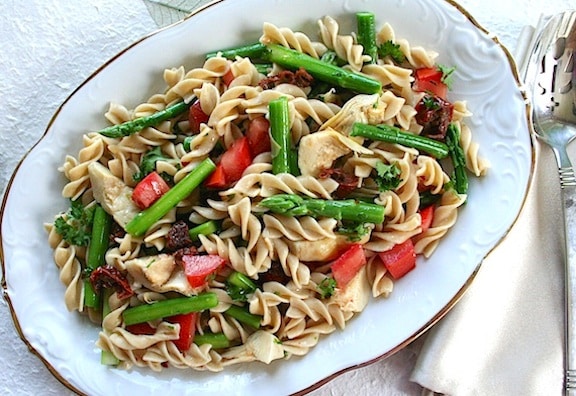 Pasta with Asparagus and Artichokes is sure to please in late spring and early summer. This can be served warm or at room temperature. Serve with a salad featuring chickpeas (I especially like this with Chickpea Salad with Roasted Peppers, Tomatoes, and Basil).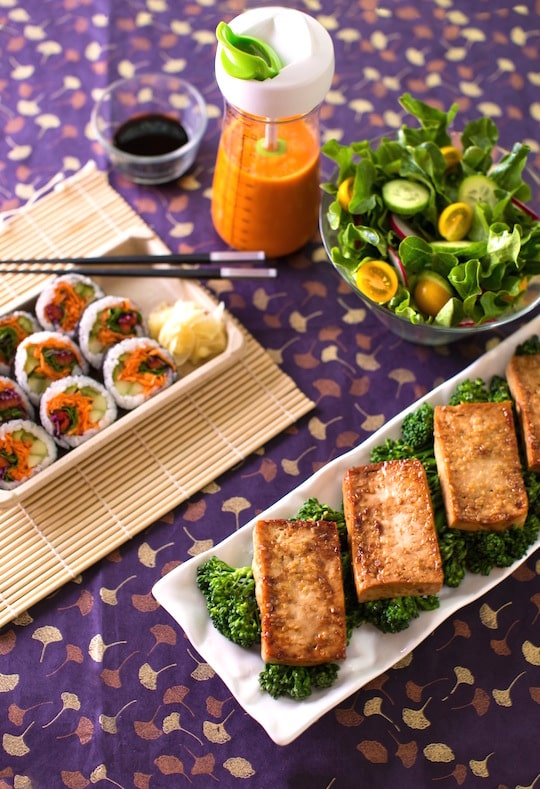 Super-Easy Tofu Teriyaki is a great way to end the week — a do-able Japanese dinner at half the cost of eating out. Double the recipe if you're feeding a hungrier group, as this makes 2 to 4 moderate servings. If you'd like, serve this over steamed broccoli. Store-bought vegetable sushi rolls add a "wow" factor to the meal.